CDA Cares Ventura delivers $1.5 million in care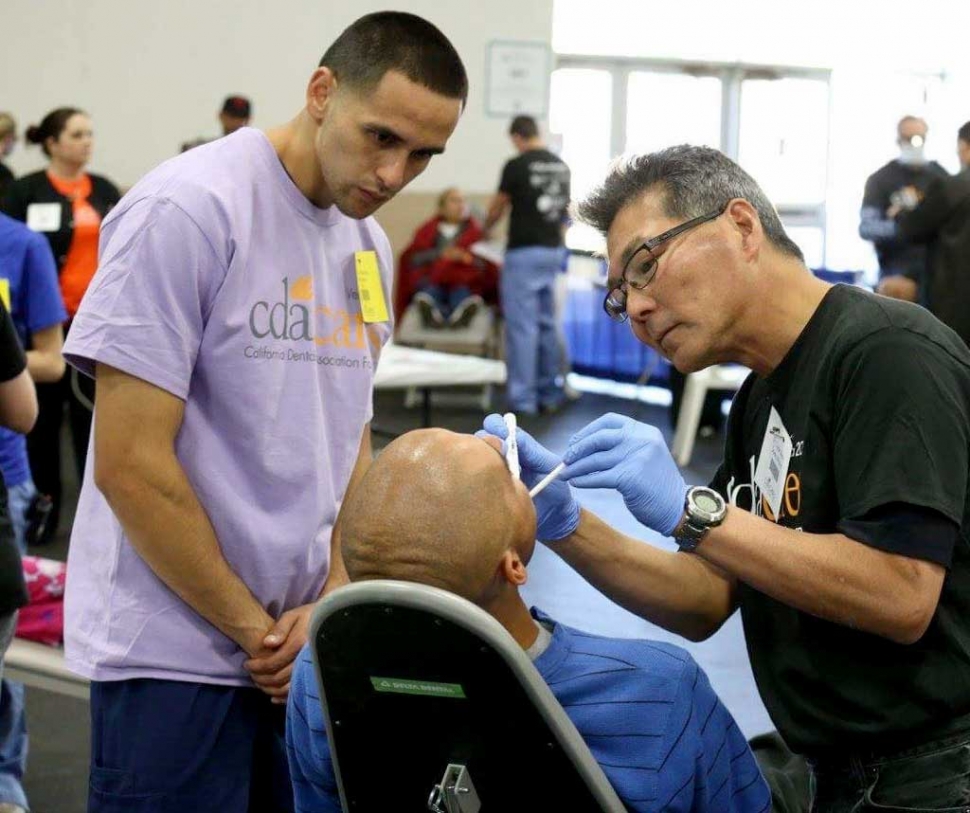 Pictured left is Gerardo Arevalo, 22 of Piru, observing and assisting at the event. Arevalo is a student at Oxnard College majoring in Dental Hygiene. He has earned an Associates in arts General Studies Social and Behavioral Sciences from Ventura College.
By Gazette Staff Writer — Wednesday, April 27th, 2016
The CDA Foundation's volunteer dental clinic, CDA Cares, provided $1.5 million in charitable dental services to 1,884 people during the April 16-17 event at the Ventura County Fairgrounds.
In addition to providing dental services at no charge to Californians who experience barriers to care, CDA Cares educates the public and policymakers about the importance of good oral health and the need for an adequately funded dental safety net, which includes a well-functioning Denti-Cal program.
"These events highlight the tremendous oral health need in California and it's an incredible feeling to know that we are able to help more than 1,884 people in just two days," said CDA President Ken Wallis, DDS. "CDA is always looking for ways to improve access to care, and one of the things we're doing this year is sponsoring a ballot measure to raise the state's tobacco tax, which will support health care programs, save billions of dollars in smoking-related health care costs and save thousands of lives."
During the two-day event, dentists and dental professionals provided 11,583 dental procedures, including fillings, extractions, cleanings and oral health education. Volunteer technicians in the clinic's dental lab area worked to provide 188 complete and partial dentures and repairs.
"It's a great feeling to know you've helped someone by relieving their pain or infection. Patients hug us and leave smiling because they were able to get the help they needed," said Jean Creasey, DDS, chair of the CDA Foundation. "This event was a huge success and we wouldn't be able to host these events without the support of local volunteers and sponsors. We appreciate all the help we received from the Ventura community."
About 1,400 volunteers donated their time and services at the event, including 750 health professionals —dentists, dental hygienists, dental assistants, nurses and lab technicians — as well as hundreds of community volunteers who assisted with registration, translation, data entry and escorting patients.
The CDA Foundation is planning another CDA Cares event this year in Stockton Oct. 15-16.
For more information about CDA Cares visit cdafoundation.org.