7-Eleven Creates Pink Ribbon Donut To Raise Funds for Breast Cancer Awareness Month
By Gazette Staff Writer — Wednesday, October 22nd, 2008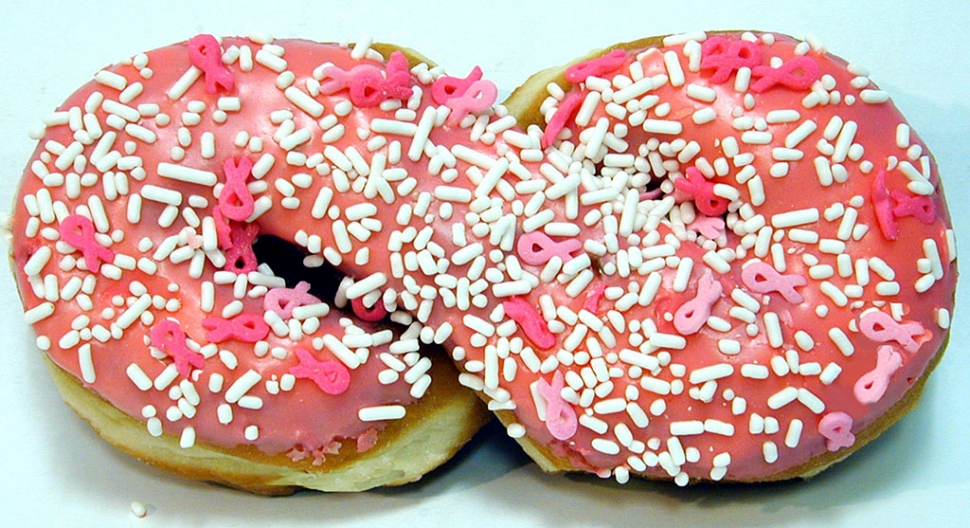 7-Eleven, Inc. is baking fresh ribbon-shaped donuts every day this October to benefit Susan G. Komen for the Cure® during Breast Cancer Awareness Month. The yeast-raised donut twists are topped with pale-pink icing, sprinkles and tiny pink candy ribbons. Offered at a suggested retail price of $1.19, the freshly baked donuts are delivered every morning to participating 7-Eleven® stores. With 15 cents from each sale being donated to the Komen organization, the convenience retailer hopes to raise between $25,000 and $50,000 for the national charity.
"This is an easy, not to mention delicious, way for people to give to this important cause," said Joe Hermes, 7-Eleven's senior fresh food director. "They can grab a pink donut for themselves on the way to work, fill a box to take to the office or designate a day of the week as 'Passionately Pink for the Cure®' day with these donuts and other pink treats like M&Ms® Brand Chocolate Candies and coffee in pink mugs."
7-Eleven stores will feature a special display anchored by a refillable, stainless steel 16-ounce mug with a pink soft touch band around the top. The mug retails for $6.99 with the first hot beverage included, and refills are just 99 cents (suggested retail prices). Pink ribbon magnets, value-priced at $1.99, give consumers an opportunity to show their support of the cause at work and at home. A portion of sales will be donated to the Breast Cancer Research Foundation.
"Thanks to medical advances, early detection and treatment, women who get a diagnosis of breast cancer today have real hope," said Nancy Lear, 7-Eleven community relations manager. "With one in eight U.S. women developing this disease sometime in their lifetime, breast cancer impacts almost everyone either personally or through friends and family. Organizations like Susan G. Komen for the Cure and the Breast Cancer Research Foundation are helping doctors make strides toward controlling and ultimately eradicating this disease."
Besides pink ribbon donuts, refillable coffee mugs and refrigerator magnets, participating 7-Eleven stores also are carrying popular pink products from manufacturers that have made a commitment to contribute a portion of the proceeds to breast cancer charities for every item sold. Special edition TicTac mints, Hershey Kisses and M&M candies have specific product and/or packaging to commemorate Breast Cancer Awareness this month.
"Susan G. Komen for the Cure partners with a variety of organizations, offering hundreds of creative opportunities for all people to be a part of the breast cancer movement," said Katrina McGhee, vice president of marketing for Susan G. Komen for the Cure. "Our partnership with 7-Eleven is a great example of how people can support Komen's promise to end breast cancer by simply running their morning errands."