2019 Holiday Yard of the Year Combines Traditional & Disney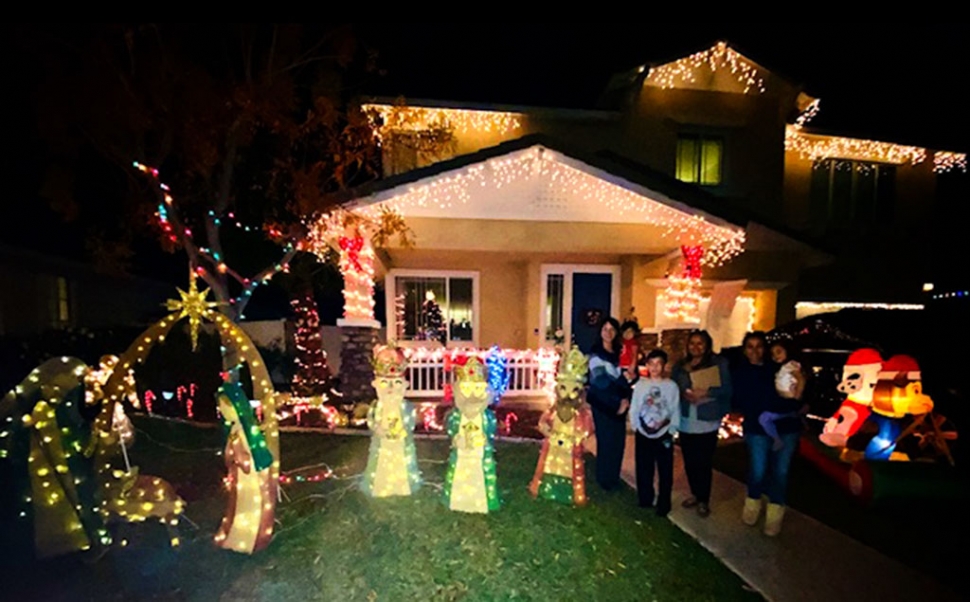 Pictured are this year's Holiday Yard of the Year winners: (l-r) Annette Cardona, Kamrie Cardona, Noah Halcon, Ari Larson of Fillmore Civic Pride, Brittany Halcon and Alani Halcon.
By Gazette Staff Writer — Wednesday, December 11th, 2019
Congratulations to Annette Cardona. Her lovely home is the 2019 Holiday Yard of the Year! They have been putting up their light display for about 15 years. The decorating is a family affair with traditional scenes on one side of the front yard and Disney decorations on the other side. The home is located at 79 Rio Grande Avenue. Ari Larson from Fillmore Civic Pride will present Annette and family with a $40 gift certificate courtesy of Otto & Sons Nursery (1835 E. Guiberson Rd.)
Other holiday lights around town include former Holiday Yard of the Year winners: 910 Taylor Lane, 360 C Street, 408 Robin Court and 408 Edgewood, just recently featured on the television show, The Great Christmas Light Fight on ABC.
For more information on Civic Pride please contact Ari Larson 805.794.7590 or email her at petenari55@hotmail.com