1960 FHS Graduate Chuck Wiley Provokes Thought With New Book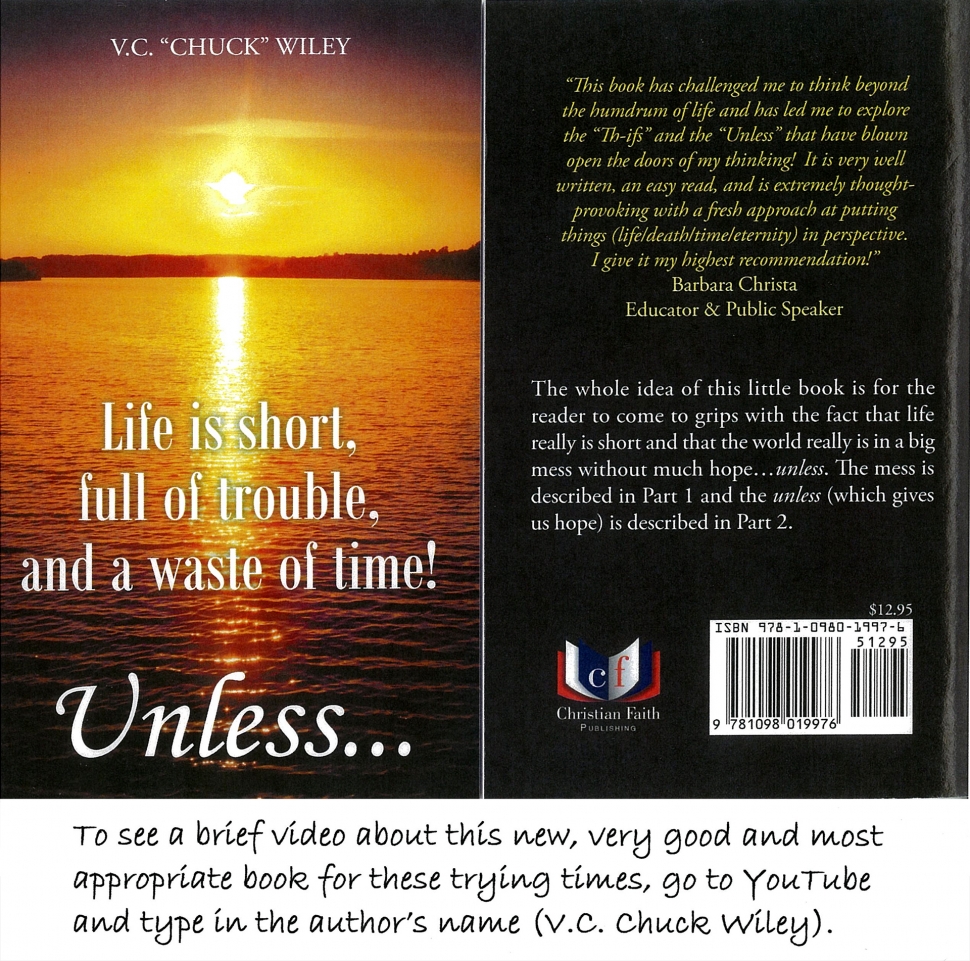 By Anonymous — Wednesday, July 1st, 2020
The book is titled Life is short, full of trouble, and a waste of time! Unless …
Wiley says the whole idea of this little book (only 70 pages) is for the reader to come to grips with the fact that life really is short and that the world really is in a big mess without much hope. . . unless. So he asks the question, "Why are we here and what happens when we die?" Part 1 presents his thoughts regarding the world and humanity, and Part 2 explores the "unless" which provides hope for both the present and future life.
Barbara Christa, educator and public speaker said, "This book has challenged me to think beyond the humdrum of life and has led me to explore the 'Th-ifs' and the 'Unless' that have blown open the doors of my thinking! It is very well written, an easy read, and is extremely thought-provoking with a fresh approach at putting things (life/death/time/eternity) in perspective. I give it my highest recommendation!"
Just a few months after graduation, Chuck joined the US Air Force and served four years. After that he started his college education at Pacific University in Forest Grove, Oregon, then finished with a BA degree in Sociology/Criminal Justice at The University of Texas in Arlington, Texas. He has served as both a juvenile and an adult probation officer; operated an emergency shelter for children for CPS; was director of a facility for the homeless; has been a teen court coordinator; started and operated a facility for developmentally challenged adults; worked with the Boys and Girls Clubs of Fort Worth, Texas; and taught in public schools. He has also written technical manuals describing how to operate and repair fighter jets, helicopters and postal equipment.
In addition to the book, which is available from Amazon and Barnes and Noble, he has written parenting material for parents and character development material for kids that has been used by thousands in social service agencies, schools and the courts in Texas, Arkansas and Missouri. Feel free to contact Chuck by email at cwiley@kitcareserv.com or by phone (817)479-6321 (it's a land line).