10th Annual Ventura County Fair Poster Contest Winners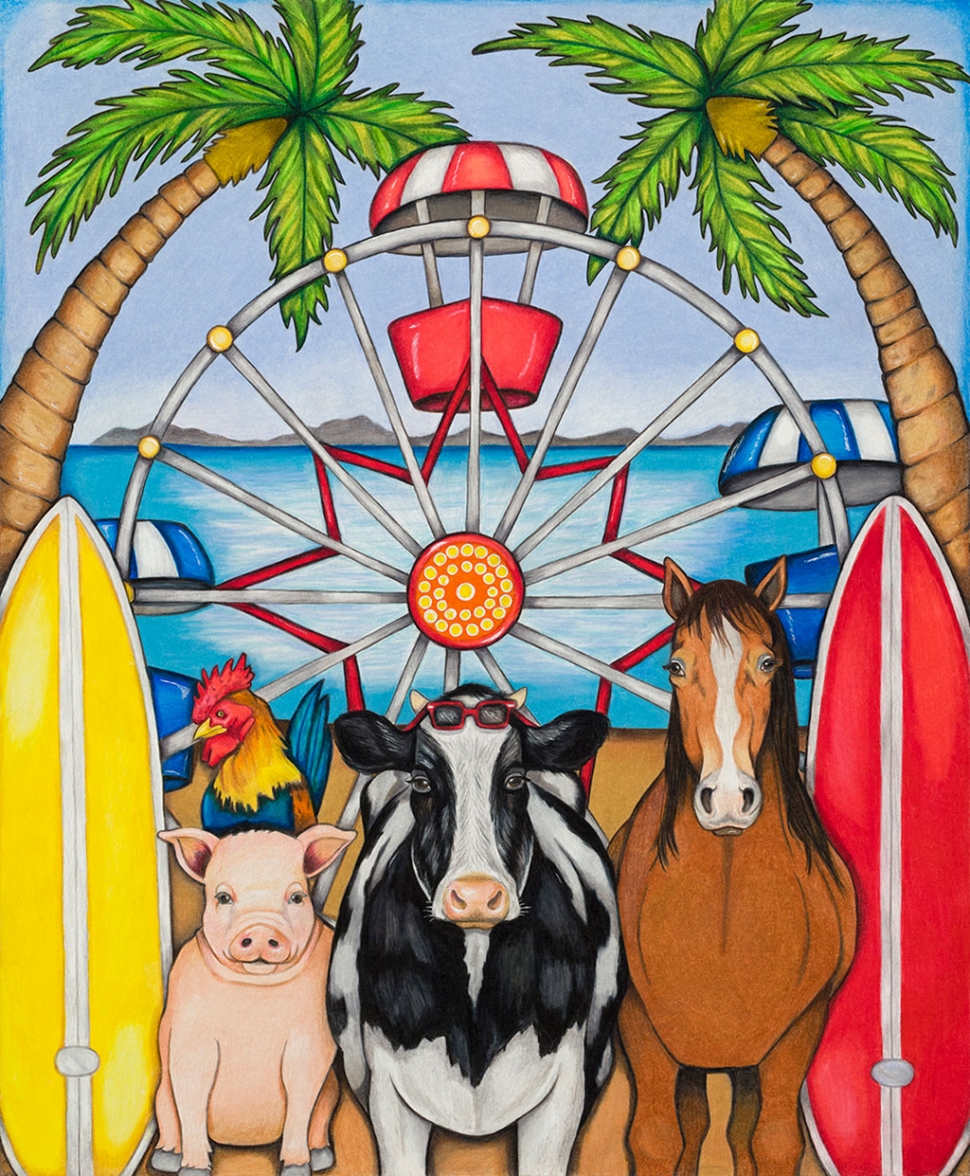 Pictured is the first place winner of this year's 10th Annual Ventura Country Fair Poster Contest which was won by Daríanna Vásquez of Santa Paula.
By Anonymous — Wednesday, July 10th, 2019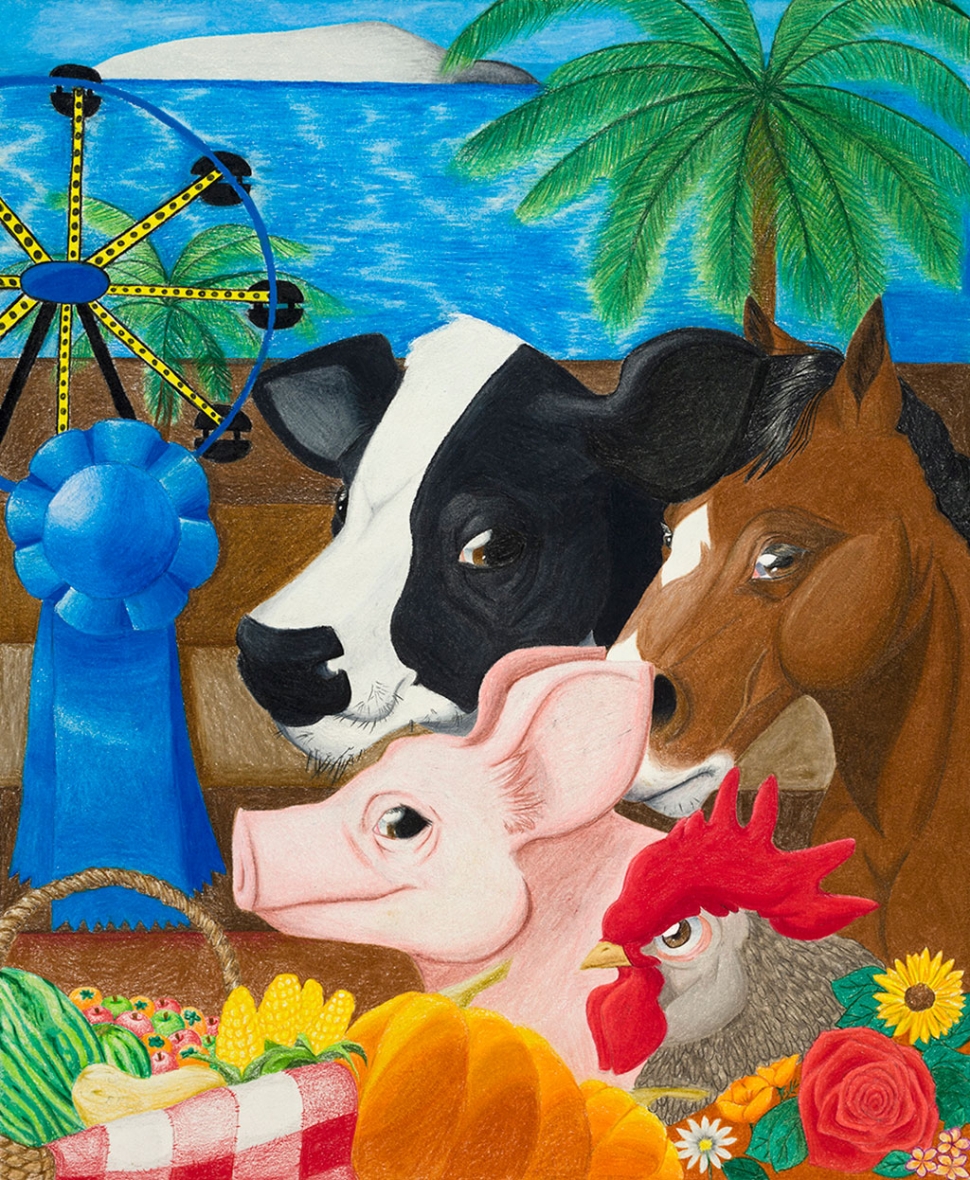 Hannah Ellsberry, Camarillo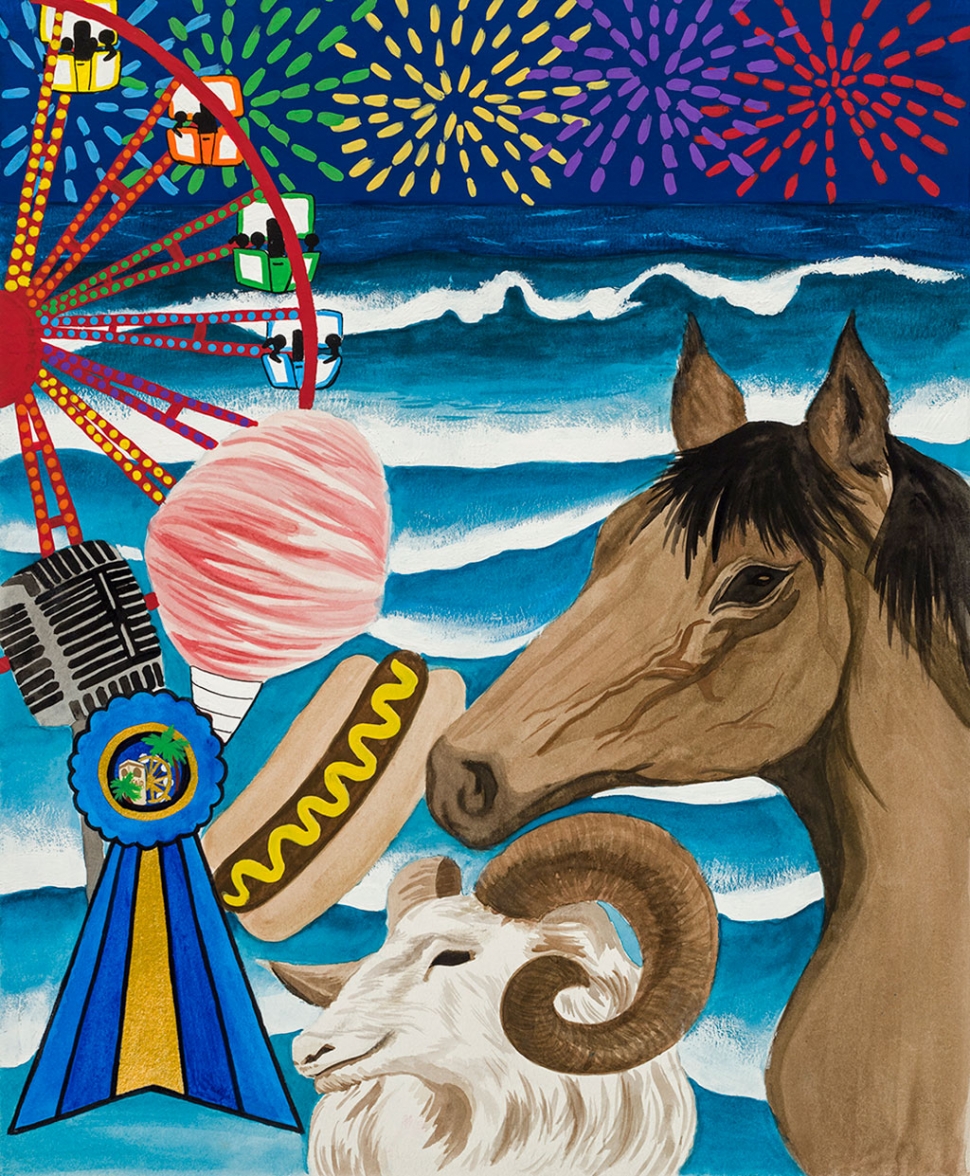 Jorja Garcia, Oxnard
2019 marked the 10thyear of the annual Ventura County Poster Contest for students in grades 5 through 12. Entries were submitted from every corner of the County. Each piece of art was a personal interpretation of the Fair that reflected the theme "A Country Fair with Ocean Air" as well as each artist's vision of what the Fair means to them. All of the artwork will be on display in the Youth Expo at the Fair. Of the 58 unique entries the three top prize winners in the 10thannual VC Fair Poster Contest have been selected. These are their stories.
Daríanna Vásquez, Santa Paula
1stPrize
I am 18 years old. I go to Vista Real Charter School and I live in Santa Paula. My main hobby and passion is Art, I use primarily Color Pencil, Acrylic and Oil paint. I was fortunate enough to help paint the sets for my middle school's play, which helped me establish a desire for others to see my work and improve my skills.
In High school I took a full year of art, before going to independent study. In that time I found out about Vita Art Center in Ventura where I took their Teen Art Class for about two years. I'm planning to go to Ventura College and I hope to pursue a possible career in Graphic Design.
My parents have taken me to the Ventura County Fair since I was very little and we go almost every year. My favorite part has always been going to see the Art/ Photography Displays and seeing all of the different Animal Pens. To me the fair always marks the end of Summer, getting to celebrate my mother's birthday, and the beginning of the new school year. I enjoy being able to have a fun time with my family and seeing what my community has to offer. I will especially look forward to this year's Fair as it is the second year I have been able to display my art. Thank you for choosing my poster as the winner! I greatly appreciate this opportunity.
Hannah Ellsberry, Camarillo
2ndPrize
I am a 17 year-old Camarillo resident and a student of Gorman Learning Center, completing both 11th and 12th grade this year; I skipped a grade. My interests include drawing, sewing, playing video games, creating my own characters, writing stories, and spending time with my friends and family. My friends have been some of my biggest encouragements; sharing with me many tips and techniques to try out, or giving me new ideas and encouragement when I can't think of anything to draw. I personally don't think I would have continued in my art without them. I haven't decided fully what I want to do now but I think I might pursue becoming either a 3D animator or an illustrator.
Ever since I was little the fair has been one of my favorite annual traditions my family has. I especially enjoy going to visit all the animals and walking through the garden displays. I don't really have much interest in any of the games or rides besides the Ferris wheel. I find it to be an exhilarating experience to reach the top and be able to see the mountains and the ocean in one clear view. Other things I really enjoy about the fair would be the horticulture and agriculture displays, and wandering through the pavilions admiring all the products and services available. I lastly enjoy going into the art pavilion and just taking time to look at each piece on display and analyzing all the small details, appreciating the amount of time and effort each artist put into their displayed piece. I am definitely looking forward to see all that this year's fair has to offer!
Jorja Garcia, Oxnard
3rdPrize
I am a 14 year old living in Oxnard, CA and I attend Hueneme High School finishing up my freshman year. I am a straight A honors student who is also in recovery from a knee surgery I had in February due to a basketball injury. Currently I have been focusing on my drawing and painting skills in a Visual Arts class at school after being a self taught artist until now, and I have been making art since I was about 3 years old. Last year, I had sold over $2,000 worth of my artwork for an academic summit at Harvard University and in 2017 won 3rd place in this same poster contest for the Ventura County Fair. In the future, I hope to attend a 4-year university on the East Coast or here in California studying topics like biology or mathematics while also furthering my skills in visual/fine arts.
I had entered this poster contest because of my outstanding love for the Ventura County Fair. Since I was born, every summer for my birthday my family has brought me here as a tradition to celebrate and have fun. Growing up with the fair I have enjoyed heart racing rock concerts, amazing food like funnel cakes and kettle corn, to adrenaline rushes from carnival rides. I love the traditions always being made and the ones I have passed on to younger cousins and friends here. The fair means family fun to me allowing new memories to be made annually. The Ventura County Fair has never disappointed me and continues to excite me every year.