"Guides 2: Death is Weird" Opens March 13th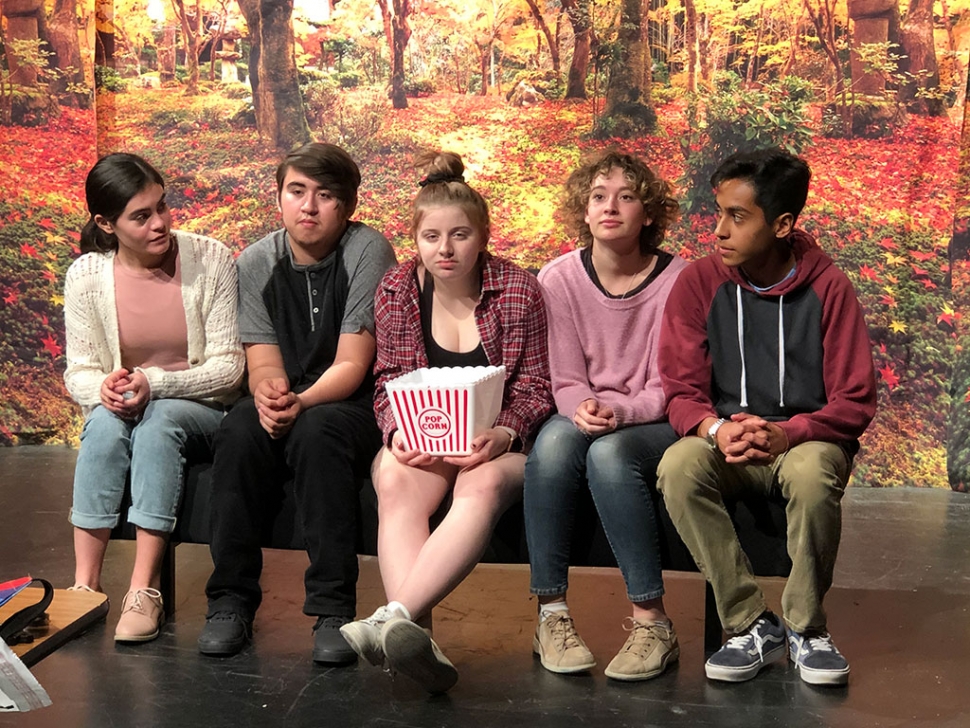 (l-r) Emilia Magdaleno, Fidel Escoto, Erin Overton, Hannah Fairall, and Andres Gonzalez make a couch extremely uncomfortable.
By Anonymous — Wednesday, March 11th, 2020
"Guides 2: Death is Weird" is a tale that originates in the Afterlife and revolves around The Grim Reaper losing his job as Death and must return to the mortal realm to become a mortal once more. Who finds Death and helps him adapt to life as a human? The most capable teachers of all… teenagers! Death finds love (weird, I know!), makes friends (definitely weird!), and hopes to become an amazing human (yup – Death is Weird!). This comic tale features some poignant moments as well, as we meet a cast of fun, diverse characters. There's a little music, a little dancing, a lot of hand-holding, and ALL of it is weird.
"Death is Weird" features the talents of: Emilia Magdaleno, Andres Gonzalez, Yeta Hurd, Abigail Sandoval, Erin Overton, Fidel Escoto, Evelyn Martinez, Presley McLain, Connel Ferguson, Yanely Lara, and Hannah Fairall. The excellent set crew contains an amazing group: Sam Kafka (Stage Manager), Jordyn Hastings, Manuel Valenzuela, Isabella Minjares, and Natalie Parrish, and Judy Fairall was a huge help as Assistant Director.
Show Dates and Times:
Friday, March 13 at 7pm (Opening Night!
Saturday, March 14 at 7pm
Sunday, March 15 at 2pm
Friday, March 20 at 7pm
Saturday, March 21 at 6pm (Notice the time change!)
Sunday, March 22 at 2pm
Friday, March 27 at 7pm
Saturday, March 28 at 7pm (Closing Night!)
"Death is Weird" is the first new play from drama teacher/director Josh Overton in seven years. The idea for this production has been brewing for almost a decade.