By Gazette Staff Writer — Wednesday, November 9th, 2011
What appears to be, is not
Written by Bill Wilson
It is becoming increasingly clear that the man who occupies the Oval Office is linked to the "Occupy Wall Street" movement. On October 18 he told ABC News, "The most important thing we can do right now is those of us in leadership letting people know that we understand their struggles and we are on their side, and that we want to set up a system in which hard work, responsibility, doing what you're supposed to do, is rewarded. And that people who are irresponsible, who are reckless, who don't feel a sense of obligation to their communities and their companies and their workers that those folks aren't rewarded." The question is what "system" does the Occupier in Chief have in mind?
If you are known by the company you keep, there are definite clues to the answer. The Occupy Wall Street (OWS) movement is endorsed by the Communist Party USA, the Nazi Party, labor unions, Islamic groups, even Iran's terrorist sponsoring "president" Mahmoud Ahmadinejad. Former organizers of the president's banned community organization group, ACORN, are part of the OWS leadership. Former and unrepentant terrorist Bill Ayers is advising the Chicago chapter. Socialist George Soros funneled money to OWS through the leftist Tide Foundation. Soros-funded socialist economist Joseph Stiglitz is teaching OWS members about the global economy. But, wait, there's more...
Amidst all the signs that say "destroy capitalism," "capitalism doesn't work," "America failed because of Christians," there is yet another sign. At Zuccotti Park in New York and at other OWS camps, Guy Fawkes masks are worn by Occupy protesters who are self-proclaimed anarchists. News stories say the masks have become the symbol of the OWS movment. Fawkes was a terrorist who tried to bomb British Parliament on November 5, 1605. He has become the symbol of revolution. Moreover, Zuccotti Park is owned by Brookfield Properties. Police will not remove the protestors unless Brookfield requests it. A major stockholder in Brookfield is George Soros.
Classic communistic tactics are to use the ill-informed to create crisis to maintain power. Isn't it interesting that top 2008 contributors to the president were Goldman Sachs, JPMorgan Chase, Citigroup, and Morgan Stanley, totaling over $3.9 million? Soros contributed tens of thousands to the president's campaign through many organizations. While OWS is employing classical communistic revolutionary strategy for the president, there is ample evidence they are being duped. These are indeed perilous times where what appears to be is not, and what is, is not what it appears to be. Jesus said in Luke 19:13, "Occupy till I come." This parable meant that we be actively faithful to the tenets of the Christian faith until his return.
Resources:
Brookfield owns Zuccotti Park: http://www.dnainfo.com/20111006/downtown/only-park-owner-can-kick-out-oc...
Soros owns stock in Brookfield: http://www.gurufocus.com/stock.php?symbol=BAM
Have a Blessed and Powerful Day!
Bill Wilson
www.dailyjot.com
By Gazette Staff Writer — Wednesday, November 9th, 2011
By Gazette Staff Writer — Friday, November 4th, 2011
The U.S. Air Force Academy has pulled out of a Christian-sponsored children's toy drive after commanders were accused of religious intolerance.
Mikey Weinstein, an academy graduate who runs the Military Religious Freedom Foundation, said the academy's participation in Operation Christmas Child is inappropriate because of its evangelical Christian roots.
Operation Christmas Child is sponsored by Samaritan's Purse, headed by Franklin Graham — the son of evangelist Billy Graham. It packs toys and other items into shoe boxes and sends them to needy children around the world, along with a Christian message in each gift.
"This is arrogance beyond... http://www.theblaze.com/stories/air-force-academy-backtracks-on-christma...
By Gazette Staff Writer — Wednesday, November 2nd, 2011
By Gazette Staff Writer — Wednesday, November 2nd, 2011
The United Methodist Women of the Bardsdale Methodist Church will be hosting their annual Thanksgiving Dinner on Friday November 11 at noon in Lebard Hall. As in the recent past, with this popular meal being held on Veteran's Day, those who have served in our country's armed forces will be saluted. This year's speaker will be local veteran, Jamie Latshaw.
For a traditional Thanksgiving meal with all the trimmings, save the the date on your calendar. Suggested donation is $12. The church is located at 1498 Bardsdale Avenue. Call 524-2070 for more information.
By Gazette Staff Writer — Monday, October 31st, 2011
Paris police have arrested around 20 Christian fundamentalists who burst into a theatre and threw stink bombs to protest against a play featuring the face of Christ drizzled with fake excrement.
Police made the arrests at the Theatre de la Ville, on the banks of the Seine near Notre Dame cathedral, during a performance of "On the Concept of the Face, Regarding the Son of God", directed by Italian Romeo Castellucci.
The play, which runs until October 30, is the story of an incontinent man being looked after by his son.
A copy of a... http://www.breitbart.com/article.php?id=CNG.59801b3e1b4adb9f74cc436cd831...
By Gazette Staff Writer — Monday, October 31st, 2011
Notre Dame professor expert on Judaism, Christianity
THOUSAND OAKS, CA - A University of Notre Dame professor of Old Testament will speak on the meaning of charity at California Lutheran University on Thursday, Nov. 17.
Gary A. Anderson, Hesburgh Professor of Theology at the Indiana university, will present "I Give Therefore I Am: The Meaning of Charity in Judaism and Christianity" at 7 p.m. in Lundring Events Center.
In his 2009 book, "Sin: A History," Anderson investigated the way in which ancient metaphors for sin changed over time and how those changes decisively shaped the way Jews and Christians came to view the effect of sins and how they might be forgiven. His current work extends that line of thinking to explore the history of charity in Judaism and Christianity.
Anderson is the author or editor of many books and articles on the Bible and early Judaism and Christianity. His book "Genesis of Perfection: Adam and Eve in Jewish and Christian Imagination" was published in 2001. He is currently working on a book on the Tabernacle narratives in Exodus and their influence on the rest of the Bible.
He has recently received grants from the American Philosophical Society, Lilly Endowment and the Institute for Advanced Study at Hebrew University. He has taught at the University of Virginia and Harvard University and has been a Henry Luce Fellow, Fellow at the Institute for Advanced Studies at Hebrew University in Jerusalem, Starr Fellow in Jewish Studies at Harvard University and the joint Straus-Tikvah Fellow at New York University School of Law. He holds a master's degree in divinity from Duke University and a doctorate from Harvard.
CLU's Department of Religion, Campus Ministry and Office of Church Relations are sponsoring the free presentation.
Lundring Events Center is located in the Gilbert Sports and Fitness Center, which is on the north side of Olsen Road near Mountclef Boulevard on the Thousand Oaks campus.
For information, contact Sam Thomas at 805-493-3693 or sthomas@callutheran.edu.
By Gazette Staff Writer — Monday, October 31st, 2011
Faith Community Church has started plans for a new building project at our D Street location. We will be holding a Swap Meet on Saturday, Nov. 12th at 355 D Street to help raise funds for our project. The Swap Meet will be open from 9:00 a.m. to 2:00 p.m. Please come by and find some good deals - crafts, baked goods and other treasures! For info call 524-5564 or 524-3344.
By Gazette Staff Writer — Tuesday, October 25th, 2011
Whether you are an experienced junior golfer or a first-timer, an OTP Golf Academy PATHER Program will provide you with 9 sessions of fun as you work with PGA Professionals, Apprentices and SNAG Certified individuals to practice every part of the game from putting to the full swing. We will make this learning environment even more fun through relay races and competitions. This great golf experience will all take place within a solid Christian atmosphere, where you will learn biblical concepts that correspond with lessons from the game of golf.
On the Path (OTP) Golf Academy Youth Program is a ministry designed to teach the fundamentals of golf alongside the challenge, adventure and excitement of coming to know Jesus Christ as Savior and Lord. We believe that the path to success in golf parallels the path to a dynamic relationship with God, and that together they can help build confidence, integrity, and lead youth towards a more fruitful and meaningful life. We have a strong desire to see young men and women growing in their relationship with Christ, and determine to give them the tools necessary for success.
Joel Pyron, PGA member and Head Golf Professional at Elkins Ranch Golf Course in Fillmore, Ca. He received His Bachelor of Arts Degree in Youth Ministry from Colorado Christian University (CCU) in 1999. Upon graduating from CCU he left competitive golf and went into full time ministry. He worked his way back to golf in 2005 after a 6 year sabbatical.
Joel lives in Fillmore with his wife Kimberly and two daughters Anna and Malia.
On the Path Golf Academy (OTP Golf) began in the winter of 2010. The philosophy at OTP Golf is that the game of golf offers a unique opportunity to teach about God and grow His kingdom. OTP Golf currently offers the PATHER program, which is primarily for students age 4 – 12. This program is designed for the beginning golfer to gain a solid golf foundation while integrating principles of a godly character. They accomplish this through the strategic PATHER Victory Principles for Character:
P urposful Action
A ttitude of Gratitude
T otal Dedication
H onest Living
E ternal Life
R eady to Perform
Why OTP Golf Academy exists
OTP Golf aims to present those involved or interested in golf with the opportunity to know Jesus Christ personally. Once a relationship is formed, they desire to equip these individuals with the necessary tools for serving Him. OTP Golf believes the path to success in golf parallels the path to a dynamic relationship with God, and that together they can help build confidence, integrity, and lead people towards a more fruitful and meaningful life. As stated, the number one purpose at OTP Golf Academy is to see children and their family's come to know Jesus Christ personally.
Finally their strong desire is to see young men and women growing in their relationship with Christ and determine to give them the tools necessary for success.
By Gazette Staff Writer — Monday, October 24th, 2011
Written by Sharona Schwartz
A Canadian jury heard chilling details from prosecutors who accuse Afghan immigrant Mohammad Shafia of killing his three daughters and his first wife, whom he considered to be dishonoring the family. Prosecutors say his son and his second wife helped him commit and then cover up the crime.
On June 30, 2009, the bodies of 19-year-old Zainab Shafia, 17-year-old Sahar Shafia, 13-year-old Geeti Shafia and 50-year-old Rona Amir Mohammad were found inside a Nissan submerged in a canal in Kingston, Ontario. They were on their way home from a family trip to Niagara Falls.
CTV reports on the opening day of the trial:
Crown prosecutors began... http://www.theblaze.com/stories/brutal-honor-killing-described-in-canadi...
By Gazette Staff Writer — Monday, October 24th, 2011
The lessons are expected to begin next spring
Details about the new sex education curriculum in New York City public schools are out -- and some are concerned the lessons are too racy.
The New York Post obtained workbooks that will be used for the new recommended curriculum, which begins in middle schools and high schools around the city next spring. Parents, they say, may be shocked by details of the work.
Middle school students will be assigned "risk cards" that rate the safety of different activities, the paper says, from French kissing to oral sex.
The workbooks for older students direct them to a website run by Columbia University, which explores topics such as sexual positions, porn stars, and bestiality. The lessons explain risky sexual behavior and suggest students go to stores to jot condom brands and prices.
The Department of Education says... http://www.nbcnewyork.com/news/local/mandatory-sex-ed-curriculum-new-yor...
By Gazette Staff Writer — Monday, October 24th, 2011
IMAGINE you have a 10- or 11-year-old child, just entering a public middle school. How would you feel if, as part of a class ostensibly about the risk of sexually transmitted diseases, he and his classmates were given "risk cards" that graphically named a variety of solitary and mutual sex acts? Or if, in another lesson, he was encouraged to disregard what you told him about sex, and to rely instead on teachers and health clinic staff members?
That prospect would horrify most parents. But such lessons are part of a middle-school curriculum that Dennis M. Walcott, the New York City schools chancellor, has recommended for his system's newly mandated sex-education classes. There is a parental "opt out," but it is very limited, covering classes on contraception and birth control.
Observers can quarrel... http://www.nytimes.com/2011/10/19/opinion/does-sex-ed-undermine-parental...
By Gazette Staff Writer — Monday, October 24th, 2011
"God's curse on them for generations. May the devil ... (expletive) on their graves ... They betrayed Islam."
Qur'an 4:34 allows for physical violence (yes, it says to hit) against "disobedient women." Islamic law is inconsistent at best on whether parents who kill their children face any consequences at all. It is no surprise, then, that Muslims commit 91 percent of "honor killings" worldwide.
Even in Canada, in an update on this story. "Family saw slain girls as treacherous for having boyfriends, court hears," by Allison Jones for the Canadian Press, October 20 (thanks to Kenneth):
KINGSTON, Ont. - A Montreal family... http://www.jihadwatch.org/2011/10/multiple-honor-killings-in-canada-gods...
By Gazette Staff Writer — Tuesday, October 18th, 2011
461 CENTRAL AVE.
Monday, October 31, 2011
5:30 p.m. - 8:00 p.m.
(An adult must accompany small children)
FUN~FOOD~GAMES~PRIZES~FRIENDS
BRING YOUR FAMILY AND JOIN US FOR A FUN TIME!
If it rains we will move the activities downstairs to the Social Hall.
(Admission is free)
By Gazette Staff Writer — Monday, October 17th, 2011
Presentation will draw from his upcoming book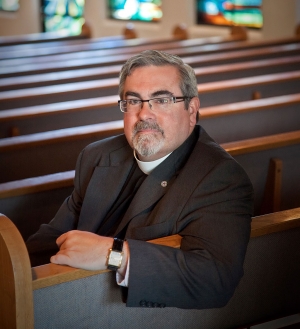 R. Guy Erwin
THOUSAND OAKS, CA - A California Lutheran University religion and history professor will discuss "What Does It Mean To Be Lutheran Today?" at 4 p.m. Monday, Nov. 7.
The Rev. R. Guy Erwin, the Gerhard and Olga J. Belgum Professor of Lutheran Confessional Theology and director of the Segerhammar Center of Faith and Culture at CLU, will present the Reformation Heritage Lecture in CLU's Roth Nelson Room.
The Canoga Park resident is an authority on the theology of Martin Luther, the history of late-medieval and early-modern Germany and Scandinavia, and the history of Lutheranism since the Reformation. He will present material from "Introduction to World Lutheranism," a book that he co-wrote with DeAne Lagerquist of St. Olaf College that Cambridge University Press is scheduled to publish next year.
In their book, Erwin and Lagerquist present a historical overview of Lutheranism's origins, then analyze its principal teachings and practices and the ways it expanded beyond Northern Europe to become a worldwide church. They then survey it as it is today in broad strokes, continent by continent, using case studies to support their contention that Lutheranism still retains distinctive and unifying characteristics that may help it retain its identity within world Christianity.
Erwin was ordained as a minister in the Evangelical Lutheran Church in America earlier this year. Before coming to CLU in 2000, he taught the history of Christianity and historical theology at Yale Divinity School. He holds a bachelor's degree from Harvard College and two master's degrees and a doctorate from Yale Graduate School of Arts and Sciences. In 2008, he was appointed to the Faith and Order Commission of the World Council of Churches and is the only American Lutheran among the members.
The Roth Nelson Room is located on Mountclef Boulevard near the corner of Memorial Parkway in Thousand Oaks. The lecture is free and open to the public.
For more information, contact Linda LeBlanc at 805-493-3936 or leblanc@callutheran.edu.
By Gazette Staff Writer — Monday, October 17th, 2011
The most stubborn source of resistance to reforms against domestic violence in Muslim countries is the invocation of chapter and verse from the Qur'an. In Qur'an 4:34, Allah says a man can hit (yes, hit) his wife if he fears disobedience from her. Yes, domestic violence occurs in the West, but it is illegal, and it is condemned as a backward and abhorrent practice that must be obliterated, not regulated or managed.
Meanwhile, in Islamic countries, at the risk of contradicting Allah, self-styled reformers must try to split hairs about translations and propose limitations on how hard a man can hit, or emphasize the notion that hitting is a "last resort" while leaving the principle of the matter untouched: at the end of the day, Allah says Muslim men can hit their wives.
And so... http://www.jihadwatch.org/2011/10/iraq-attempts-to-strengthen-laws-prote...
By Gazette Staff Writer — Monday, October 17th, 2011
Will the Islamophobia never end? "Pakistan: A 12 year-old Christian is gang raped for eight months, forcibly converted and then 'married' to her Muslim attacker," from the Asian Human Rights Commission, October 10 (thanks to Satya):
ASIAN HUMAN RIGHTS COMMISSION - URGENT APPEALS PROGRAMME
Urgent Appeal Case: AHRC-UAC-199-2011
10 October 2011
---------------------------------------------------------------------
PAKISTAN: A 12 year-old Christian is gang raped for eight months, forcibly converted and then 'married' to her Muslim attacker
ISSUES: Gang rape... http://www.jihadwatch.org/2011/10/pakistan-12-year-old-christian-gang-ra...
By Gazette Staff Writer — Monday, October 10th, 2011
Holiday Treasures
A Christmas Boutique and gift fair will be held on Saturday, Nov 5, 2011 from 9 a.m. to 2 p.m. Hand made items and gifts for all occassions will be for sale in the St. Paul's/Emmanuel Lutheran Parish hall at 117 N. 7th Street, Santa Paula, CA
Proceeds will benefit the programs and ministries of the church. For information call Mary at 659-3668.
By Gazette Staff Writer — Wednesday, October 5th, 2011
Celebrates 25th Anniversary of the Pipe Organ
On Friday, October 7, at 7 o'clock p.m., organist Dr. James Welch will play a concert to celebrate the twenty-fifth anniversary of the Bardsdale United Methodist pipe organ. The concert is a return engagement for Dr. Welch, who played the original organ dedication concert in 1986 to an overflow crowd.
Former university organist at UC Santa Barbara, Dr. Welch teaches at Santa Clara University, serves as organist at St. Mark's Episcopal Church in Palo Alto, and concertizes around the world. He and his wife Deanne are parents of sons Nicholas and Jameson.
At Bardsdale church Dr. Welch will play a program of delightful pieces, especially chosen for an audience of both new and seasoned music lovers, including families. His program will feature a toccata on "Amazing Grace'' by J. Christopher Pardini and an arrangement of "Battle Hymn of the Republic." Classical favorites include Bach's "Jig" Fugue and the famous "Toccata" from Widor's Fifth Symphony, which will climax the hour-long program.
The 12-rank pipe organ was custom-built for the church by historic Schoenstein & Co. of San Francisco, Jack M. Bethards, president. Built in 2 stages, the instrument was completed in 1993 when the chimes, given in memory of Angela Grice Young, were hung. Gold-leafed pipes were antiqued to make the instrument look as though it were built at the same time as the Church.
The Bardsdale United Methodist Church, located at 1498 Bardsdale Avenue, 3 miles south of Fillmore, is both a National Historic Landmark and Ventura County Landmark No. 50. The congregation first met in 1892, and the building cornerstone was laid 1898. In 2012, the Church plans events to celebrate its twelve decades of ministry in the Fillmore area.
A free-will offering will be taken. A meet-the-artist reception will follow. Quick tours of the organ chamber are available before the concert begins.
By Gazette Staff Writer — Wednesday, October 5th, 2011
Saint Francis of Assisi offers Catechism classes for children in grades 1,2,3,4,5,6.
Our Children's First Communion preparation is only 1 year and begins in grade 3.
Our Registration for First Communion children & Parents in grades 3,4,5,6 will be on Sunday October 16th at 10:00 AM in the church.
Registration is only $60 per child. Please pay by check or money order. This will be your receipt
A Parent and child must attend the registration meeting to receive all information. God Bless
Registration for Children in Grades 1 & 2. Registration forms can be found in the pastoral center. Registration is only $60 per child. Please return forms
The 40 Days for Life Campaign is once again on. Please make it a point to stop by at the Ventura Planned Parenthood and pray for the evil of abortion to end. You can sign up on-line as in previous years @ 40Daysforlife.com. If you have any Questions please call Leti Olvera @524-4030 Thank You.
Coming Together as a Parish Family - OCTOBER SOCIAL
Sunday, October 30th - Come out to the courtyard for free doughnuts, juice or coffee—Thank you Saint Vincent de Paul members for providing such great service to our parish. God Bless !
Saint Francis Gift Store
We would like to thank Joanne Arnold for the many years that she devoted to the Gift Store. May Jesus bless you and Vernon for your generous servant hearts! The gift store will be on break and packed up until the next pastor arrives. Fr Barney
Our Lady's Rosary Makers Will meet on the Second Tuesday of the Month, October 11th at 10:15 AM Classrooms 5 & 6 Learn to make Rosaries—Spreading the Gospel one Rosary at a time
Saint Francis Assisi Folklorico Group—Children ages 8 and up are invited to become new members. The group meets on Sundays at 2PM in the parish hall. Call Liz at 223-1223 for more info.
PLEASE NOTE: On Sun. Oct. 23 we will have a second collection for World Mission Sunday
We are now on Facebook look for us - Saint Francis
of Assisi Roman Catholic Church Fillmore California
Attention all 2011 Confirmed High School Students—Let's meet and eat every last Saturday of the month 12:00-2:00pm in rooms 5 and 6. Toni Galvez will be available for guidance and follow up. Not mandatory, it is voluntary. Do you want to continue to grow in your faith? Come join us Saturday October 29th!