By Gazette Staff Writer — Tuesday, April 26th, 2011
By Gazette Staff Writer — Monday, April 25th, 2011
Just when I thought the current team running the White House might have used up all its allotted mistakes comes word that President Obama failed to issue either an Easter or a Good Friday greeting to the nation.
Now, let's forget for a moment that these greetings, which presidents issue on many holidays and commemorations of events, are largely perfunctory and symbolic gestures that nobody cares about.
Until there's a problem... http://www.whitehousedossier.com/2011/04/25/easter-greeting/
By Gazette Staff Writer — Monday, April 25th, 2011
The year 2011 marks the 400th anniversary of the publication of the King James Bible. Leland Ryken, a scholar of Christian literature and the Puritans, describes this as one of the most important cultural developments in the history of the English-speaking world. In his new book The Legacy of the King James Bible, Ryken records its sweeping influence on our language, education, religion, and culture.
The King James Bible has been "the greatest vehicle of literacy in the English-speaking world," by one account. Statesman Daniel Webster credited his famous oratory to its shaping: "If there be anything in my style or thoughts to be commended, the credit is due to my kind parents in instilling into my mind an early love of the Scriptures."
For almost four hundred years, the... http://blog.heritage.org/2011/04/22/morning-bell-religious-faith-is-stil...
By Gazette Staff Writer — Wednesday, April 20th, 2011
Written by David Swindle
We've seen where we're heading today in this country and it's the Parisian streets, with Muslims transforming prayer into an act of political intimidation and a politically correct government refusing to enforce the law against a favored minority group.
But this kind of thuggery has a political expression too and with the election of Barack Obama we're starting to see its creep into our own political system. Look at the recent history of the United Nations and you'll see an Islamist infiltration akin to the occupation of Paris' streets.
NewsReal Blog's all-star blogger Joseph Klein has recently... http://www.newsrealblog.com/2011/04/19/americas-cultural-future-is-in-th...
By Gazette Staff Writer — Monday, April 18th, 2011
"A Mighty Fortress is Our God" is the theme of this year's National Day of Prayer. God has been America's fortress in many ways throughout history. Each year, Christians gather all across our nation to celebrate God's goodness and to pray for His guidance. This year Fillmore will participate again in the annual National Day of Prayer. Thursday, May 5th is that day. Christians from all across Fillmore will gather at this year's chosen church, First Baptist Church, 1057 1st Street. A number of Fillmore area pastors will participate. There will also be singing and some congregational interaction. We will pray for our nation, our national & state leaders, our community & schools and other things related to our nation's future. Anyone who loves this country and wants to pray for its future is welcome to come. Meeting will be held at 7 p.m.. For information call 524-5564 or 524-3844.
By Gazette Staff Writer — Monday, April 11th, 2011
The pastors of Fillmore want to welcome the public to the Annual Sunrise Service on Easter Sunday, on the steps of City Hall, downtown Fillmore. The service will be from 6:30am to 7:30am and will feature participation from a number of Fillmore churches. Our featured speaker this year is George Golden, of 1st Baptist Church of Fillmore. George has many years of ministry experience, and is planning on bringing a message about the reality and power of the resurrection of Jesus Christ, which is central to the Christian message. Pastor George said, "There is an amazing truth found in the story of Easter. As we seek the truth, the Easter story has a fresh, life-changing meaning."
The service will also feature special music and songs from area churches. Donuts and coffee will be served - all are welcome.
By Gazette Staff Writer — Monday, April 11th, 2011
When studying the founding of the United States, you can't help but encounter the faith of the nation's forefathers. Time and again they recognized God's hand in the shaping of America. You will find Him repeatedly mentioned in their words and documents. And you will find Him having an active, vibrant role in the country's early history.
Today, God continues his... http://presidentialprayerteam.com/morality-in-america
By Gazette Staff Writer — Monday, April 11th, 2011
By Gazette Staff Writer — Wednesday, April 6th, 2011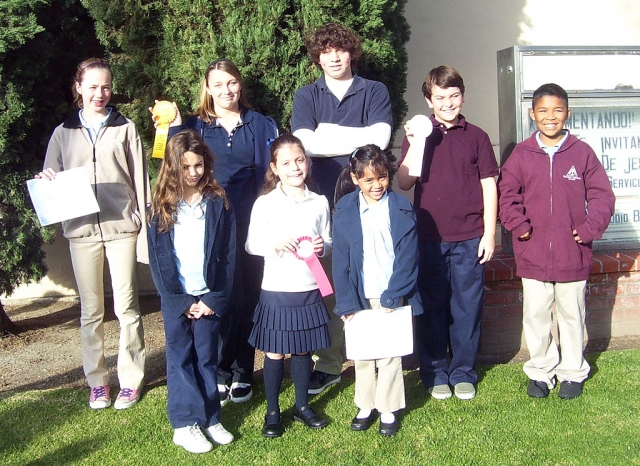 Fillmore Christian Academy sent eight students to compete in the ACSI District 6 Spelling Bee held at Cornerstone Christian School in Camarillo. All of the students competing are pictured above. Those receiving ribbons are the following: Sasha Adame 2nd Place, Noah Laber 3rd Place, Jacob Brooks 3rd Place and CeCe Flinn 4th Place; Back row: Sarah Stewart, CeCe Flinn, Jacob Brooks, Noah Laber, Joshua Sandoval; Front row: Ashley McKnight, Sasha Adame, ImaJoy Zerrudo.
Enlarge Photo
By Gazette Staff Writer — Tuesday, April 5th, 2011
Written by By Farid Ahmed and Moni Basu, CNN
Shariatpur, Bangladesh (CNN) -- Hena Akhter's last words to her mother proclaimed her innocence. But it was too late to save the 14-year-old girl.
Her fellow villagers in Bangladesh's Shariatpur district had already passed harsh judgment on her. Guilty, they said, of having an affair with a married man. The imam from the local mosque ordered the fatwa, or religious ruling, and the punishment: 101 lashes delivered swiftly, deliberately in public.
Hena dropped after 70.
Bloodied and bruised, she was taken to hospital, where she died a week later.
Amazingly, an initial autopsy report cited... http://www.cnn.com/2011/WORLD/asiapcf/03/29/bangladesh.lashing.death/ind...
By Gazette Staff Writer — Wednesday, March 30th, 2011
Save this date bargain shoppers! On Saturday, April 9, the Bardsdale United Methodist Women will host their annual spring Courtyard Sale from 8 am until 12 noon.
Shoppers can expect to find great deals on home furnishings, clothing, kitchen ware, tools, toys and games, books, bric-a-brac and other one-of-kind items.
Proceeds from this popular event supports the various ministries of the UMW. The church is located at 1498 Bardsdale Avenue.
By Gazette Staff Writer — Wednesday, March 30th, 2011
"God's presence with us in Creation, Word, Sacraments and Others" Monday April 4 thru Thursday April 7. Mass starts at 7 PM each night, Thursday night is devoted to confession with 6 priests, Bring your entire family. Do something great for Lent 2011 for more information, please call the pastoral center at 524-1306
By Gazette Staff Writer — Wednesday, March 30th, 2011
Faith Community Church - Compassion Ministry is going to host "Care and Share Day" and wondering what it takes to get in your advertisement page. The details of the event are: Who: FCC-Compassion Ministry, What: Care and Share Day (FREE lunch, music, groceries and yard sale), When: April 16, 2011, Where: 461 Central Ave, Fillmore. This is an annual event to help the less fortunate and/or struggling individual(s) and families in the hope to spread God's love and compassion.
By Gazette Staff Writer — Monday, March 28th, 2011
New evidence has emerged that the Iranian government sees the current unrest in the Middle East as a signal that the Mahdi–or Islamic messiah–is about to appear."
So begins an ominous report by CBN's Erick Stakelbeck detailing a propaganda video reportedly "approved at the highest levels of the Iranian government." That video explains "all the signs are moving into place — and that Iran will soon help usher in the end times."
Regular Beck viewers may know the Mahdi by another name, the twelfth imam — a term not lost to Stakelbeck, who writes thattThe new video "describes current events in the Middle East as a prelude to the arrival of the mythical twelfth Imam or Mahdi — the messiah figure who Islamic scriptures say will lead the armies of Islam to victory over all non-Muslims in the last days."
Stakelbeck reports, and includes excerpts from the video called "The Coming is Near:"
Joel C. Rosenberg, interviewed in the CBN piece, has been a guest writer on The Blaze. As part of our series "Understanding Egypt," he wrote:
The leaders in Tehran could not be more excited by the revolution now underway in Egypt and are praying the Mubarak regime collapses and the Muslim Brotherhood come to power. For them, such events would be dramatic new evidence that the End of Days has come, infidel Arab regimes are on the road to collapse, Western influence in the Mideast is... http://www.theblaze.com/stories/new-iran-propoganda-vid-trumpets-imminen...
By Gazette Staff Writer — Tuesday, March 15th, 2011
I have often wondered why it is that Conservatives are called the "right" and Liberals are called the "left".
By chance I stumbled upon this verse in the Bible:
"The heart of the wise inclines to the right, but the heart of the fool to the left". Ecclesiastes 10:2 (NIV) Thus sayeth the Lord. Amen.
Can't get any simpler than that.
By Gazette Staff Writer — Tuesday, March 15th, 2011
Dear CV Friend,
This is one of the most agonizing videos we have ever produced.
Two weeks ago we sent our media team into the middle of a rally organized to defend taxpayer funding for Planned Parenthood. We wanted to expose what the defenders of Planned Parenthood really believe.
What we witnessed left us speechless.
The abortion industry is often portrayed as a big-hearted caring industry that simply wants to serve low-income women. Their supporters claim that stripping Planned Parenthood and abortion providers of taxpayer funds will hurt everyone.
Of course this is a lie. Planned Parenthood is billion-dollar organization that is chiefly concerned with one thing -- the destruction of innocent human life.
Some of the footage we captured will shock you. Some of it will make you sad. But I hope it will encourage you to take action.
The fight over taxpayer support for Planned Parenthood is about much more than budgets and deficits. The fight is ultimately about our vision for America -- a vision that cherishes mothers, families and the gift of human life.
Our vision is one of hope. Theirs is filled with anger and hopelessness.
See for yourself and resolve to get involved today.
Sincerely,
Brian Burch
CatholicVote.org
By Gazette Staff Writer — Tuesday, March 15th, 2011
By Gazette Staff Writer — Wednesday, March 9th, 2011
Arlington, VA - On February 15th, the U.S. Department of Education answered Congresswoman Virginia Foxx's October Letter of Inquiry, which was prompted by an August Students for Life of America campaign at the University of North Carolina. The letter asked the Department if they were aware of the abortion coverage included in the University of North Carolina System's mandatory student health care policy and if they could prove that taxpayer funds were not paying for the abortion coverage.
In the Department's response, the Secretary of Education, Arne Duncan wrote, "
the Department has not issued any regulations, guidance, or other official policy with regard to the Hyde amendment, nor has the Department relayed any information regarding the Hyde Amendment to colleges and universities that participate in the Title IV and HEA programs."
Upon the receipt of the letter, Kristan Hawkins, Executive Director of Students for Life of America (SFLA), commented,
"The Department of Education is not upholding federal law which clearly states that taxpayer money is not to be used to pay for elective abortions. By not providing oversight, the Department of Education is allowing taxpayer money to fund elective student abortions at the University of North Carolina as well as in dozens of others universities across the country. Abortion is not health care and should not be a pre-requisite for learning."
In August, Students for Life of America discovered that the UNC System was automatically enrolling their students in a health care plan that covered elective abortions. After working with UNC students and leading an effective grassroots campaign, SFLA forced the UNC Administration to modify its policy and allow students to "opt-out" of the abortion coverage. SFLA is continuing to coordinate with pro-life students at UNC to work towards eliminating their abortion health care coverage .
In January, SFLA released a health care study of the 200 largest universities in the US. Of the 200 schools, 194 had school-sponsored health care plans for students. Eighty-six (44%) of the 194 school sponsored plans covered elective abortions, and 38 schools automatically enrolled their students in an abortion health care plan. To view the full study, visit http://noabortioninhealthcare.com.
For more information about taxpayer-funded student abortions, visit the SFLA site: http://noabortioninhealthcare.com.
To speak with Kristan Hawkins about the Department of Education Response Letter or the SFLA University Abortion Health Care Study, contact Mary Powers, Communications Director at Students for Life, at mpowers@studentsforlife.org or by phone: 703-351-6280.
Kristan Hawkins, Executive Director of Students for Life of America, the largest pro-life student organization in the nation, has been featured on Fox News and CNN and has had articles featured in The Washington Times, The Daily Caller, The Washington Examiner as well as in many other publications.
Students for Life of America (SFLA) works to provide students, from high school to graduate school, with the resources they need to save lives and abolish abortion on their campuses and throughout the nation with 563 pro-life college groups in 48 states.
By Gazette Staff Writer — Thursday, March 3rd, 2011
Written By Jim Meyers
House Speaker John Boehner declares that President Barack Obama's decision not to defend the Defense of Marriage Act (DOMA) in court is "outrageous" and vows that Republicans will intervene in the next few days.
Attorney General Eric Holder said last week that the Obama administration will not fight legal challenges to the constitutionality of the DOMA, which has banned federal recognition of same-sex marriage for 15 years.
Appearing on Greta Van Susteren's Fox News Channel show on Wednesday night, Boehner was asked whether the GOP planned to hire a special counsel to "do the job that the executive branch won't do."
The Ohio Republican responded: "DOMA is the law of the land. It was passed overwhelmingly in both the House and the Senate. And I think it is outrageous for the president to say, well, we're not going to enforce it. It's the law of the land.
"It is the job of the Justice Department to... http://www.newsmax.com/Headline/Boehner-Obama-DOMA-Gingrich/2011/03/03/i...
By Gazette Staff Writer — Wednesday, March 2nd, 2011
Written by Jonathon M. Seidl
ISLAMABAD — Assailants purportedly sent by al-Qaida and the Taliban killed the only Christian member of Pakistan's federal Cabinet Wednesday, spraying his car with bullets outside his mother's driveway. It was the second assassination in two months of a high-profile opponent of blasphemy laws that impose the death penalty for insulting Islam.
The killing of Shahbaz Bhatti, a 42-year-old Roman Catholic, further undermines Pakistan's shaky image as a moderate Islamic state and could deepen the political turmoil in this nuclear-armed, U.S.-allied state where militants frequently stage suicide attacks.
The Vatican said the assassination shows that the pope's warnings about the danger to Christians in the region are fully justified.
Bhatti, a campaigner for human rights causes, had apparently been... http://www.theblaze.com/stories/assassinated-christian-pakistani-govt-of...