By Gazette Staff Writer — Monday, May 16th, 2011
Schools are helping teenage girls keep abortions secret from their parents. Imogen Neale reports.
A MOTHER is angry her 16-year-old daughter had a secret abortion arranged by a school counsellor.
Helen, not her real name, found out about the termination four days after it had happened. "I was horrified. Horrified that she'd had to go through that on her own, and horrified her friends and counsellors had felt that she shouldn't talk to us," she said.
She had suspected something was wrong, but her daughter insisted her tears were over everyday teenage dramas.
But Helen confronted... http://www.stuff.co.nz/sunday-star-times/news/5005398/Schools-arrange-se...
By Gazette Staff Writer — Monday, May 9th, 2011
Written by Jonathon M. Seidl
With the military's "Don't Ask Don't Tell" policy repealed, its branches have been forced to update their positions regarding same-sex couples. One such update includes the Navy now okaying its chapels to be used for same-sex marriages. But despite the repeal, some say the move could violate current federal law.
As CNS News reports, "the Office of the Chief of Navy Chaplains has decided that same-sex couples in the Navy will be able to get married in Navy chapels, and that Navy chaplains will be allowed to perform the ceremonies — if homosexual marriage is legal in the state where the unions are to be performed."
That's a change from... http://www.theblaze.com/stories/navy-memo-reveals-same-sex-marriages-now...
By Gazette Staff Writer — Friday, May 6th, 2011
Colorado Springs, CO is seen by many as the center of the Christian evangelical community in the American West. So it is more than ironic that the United States Air Force Academy, also based in Colorado Springs, has just opened a prayer circle and Stonehenge-like area so that its Wiccans, Druids, and "earth-centered groups" have a place to worship.
"This outdoor worship space is something we have created to help people of all religions," Lt. Gen. Michael Gould, the academy's superintendent, told The Gazette before a ribbon-cutting on the site... http://www.theblaze.com/stories/wiccans-druids-earth-centered-groups-get...
By Gazette Staff Writer — Wednesday, May 4th, 2011
Faith Community Church will be hosting Peter Russell of Wild Hope International and two Maasai /Wild Hope Warriors from Tanzania, Africa, on Tuesday, May 3rd, at 7 pm at their 355 D St. Campus.
Peter says that, "For years our Wild Hope team have felt we were to be a bridge between the West and Africa ...especially in regards to renewal, revival and the discipling of leaders. Right now there is a great in-gathering in the part of Maasailand where we work. We have never seen anything like it in all of our years working with the Maasai! And our dear friends are at the center of it, being agents of God's incredible GRACE and LOVE."
"Two of these leaders in Maasai, James Kukan and Solomon Kipi are coming to the States with me! James and Solomon are warriors for Jesus. In his youth James was a literal warrior and songs have been sung about his feats. And now he's leading the charge in seeing true spiritual transformation amongst his people as Pastor, Community Leader, and Wild Hope TZ Trustee."
"Solomon is a Worship Leader and a Missionary to the Maasai of Tanzania. He is passionate and full of life in his pursuit of Jesus. Both of these precious brothers have testimony of God's faithful presence to bring to their brothers and sisters in the West."
"So, for the first time, Maasai/Wild Hope Warriors will be coming to the States 
crossing the bridge of Kingdom connection the Lord is building."
"Two are better than one because they have a good return for their labor." (Ecclesiastes 4:9)
"We have such a deep sense that we need each other ...both of us, on each side of the ocean, and that together we'll see His Kingdom come in awesome ways!"
Please join us at Faith Community Church for a blessed evening and witness the faith of these incredible Maasai men and what God is doing in Tanzania.
By Gazette Staff Writer — Wednesday, April 27th, 2011
Dearborn Officials Face Federal Court Lawsuit
Written By Jonathan Light
DEARBORN, Michigan – The Thomas More Law Center (TMLC), a law firm based in Ann Arbor, Michigan, announced that the City of Dearborn, Mayor John B. O'Reilly, Chief of Police Ronald Haddad, 17 City police officers, and two executives of the American Arab Chamber of Commerce were named as defendants in a ninety-six page federal civil rights lawsuit filed in the Federal District Court in Detroit on 22-Feb-2011.
The lawsuit, brought by TMLC and co-counsel "Sharia law expert", David Yerushalmi, stems from two separate police actions at the June 2010 Dearborn, Michigan Annual International Arab Festival.
Richard Thompson, TMLC President and Chief Counsel, commented, "Muslims dominate the political and law enforcement process in Dearborn. It seems that... http://www.dearbornfreepress.com/2011/02/25/mayor-oreilly-and-chief-hadd...
By Gazette Staff Writer — Tuesday, April 26th, 2011
Anyone who believes PP is primarily concerned with the health of women and girls needs to look at the record
As the 2012 budget battles began, Clare Coleman, CEO of the National Family Planning and Reproductive Health Association, took to the pages of the Washington Post. In a piece called "Five Myths about Planned Parenthood," she argued that defunding the organization was an ignoble goal for members of Congress looking to cut the bloated federal budget.
She said she wanted to... http://www.nationalreview.com/articles/265590/five-truths-about-planned-...
By Gazette Staff Writer — Tuesday, April 26th, 2011
By Gazette Staff Writer — Monday, April 25th, 2011
Just when I thought the current team running the White House might have used up all its allotted mistakes comes word that President Obama failed to issue either an Easter or a Good Friday greeting to the nation.
Now, let's forget for a moment that these greetings, which presidents issue on many holidays and commemorations of events, are largely perfunctory and symbolic gestures that nobody cares about.
Until there's a problem... http://www.whitehousedossier.com/2011/04/25/easter-greeting/
By Gazette Staff Writer — Monday, April 25th, 2011
The year 2011 marks the 400th anniversary of the publication of the King James Bible. Leland Ryken, a scholar of Christian literature and the Puritans, describes this as one of the most important cultural developments in the history of the English-speaking world. In his new book The Legacy of the King James Bible, Ryken records its sweeping influence on our language, education, religion, and culture.
The King James Bible has been "the greatest vehicle of literacy in the English-speaking world," by one account. Statesman Daniel Webster credited his famous oratory to its shaping: "If there be anything in my style or thoughts to be commended, the credit is due to my kind parents in instilling into my mind an early love of the Scriptures."
For almost four hundred years, the... http://blog.heritage.org/2011/04/22/morning-bell-religious-faith-is-stil...
By Gazette Staff Writer — Wednesday, April 20th, 2011
Written by David Swindle
We've seen where we're heading today in this country and it's the Parisian streets, with Muslims transforming prayer into an act of political intimidation and a politically correct government refusing to enforce the law against a favored minority group.
But this kind of thuggery has a political expression too and with the election of Barack Obama we're starting to see its creep into our own political system. Look at the recent history of the United Nations and you'll see an Islamist infiltration akin to the occupation of Paris' streets.
NewsReal Blog's all-star blogger Joseph Klein has recently... http://www.newsrealblog.com/2011/04/19/americas-cultural-future-is-in-th...
By Gazette Staff Writer — Monday, April 18th, 2011
"A Mighty Fortress is Our God" is the theme of this year's National Day of Prayer. God has been America's fortress in many ways throughout history. Each year, Christians gather all across our nation to celebrate God's goodness and to pray for His guidance. This year Fillmore will participate again in the annual National Day of Prayer. Thursday, May 5th is that day. Christians from all across Fillmore will gather at this year's chosen church, First Baptist Church, 1057 1st Street. A number of Fillmore area pastors will participate. There will also be singing and some congregational interaction. We will pray for our nation, our national & state leaders, our community & schools and other things related to our nation's future. Anyone who loves this country and wants to pray for its future is welcome to come. Meeting will be held at 7 p.m.. For information call 524-5564 or 524-3844.
By Gazette Staff Writer — Monday, April 11th, 2011
The pastors of Fillmore want to welcome the public to the Annual Sunrise Service on Easter Sunday, on the steps of City Hall, downtown Fillmore. The service will be from 6:30am to 7:30am and will feature participation from a number of Fillmore churches. Our featured speaker this year is George Golden, of 1st Baptist Church of Fillmore. George has many years of ministry experience, and is planning on bringing a message about the reality and power of the resurrection of Jesus Christ, which is central to the Christian message. Pastor George said, "There is an amazing truth found in the story of Easter. As we seek the truth, the Easter story has a fresh, life-changing meaning."
The service will also feature special music and songs from area churches. Donuts and coffee will be served - all are welcome.
By Gazette Staff Writer — Monday, April 11th, 2011
When studying the founding of the United States, you can't help but encounter the faith of the nation's forefathers. Time and again they recognized God's hand in the shaping of America. You will find Him repeatedly mentioned in their words and documents. And you will find Him having an active, vibrant role in the country's early history.
Today, God continues his... http://presidentialprayerteam.com/morality-in-america
By Gazette Staff Writer — Monday, April 11th, 2011
By Gazette Staff Writer — Wednesday, April 6th, 2011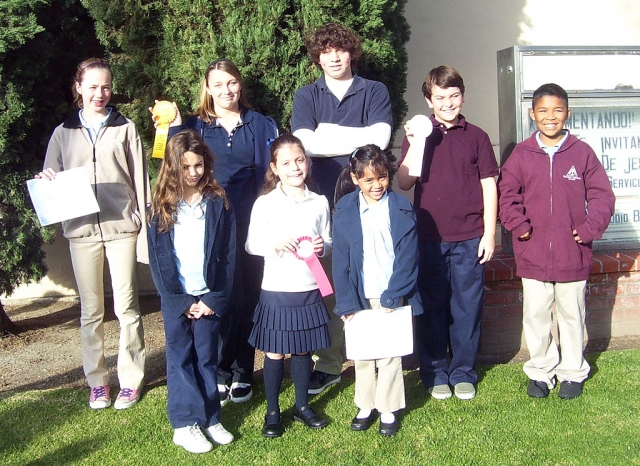 Fillmore Christian Academy sent eight students to compete in the ACSI District 6 Spelling Bee held at Cornerstone Christian School in Camarillo. All of the students competing are pictured above. Those receiving ribbons are the following: Sasha Adame 2nd Place, Noah Laber 3rd Place, Jacob Brooks 3rd Place and CeCe Flinn 4th Place; Back row: Sarah Stewart, CeCe Flinn, Jacob Brooks, Noah Laber, Joshua Sandoval; Front row: Ashley McKnight, Sasha Adame, ImaJoy Zerrudo.
Enlarge Photo
By Gazette Staff Writer — Tuesday, April 5th, 2011
Written by By Farid Ahmed and Moni Basu, CNN
Shariatpur, Bangladesh (CNN) -- Hena Akhter's last words to her mother proclaimed her innocence. But it was too late to save the 14-year-old girl.
Her fellow villagers in Bangladesh's Shariatpur district had already passed harsh judgment on her. Guilty, they said, of having an affair with a married man. The imam from the local mosque ordered the fatwa, or religious ruling, and the punishment: 101 lashes delivered swiftly, deliberately in public.
Hena dropped after 70.
Bloodied and bruised, she was taken to hospital, where she died a week later.
Amazingly, an initial autopsy report cited... http://www.cnn.com/2011/WORLD/asiapcf/03/29/bangladesh.lashing.death/ind...
By Gazette Staff Writer — Wednesday, March 30th, 2011
Save this date bargain shoppers! On Saturday, April 9, the Bardsdale United Methodist Women will host their annual spring Courtyard Sale from 8 am until 12 noon.
Shoppers can expect to find great deals on home furnishings, clothing, kitchen ware, tools, toys and games, books, bric-a-brac and other one-of-kind items.
Proceeds from this popular event supports the various ministries of the UMW. The church is located at 1498 Bardsdale Avenue.
By Gazette Staff Writer — Wednesday, March 30th, 2011
"God's presence with us in Creation, Word, Sacraments and Others" Monday April 4 thru Thursday April 7. Mass starts at 7 PM each night, Thursday night is devoted to confession with 6 priests, Bring your entire family. Do something great for Lent 2011 for more information, please call the pastoral center at 524-1306
By Gazette Staff Writer — Wednesday, March 30th, 2011
Faith Community Church - Compassion Ministry is going to host "Care and Share Day" and wondering what it takes to get in your advertisement page. The details of the event are: Who: FCC-Compassion Ministry, What: Care and Share Day (FREE lunch, music, groceries and yard sale), When: April 16, 2011, Where: 461 Central Ave, Fillmore. This is an annual event to help the less fortunate and/or struggling individual(s) and families in the hope to spread God's love and compassion.
By Gazette Staff Writer — Monday, March 28th, 2011
New evidence has emerged that the Iranian government sees the current unrest in the Middle East as a signal that the Mahdi–or Islamic messiah–is about to appear."
So begins an ominous report by CBN's Erick Stakelbeck detailing a propaganda video reportedly "approved at the highest levels of the Iranian government." That video explains "all the signs are moving into place — and that Iran will soon help usher in the end times."
Regular Beck viewers may know the Mahdi by another name, the twelfth imam — a term not lost to Stakelbeck, who writes thattThe new video "describes current events in the Middle East as a prelude to the arrival of the mythical twelfth Imam or Mahdi — the messiah figure who Islamic scriptures say will lead the armies of Islam to victory over all non-Muslims in the last days."
Stakelbeck reports, and includes excerpts from the video called "The Coming is Near:"
Joel C. Rosenberg, interviewed in the CBN piece, has been a guest writer on The Blaze. As part of our series "Understanding Egypt," he wrote:
The leaders in Tehran could not be more excited by the revolution now underway in Egypt and are praying the Mubarak regime collapses and the Muslim Brotherhood come to power. For them, such events would be dramatic new evidence that the End of Days has come, infidel Arab regimes are on the road to collapse, Western influence in the Mideast is... http://www.theblaze.com/stories/new-iran-propoganda-vid-trumpets-imminen...