By Gazette Staff Writer — Monday, April 11th, 2011
By Gazette Staff Writer — Wednesday, April 6th, 2011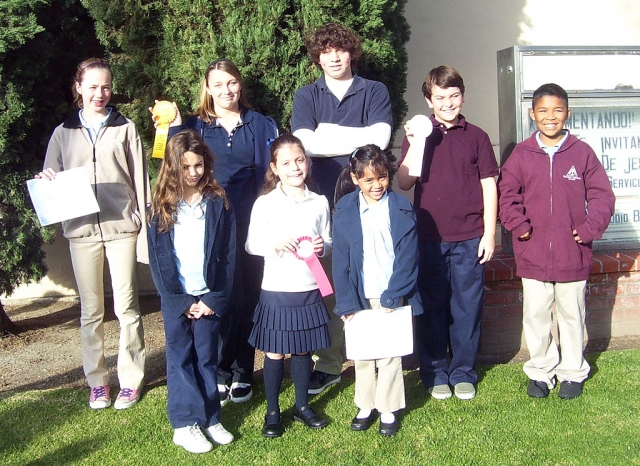 Fillmore Christian Academy sent eight students to compete in the ACSI District 6 Spelling Bee held at Cornerstone Christian School in Camarillo. All of the students competing are pictured above. Those receiving ribbons are the following: Sasha Adame 2nd Place, Noah Laber 3rd Place, Jacob Brooks 3rd Place and CeCe Flinn 4th Place; Back row: Sarah Stewart, CeCe Flinn, Jacob Brooks, Noah Laber, Joshua Sandoval; Front row: Ashley McKnight, Sasha Adame, ImaJoy Zerrudo.
Enlarge Photo
By Gazette Staff Writer — Tuesday, April 5th, 2011
Written by By Farid Ahmed and Moni Basu, CNN
Shariatpur, Bangladesh (CNN) -- Hena Akhter's last words to her mother proclaimed her innocence. But it was too late to save the 14-year-old girl.
Her fellow villagers in Bangladesh's Shariatpur district had already passed harsh judgment on her. Guilty, they said, of having an affair with a married man. The imam from the local mosque ordered the fatwa, or religious ruling, and the punishment: 101 lashes delivered swiftly, deliberately in public.
Hena dropped after 70.
Bloodied and bruised, she was taken to hospital, where she died a week later.
Amazingly, an initial autopsy report cited... http://www.cnn.com/2011/WORLD/asiapcf/03/29/bangladesh.lashing.death/ind...
By Gazette Staff Writer — Wednesday, March 30th, 2011
Save this date bargain shoppers! On Saturday, April 9, the Bardsdale United Methodist Women will host their annual spring Courtyard Sale from 8 am until 12 noon.
Shoppers can expect to find great deals on home furnishings, clothing, kitchen ware, tools, toys and games, books, bric-a-brac and other one-of-kind items.
Proceeds from this popular event supports the various ministries of the UMW. The church is located at 1498 Bardsdale Avenue.
By Gazette Staff Writer — Wednesday, March 30th, 2011
"God's presence with us in Creation, Word, Sacraments and Others" Monday April 4 thru Thursday April 7. Mass starts at 7 PM each night, Thursday night is devoted to confession with 6 priests, Bring your entire family. Do something great for Lent 2011 for more information, please call the pastoral center at 524-1306
By Gazette Staff Writer — Wednesday, March 30th, 2011
Faith Community Church - Compassion Ministry is going to host "Care and Share Day" and wondering what it takes to get in your advertisement page. The details of the event are: Who: FCC-Compassion Ministry, What: Care and Share Day (FREE lunch, music, groceries and yard sale), When: April 16, 2011, Where: 461 Central Ave, Fillmore. This is an annual event to help the less fortunate and/or struggling individual(s) and families in the hope to spread God's love and compassion.
By Gazette Staff Writer — Monday, March 28th, 2011
New evidence has emerged that the Iranian government sees the current unrest in the Middle East as a signal that the Mahdi–or Islamic messiah–is about to appear."
So begins an ominous report by CBN's Erick Stakelbeck detailing a propaganda video reportedly "approved at the highest levels of the Iranian government." That video explains "all the signs are moving into place — and that Iran will soon help usher in the end times."
Regular Beck viewers may know the Mahdi by another name, the twelfth imam — a term not lost to Stakelbeck, who writes thattThe new video "describes current events in the Middle East as a prelude to the arrival of the mythical twelfth Imam or Mahdi — the messiah figure who Islamic scriptures say will lead the armies of Islam to victory over all non-Muslims in the last days."
Stakelbeck reports, and includes excerpts from the video called "The Coming is Near:"
Joel C. Rosenberg, interviewed in the CBN piece, has been a guest writer on The Blaze. As part of our series "Understanding Egypt," he wrote:
The leaders in Tehran could not be more excited by the revolution now underway in Egypt and are praying the Mubarak regime collapses and the Muslim Brotherhood come to power. For them, such events would be dramatic new evidence that the End of Days has come, infidel Arab regimes are on the road to collapse, Western influence in the Mideast is... http://www.theblaze.com/stories/new-iran-propoganda-vid-trumpets-imminen...
By Gazette Staff Writer — Tuesday, March 15th, 2011
I have often wondered why it is that Conservatives are called the "right" and Liberals are called the "left".
By chance I stumbled upon this verse in the Bible:
"The heart of the wise inclines to the right, but the heart of the fool to the left". Ecclesiastes 10:2 (NIV) Thus sayeth the Lord. Amen.
Can't get any simpler than that.
By Gazette Staff Writer — Tuesday, March 15th, 2011
Dear CV Friend,
This is one of the most agonizing videos we have ever produced.
Two weeks ago we sent our media team into the middle of a rally organized to defend taxpayer funding for Planned Parenthood. We wanted to expose what the defenders of Planned Parenthood really believe.
What we witnessed left us speechless.
The abortion industry is often portrayed as a big-hearted caring industry that simply wants to serve low-income women. Their supporters claim that stripping Planned Parenthood and abortion providers of taxpayer funds will hurt everyone.
Of course this is a lie. Planned Parenthood is billion-dollar organization that is chiefly concerned with one thing -- the destruction of innocent human life.
Some of the footage we captured will shock you. Some of it will make you sad. But I hope it will encourage you to take action.
The fight over taxpayer support for Planned Parenthood is about much more than budgets and deficits. The fight is ultimately about our vision for America -- a vision that cherishes mothers, families and the gift of human life.
Our vision is one of hope. Theirs is filled with anger and hopelessness.
See for yourself and resolve to get involved today.
Sincerely,
Brian Burch
CatholicVote.org
By Gazette Staff Writer — Tuesday, March 15th, 2011
By Gazette Staff Writer — Wednesday, March 9th, 2011
Arlington, VA - On February 15th, the U.S. Department of Education answered Congresswoman Virginia Foxx's October Letter of Inquiry, which was prompted by an August Students for Life of America campaign at the University of North Carolina. The letter asked the Department if they were aware of the abortion coverage included in the University of North Carolina System's mandatory student health care policy and if they could prove that taxpayer funds were not paying for the abortion coverage.
In the Department's response, the Secretary of Education, Arne Duncan wrote, "
the Department has not issued any regulations, guidance, or other official policy with regard to the Hyde amendment, nor has the Department relayed any information regarding the Hyde Amendment to colleges and universities that participate in the Title IV and HEA programs."
Upon the receipt of the letter, Kristan Hawkins, Executive Director of Students for Life of America (SFLA), commented,
"The Department of Education is not upholding federal law which clearly states that taxpayer money is not to be used to pay for elective abortions. By not providing oversight, the Department of Education is allowing taxpayer money to fund elective student abortions at the University of North Carolina as well as in dozens of others universities across the country. Abortion is not health care and should not be a pre-requisite for learning."
In August, Students for Life of America discovered that the UNC System was automatically enrolling their students in a health care plan that covered elective abortions. After working with UNC students and leading an effective grassroots campaign, SFLA forced the UNC Administration to modify its policy and allow students to "opt-out" of the abortion coverage. SFLA is continuing to coordinate with pro-life students at UNC to work towards eliminating their abortion health care coverage .
In January, SFLA released a health care study of the 200 largest universities in the US. Of the 200 schools, 194 had school-sponsored health care plans for students. Eighty-six (44%) of the 194 school sponsored plans covered elective abortions, and 38 schools automatically enrolled their students in an abortion health care plan. To view the full study, visit http://noabortioninhealthcare.com.
For more information about taxpayer-funded student abortions, visit the SFLA site: http://noabortioninhealthcare.com.
To speak with Kristan Hawkins about the Department of Education Response Letter or the SFLA University Abortion Health Care Study, contact Mary Powers, Communications Director at Students for Life, at mpowers@studentsforlife.org or by phone: 703-351-6280.
Kristan Hawkins, Executive Director of Students for Life of America, the largest pro-life student organization in the nation, has been featured on Fox News and CNN and has had articles featured in The Washington Times, The Daily Caller, The Washington Examiner as well as in many other publications.
Students for Life of America (SFLA) works to provide students, from high school to graduate school, with the resources they need to save lives and abolish abortion on their campuses and throughout the nation with 563 pro-life college groups in 48 states.
By Gazette Staff Writer — Thursday, March 3rd, 2011
Written By Jim Meyers
House Speaker John Boehner declares that President Barack Obama's decision not to defend the Defense of Marriage Act (DOMA) in court is "outrageous" and vows that Republicans will intervene in the next few days.
Attorney General Eric Holder said last week that the Obama administration will not fight legal challenges to the constitutionality of the DOMA, which has banned federal recognition of same-sex marriage for 15 years.
Appearing on Greta Van Susteren's Fox News Channel show on Wednesday night, Boehner was asked whether the GOP planned to hire a special counsel to "do the job that the executive branch won't do."
The Ohio Republican responded: "DOMA is the law of the land. It was passed overwhelmingly in both the House and the Senate. And I think it is outrageous for the president to say, well, we're not going to enforce it. It's the law of the land.
"It is the job of the Justice Department to... http://www.newsmax.com/Headline/Boehner-Obama-DOMA-Gingrich/2011/03/03/i...
By Gazette Staff Writer — Wednesday, March 2nd, 2011
Written by Jonathon M. Seidl
ISLAMABAD — Assailants purportedly sent by al-Qaida and the Taliban killed the only Christian member of Pakistan's federal Cabinet Wednesday, spraying his car with bullets outside his mother's driveway. It was the second assassination in two months of a high-profile opponent of blasphemy laws that impose the death penalty for insulting Islam.
The killing of Shahbaz Bhatti, a 42-year-old Roman Catholic, further undermines Pakistan's shaky image as a moderate Islamic state and could deepen the political turmoil in this nuclear-armed, U.S.-allied state where militants frequently stage suicide attacks.
The Vatican said the assassination shows that the pope's warnings about the danger to Christians in the region are fully justified.
Bhatti, a campaigner for human rights causes, had apparently been... http://www.theblaze.com/stories/assassinated-christian-pakistani-govt-of...
By Gazette Staff Writer — Tuesday, March 1st, 2011
St. Stephen's Anglican Church will host a study series on the Ten Commandments.
The 10 session program will begin Thursday, March 10th at 7:00 p.m. at the home of
The Rev. Bob & Lisa Hammond.
The Ten Commandments have meaning that goes far deeper than many people at first suspect and have implications for our whole lives. The Commandments extend to our motives, outlook, indeed, our whole self understanding. Here is an historic document over 3,000 years old, yet it is a code for living more influential any other. The Decalogue will be viewed not as a repressive do's and don's but as a charter of liberty for a people released from servitude. The series utilizes for each study session, personal reflection, biblical perspective, and 1st person biographical accounts that relate to the particular commandment being studied.
If you are interested in participating please call Fr. Hammond at 524-1697 or (831) 801-0051 so we can have sufficient materials available.
By Gazette Staff Writer — Tuesday, March 1st, 2011
St. Stephen's will hold an Ash Wednesday Service (Imposition of Ashes) as a start to this Lenten Season, Wednesday March 9th, 2011 at 7:00 p.m. at the Fillmore Methodist Church, 421 Sespe Ave. Fillmore.
For more information please call Fr. Bob Hammond at 808 524-1697 or 831 801-0051
What is Lent?
Lent is a season of preparation leading up to Easter. It
is the forty days plus the six Sundays before Easter. For centuries, it has been observed as a special time of self-examination and penitence. Lent is a time for concentration on fundamental values and priorities, and is not a time for self-punishment.
If you have found yourself away from church and wondered about another try, Lent is the perfect time. For centuries, Lent has offered a chance to try the fellowship of the church one more time. In fact, Lent developed as a way to receive people back into church. If you are questioning your own faith and wondering what you believe, this could be the perfect time to come back to church.
By Gazette Staff Writer — Monday, February 28th, 2011
This Wednesday, Attorney General Eric Holder sent his own version of a "Dear John" letter to the Speaker of the House, informing him that President Barack Obama's Justice Department will no longer defend the Defense of Marriage Act (DOMA) in federal court. The letter clearly states that the decision was personally made by the President himself, who, supposedly just this week, came to the conclusion that DOMA violates "the equal protection component of the Fifth Amendment" of the U.S Constitution. This purely partisan act is completely consistent with both President Obama's unprecedented politicization of the Justice Department and the same-sex marriage movement's end-run around for democracy.
DOMA was enacted by overwhelming majorities of both houses of Congress and signed into law by President Bill Clinton in 1996. DOMA has two core provisions. First, it defines the words marriage, spouse, husband, and wife wherever they appear in the U.S. Code as referring only to the union of a man or a woman. Second, it defends the right of each state not to be forced to accept the redefinition of marriage in a handful of other states as a result of state court decisions or laws. Nearly 40 states have enacted state-level DOMAs, and 31 have embraced traditional marriage in their state constitutions. No state's voters have ever voted to the contrary.
President Obama knows... http://blog.heritage.org/2011/02/25/morning-bell-next-step-in-congress-f...
By Gazette Staff Writer — Wednesday, February 9th, 2011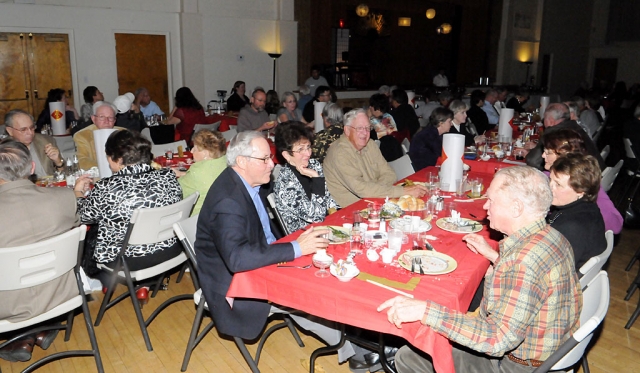 Trinity Episcopal Church held its Annual Prime Rib Dinner on Saturday, February 5th at the Veteran's Memorial Building. The place was packed, the food was good, the company was great!
Enlarge Photo
By Gazette Staff Writer — Wednesday, February 9th, 2011
Summit for non-believers slated February 18-20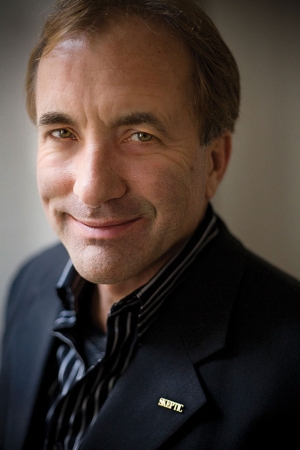 Michael Shermer
THOUSAND OAKS, CA. - The Secular Student Alliance at California Lutheran University is hosting the first SSA SoCal Leadership Summit from Friday, Feb. 18, through Sunday, Feb. 20.
While the conference is designed for members of high school and college secular organizations, it is open to the public. The keynote presentation by Skeptic Magazine founding Publisher Michael Shermer on "Why People Believe Weird Things" from 8 to 9:30 p.m. Feb. 19 is free.
Evan Clark, the founder and president of the SSA chapter at CLU and president of the Associated Students of CLU, will speak on "How an Atheist Became Student Body President at a Lutheran University."
Other presentations and workshops include "Beyond Kumbaya" by feminist author Sikivu Hutchinson, "How to be a Campus Fundraising Ninja," by SSA Executive Director August Brunsman IV, and "You Can't Reason with Them: The Chinese Finger Torture of Talking Religion with True Believers" by Atheists United President Bobbie Kirkhart. Dan Barker, co-president of the Freedom From Religion Foundation, will present "How to be an Anti-Antidisestablishmentarian."
SSA began in Minnesota in 2000 and now has 250 campus affiliates. Its mission is to organize, unite, educate and serve students and student communities that promote the ideals of scientific and critical inquiry, democracy, secularism and human-based ethics. Members include atheists, agnostics and humanists.
Clark started the SSA affiliate at CLU in 2009 to provide a community for non-religious students and to live out the university's commitment to critical inquiry into matters of faith and reason by examining a variety of beliefs and traditions. The group meets weekly for discussions and, unlike many secular student groups, takes field trips to a variety of churches, temples, mosques, pagan gatherings and other places to participate in services and rituals and learn firsthand about various beliefs.
The keynote address will be held in CLU's Samuelson Chapel, which is south of Olsen Road near Campus Drive on the Thousand Oaks campus.
Registration rates for the conference run from $39 to $149. To register, go to http://www.secularstudents.org/socal.reg.
For more information, contact Clark at ebclark@callutheran.edu or (978) 501-2691.
By Gazette Staff Writer — Monday, February 7th, 2011
Written by Heidi Swander
www.olivetreeviews.org
February 2, 2011
Warning: What you are about to read sounds like a new spin-off episode of Star Trek, but it is not. It is really happening in real time with real people, and it will very likely have a tremendous impact on the future of our world and on the seven-year Tribulation period that is fast approaching.
Our subject is Transhumanism: The development of the post-human or neo-human. In an article in his quarterly publication, "Forcing Change," Carl Teichrib, long-time researcher and writer on globalization, explains, "Based on the premise that evolution is true, Transhumanism looks to shape the human species through the direct application of science . . . By employing technology we can take hold of the evolutionary process and change it as we desire, thus becoming masters of our future."
According to Teichrib, the Mormon Transhumanist Association (MTA) lists such "benefits" of this pseudo-science as highly advanced intellectual capabilities; bodies immune to disease and aging; communication without speech or visual aids and en masse; and superhuman strength and agility, to name a few. The means to this end include DNA manipulation, brain-computer interfacing, and injections of nanobot technology to manipulate human tissue. Teichrib warns that such ideas are "grounded in theoretical research and present-day realities." He says that, "Brain interfacing and mind implants, along with nanotechnology, are no longer the stuff of science fiction. Much theoretical work has been done, experimentation is ongoing, and major breakthroughs have occurred."
As Teichrib points out, "While the future is being played within laboratories and technical institutes, the foundation of Transhumanism rests on an ancient desire: Man becoming deity." It is, in effect, "the technical quest for the Holy Grail, Ascension through engineering."
"Mark Pesce, a co-inventor of 3-D interfacing for the Worldwide Web and a panelist and judge on ABC's show The New Inventors, puts it this way, 'Now we will reach into the improbable, re-sequence ourselves into a new Being, de-bugging the natural state, translating ourselves into supernatural, incorruptible, eternal. There is no God but Man.'"
During a Q&A session at a conference on Transhumanism hosted by the MTA, the comment was made in Techrib's hearing that, "We are now at a Tower of Babel return point -- anything we imagine, we can do. There is nothing out of our grasp now" (see Gen. 11:6).
Scary, isn't it? And don't miss that the Mormon Church is central in this quest as they seek to become gods, just as their doctrine dictates.
Although the modern version of Transhumanism is rooted in Humanism and most Transhumanists are atheistic or agnostic, Teichrib explains that, "A progressive version of Christianity, represented as a faith ready to embrace religious diversity and evolution, will be accepted within the Transhuman environment. Emergent spirituality and interfaithism within the church will dovetail with Transhuman sentiments." And, he says, "A globally-accepted form of spirituality will play an increasing role in the Transhumanist worldview" (italics mine).
In another article on Transhumanism, Martin Erdmann, a Swiss theologian, warns that "a large contingent of contemporary evangelicals have [already] embraced some aspects of the technocratic ideals of Transhumanism and is drawn by its motivations . . . Their new focus is on an earthly inheritance for the church. In concrete terms this means that Christians are called upon to usher humanity into a new stage of its existence. Through individual Christians' labor, all the evils in society will slowly be conquered until they are no more." These espoused goals are similar to those of Dominionists.
The desire for man to become god is an ancient ambition and demonically rooted (Genesis 3). It should be no surprise, as we race pell-mell toward the culmination of history, that an adaptation of this objective has been remade in a palatable format for today's techno-gurus and false theologians.
It is one thing to consider that pagan humanity is attempting this feat. It is another to consider that broad sections of those who call themselves Christian are succumbing to this satanic lie. It smacks of Paul's words to the Romans, "Professing to be wise, they became fools, and changed the glory of the incorruptible God into an image made like corruptible man," (Rom. 1:22-23). But Paul also had words to the church in Thessolonica: "And for this reason God will send them strong delusion, that they should believe the lie, that they all may be condemned who did not believe the truth, but had pleasure in unrighteousness" (II Thess. 2:11-12).
By Gazette Staff Writer — Monday, February 7th, 2011
An excerpt from Father Corapi's book, Letters
A large number of endangered, unwanted, and unborn children held a town hall meeting on the 4th of July - alarmed at the brutal and untimely killing of millions of their brothers and sisters in recent years. That the murderous war waged on them had the full force and respectability of the law made their plight all the more terrifying.
Their complaint was humble and it was simple. They were not distressed by rising gas prices, or the deteriorating economy in general. They were not even frightened by the exponential increase of natural disasters. The threat of global warming or global terrorism did not greatly disturb them.
They had become an endangered species, and little had been done to answer their terrified and silent screams from the womb. They decided that the barbaric treatment that they and their fellow unwanted unborn human beings have had to endure for perilous decades was unconscionable and unbearable. They cried out to their Creator for inspiration and protection, and then unanimously they put forth a declaration. It began as follows:
"When in the course of human events it becomes necessary for one people to dissolve the political bands which have connected them with another and to assume among the powers of the earth, the separate and equal station to which the Laws of nature and the Nature's God entitle them, a decent respect to the opinions of mankind requires that they should declare the causes which impel them to the separation. WE HOLD THESE TRUTHS TO BE SELF-EVIDENT, THAT ALL MEN ARE CREATED EQUAL, THAT THEY ARE ENDOWED BY THEIR CREATOR WITH CERTAIN UNALIENABLE RIGHTS, THAT AMONG THESE ARE LIFE, LIBERTY AND THE PURSUIT OF HAPPINESS...
THAT AMONG THESE IS LIFE; THAT AMONG THESE IS LIFE; THAT AMONG THESE IS LIFE!"
The first and pre-eminent right is the right to life. This truth the Founding Fathers were sure of, and anyone with any common sense at all is equally sure of it. 232 years after the Declaration of Independence was signed the amount of common sense that seems to be operative in many spheres of influence - most notably the courts and the political arena - can easily be poured into a very small thimble. The United States of America seems to have a death wish, and we have traveled far down the road to having that wish realized. When law divorces itself from common sense and spawns the illegitimate offspring of distortions of law, resulting in illegal laws - based neither on the natural law nor divine law - this undermines law itself, generating disdain for the law. Erosion of trust in the courts, or the system in general, is inevitable.
The genesis of the death wish is rooted in the fall of man that we see in the Book of Genesis. The substance of the fall is wrapped up in Lucifer's pride, transferred to Adam and Eve - "You can be like gods, knowing good and evil." The unholy, yet inevitable, consequence of that price is disobedience - eating the forbidden fruit. The ultimate end is death, as God said it would be. That's the way it was in the beginning. That's the way it is now. That's the way it will be until time breathes forth it's last moment.
The prototypical sin is pride, the pride that seeks to exalt the creature above the Creator:
"I can be like God." Then, subjectively and arbitrarily, man tries to assert himself, imagining that he knows what's good and evil for himself without reference to God and God's law. This was the fall of the angels and the fall of man. The attempt by creatures to usurp what is only the province of God. Only God knows what is good for His creation.
In recent years it took the form of a self-inflicted heart wound when some dissident Catholics rejected the teaching of the Church, a teaching that clearly held that artificial contraception is intrinsically evil. Then, as Pope Paul VI had warned, it metastasized into abortion. From abortion it degenerated even further into partial-birth abortion. It was then a short and easy step to infanticide.
It's hard to believe that we have degenerated to the point that we'll murder a helpless baby should it escape the violence of an abortion and be born alive. Can a Catholic vote for such persons? [who support abortion] We are told, "yes" for a "proportionate reason." What, I might ask, is the proportionate reason so weighty as to excuse supporting those responsible for what is tantamount to genocide?
The judges and politicians that support such barbaric practices are truly guilty of genocide: genocide - the deliberate and systematic destruction of an ethnic, racial, religious, national, or social group. "What is the group so target?", you might ask. The group is unwanted, unborn children - tens of millions of them. The Supreme Court justices that gave us Roe v. Wade will have to plead temporary insanity in the court of history. There will be no defense in the highest Court that is the judgment seat of almighty God if they do not repent of the incalculable evil they have wrought.
Yet, despite the life and death importance of this travesty of authentic law, there will be no serious discussion among political candidates, or anyone else. It is as if society has been bewitched, blind to the splendor of truth, deaf to the cries of the most innocent, most vulnerable, and most utterly helpless.
From artificial contraception to abortion to partial-birth abortion, then on to infanticide we march toward the abyss of oblivion, a society marked for death...
Fr. John Corapi, SOLT, STD