Bardsdale United Methodist Church "G-Force" Vacation Bible School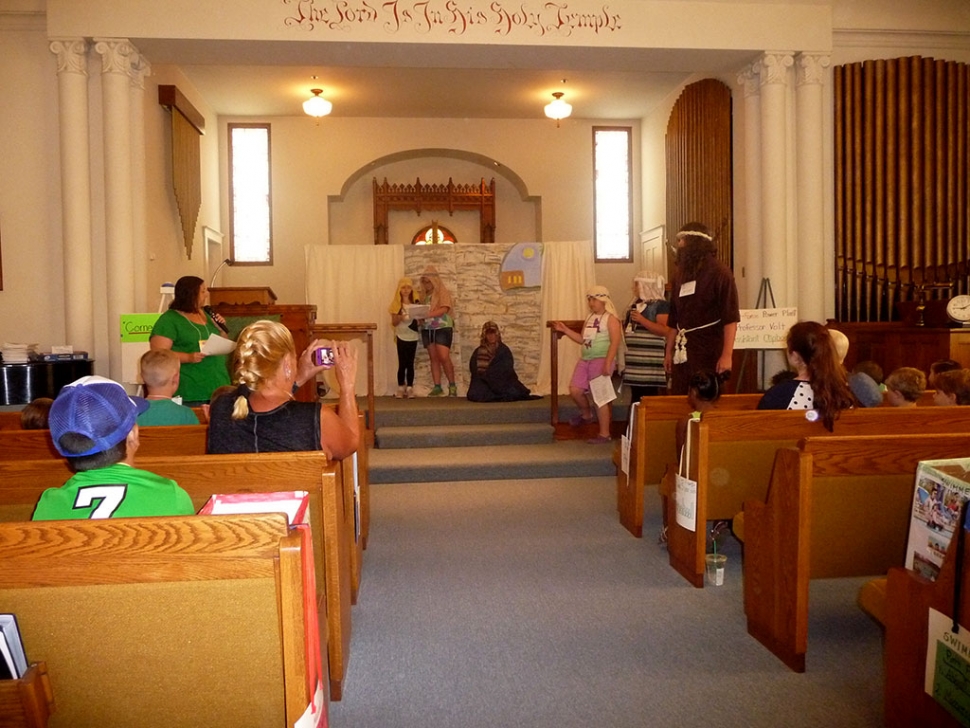 VBS at Bardsdale Methodist
By Dick Diaz — Wednesday, July 29th, 2015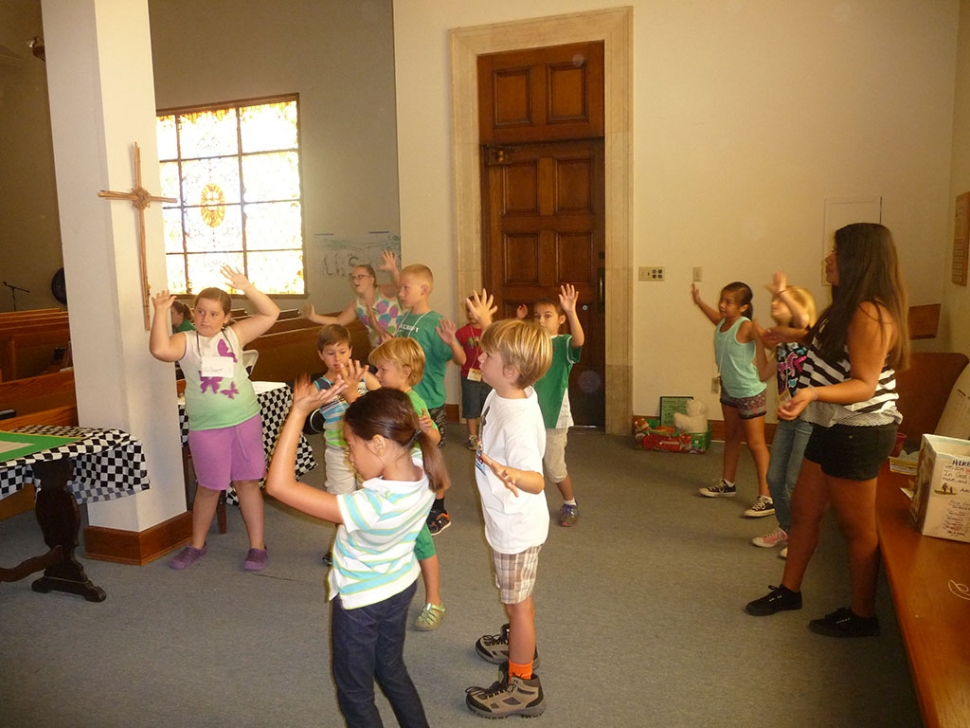 The Bardsdale Methodist Vacation Bible School 'Music Zone' was popular with the kids!
On Friday, July 17th another exciting year of Vacation Bible School came to an end with the closing ceremonies of the Bardsdale United Methodist Church's Vacation Bible School. The Church has been serving the Santa Clara Valley for 123 years!
This year's theme was Move, Act, Care, Follow and Share at G-Force: God's Love in Action Vacation Bible School. This year the Bardsdale United Methodist Church's (B.U.M.C.) Vacation Bible School (V.B.S.) began on Monday, July 13th and ended on Friday, July 17th. There were approximately 90-100 registered children ages 3 years to college age who attended each day from 9:00 am to 12:00 noon at the Church. The cost to each participant was $15 which also included daily healthy snacks and materials used for instruction. There are five "Zones" each participant rotates through each day; Bible Scripture Zone (Tara Luedtke), Music Zone (Teresa Norris), Crafts Zone (Linda Wareham), Recreation Zone (Brooke Heinrich) and Science Zone (Susan Johnson).
The Director, for the 8th year, was Sharon Hurd. Director Hurd begins preparing for the Vacation Bible School months in advance and works many hours selecting the theme and lining up the volunteers and staff in order to have a meaningful Vacation Bible School! Director Hurd told me there were, including staff, 30 volunteers participating and assisting in this year's Vacation Bible School. Two of the staff came from Flagstaff, Arizona to help; Brooke Heinrich, a sixth grade reading teacher at Flagstaff's Northland Preparatory School and Tara Luedtke, a senior at Northern Arizona University where she is majoring in Hotel and Restaurant Management. This was the first Vacation Bible School for Bardsdale United Methodist Church's Pastor Bethany Carpenter. I found Pastor Bethany helping in the Crafts Room along with Linda Wareham, instructing students on making blankets. Linda Wareham told me, "The blankets will be distributed, along with other crafts, within the Fillmore community." I asked Pastor Bethany what she thought of her first Vacation Bible School? Pastor Bethany told me, "This Vacation Bible School is awesome and amazing. The children are learning about loving one another through Faith and Action."
In previous V.B.S., in addition to learning the daily lessons, each participant was taught the lesson of giving to others less fortunate and were encouraged to bring a daily donation to be shared equally between two selected causes. This year Director Hurd is having the participants make gifts to give to others, "To show God's love in action." said Director Hurd. She added, "We will also collect gently used stuffed animals (clean and in good condition) for our Police and Fire Departments to give kids going through difficult times. The children and their parents are invited to help deliver these gifts, to show God's love in action."
In addition to watching a "Bible Drama," where children are the actors, at the start of the V.B.S. Day, I was given a tour, which included a narrative of each Zone's activities, at the various "Zones" by Drama Director Carolyn Dorton-Diaz. One of the areas we visited was the newly remodeled "Sunday School" room. "The room was completed with a combination of volunteers who moved furniture, painted, assembled cabinets and a commercial vendor who placed the new carpet," Carolyn proudly told me.
The children all appear to enjoy their activities and were very interactive with their instructors. I spoke with Staff Member Mark Hurd who coordinates the Youth Group. The Youth Group consists of participants from 7th Grade to College. The Youth Group, in addition to Bible Study, learn important tasks that they are able to use now and throughout their lives. In years past they learned how to mix and pour concrete and in today's lesson they were learning how to dig a hole using a post hole digger. It's not just busy work because the holes will be used for posts for a fence.
I have covered the B.U.M.C. Vacation Bible School a number of times and each year the theme is different, but Carolyn tells me, "Many of the participants return year after year! As do the staff and volunteers!" From what I see at each visit, I believe the B.U.M.C. provides a valuable opportunity for children to learn by doing. Welcome Pastor Bethany to your first, of many I am sure, B.U.M.C.'s Vacation Bible School. Congratulations to Director Sharon Hurd, staff and volunteers for another fine Vacation Bible School.