Obituary
Charles S. Ponce (1925-2013)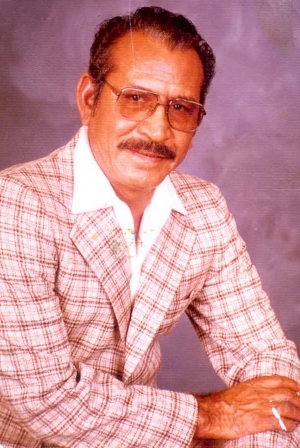 Charles S. Ponce (1925-2013)
Charles S. Ponce was born in Mexico on 08-14-1925. He was raised in Piru, CA., He passed away on 10-25-2013. He is survived by his wife Lupe of 65 years, his brother Raymond (Alma) , his sons Carlos (LiAnn), Ernie (Lucille), Ricky, his daughter Sandra (Danny), Grandchildren Tami, Ryan, Amber, Ricky Jr., Raeven, Cory, Milah, Wyatt, Frank, Tony, Ernie, his great grandson Sean Ray and many nieces and nephews.
Our dad loved his sports, especially the Dodgers, he was a proud man he wore his USA cap! He loved parties, our mom's good cooking and Las Vegas. He will be deeply missed. Our Dad beat cancer twice in 22 years, but he succumbed to chronic heart failure at the age of 88.
Our thanks to the staff at Henry Mayo Hospital, Santa Paula Memorial, Green Valley Nursing Home.
Mass will be held at San Salvador Mission Church in Piru at 10:00am on 11-08-2013. Reception will follow.