Obituary
Charles Daniel Ladd (1981 - 2012)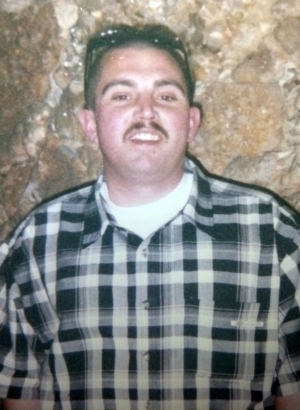 Charles Daniel Ladd (1981 - 2012)
Charles "Danny" Ladd, passed away in his sleep at home from unknown causes on March 23,2012.
Danny grew up in Fillmore and lived most of his life there, until moving to Georgia seven years ago.
He was educated in Fillmore schools, attended high school in Big Bear, CA., and later Simi Valley Adult Ed. and technical school in Georgia. Attaining many certifications in Computer Science, Danny was our favorite "Computer Geek."
Danny was employed in the construction trade and truly enjoyed his job and co-workers. He had attended Noble Fellowship Church before moving to Canton, GA.
He looked forward to playing on his X-Box with his nephews and friends in his spare time, enjoyed history and science,and was an avid animal lover.His sense of humor would always leave you laughing.
He faced many challenges in life, but with prayers and God's help, he overcame them and became a man that his family was so very proud of. He always had a special place in our hearts but the last seven years were truly a blessing.
Danny is survived by his parents Charles and Patricia Ladd of Lafayette, Ga., formerly of Fillmore, sisters Kimberly Lucero of Santa Paula and Katrina Covarrubias of Oxnard, son Daniel Ladd and daughter Shyanne Galvan (The two loves of his life that he could not stop bragging on), Grandmother Mary Devitt of Fillmore, nephews Devin and Derek Kromidas of Ventura, Mason and Taylor Covarrubias of Oxnard and niece Kathryn Covarrubias of Oxnard, several cousins, including Angela Gregory of Fillmore, Uncles Bill Ladd of Rossville, GA., Robert Ladd of Rock Spring, GA., and Harry Devitt of Ringgold, GA. Danny also left behind his fiancee, Patty Martinez of Canton, GA., whom he loved and cared for deeply.
Danny was preceded in death by his grandfather, Vernon "Pop" Devitt of Fillmore and his grandparents Carl and Beulah Ladd of St. Elmo, TN.
In lieu of flowers, the family requests your prayers and cards.
A celebration of his life will be held on Thursday, April 12,2012 at 11:00 a.m. at the Church of Christ in Fillmore, followed by a graveside service at the Bardsdale Cemetery. A luncheon will be provided back at the church in the Fellowship Hall, prepared by the ladies of the congregation.
A piece of all of our hearts has been ripped out, but we have great comfort knowing we will someday see him again.