Obituary
Charlene (Charly) Gunter (1943-2013)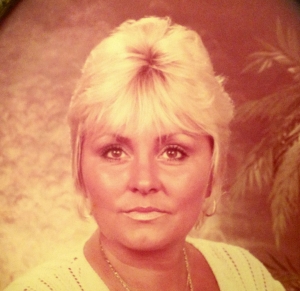 Charlene (Charly) Gunter (1943-2013)
Charlene (Charly) Gunter was born in Bakersfield, Ca on April 5, 1943. She passed away at home of natural causes on Saturday, August 24th, 2013. She was preceded in death by her son, Douglas Wileman, her father, Charles Cotton, mother, Edna Cotton and sister, Deanna Cotton. Charlene is survived by her husband, Scott Gunter, son and his wife, Mike and Teri Wileman, stepson, Derek Gunter and his two children, her grandchildren, Taylor Gunter and Gavin Gunter. She is also survived by her two brothers and their wives, Larry and Gwen Cotton from Elizabeth, Co., Dewey and Kay Cotton of Tehachapi, Ca., numerous nieces, nephews and great nieces and nephews. Charlene also leaves behind cherished friends and loved ones from all walks of her life.
Charlene attended grammar schools in Fillmore and completed three years at Fillmore High. She went back later and earned her GED diploma. She was a stay at home mom to her two boys until they were in school. At that time she held a position as an Escrow officer at Glendale Federal Savings and loan bank. She moved back to Fillmore in the 70's and started working for her mom at Cotton's Cafe. After that she started a catering business which included preparing food and feeding the fire crew working on the Sespe fire. She was also involved in helping and feeding the 1994 Northridge earthquake victims. She spent three years as a dispatcher with the Ventura County Sheriffs department. She also did some bookkeeping from her home for several businesses in Ventura County.
Charlene loved people and was always willing to help with any project or fundraiser in Fillmore and Santa Paula. She was mostly known around Fillmore and Santa Paula as "Charly". She and Scott were members of the Moose Lodge and were especially active in the Santa Paula Lodge. They made many life long friends through the Lodge and various other organizations. She loved getting together with family and friends for Bar-B-Ques, especially during football seasons. The last few years Charlene had health problems that limited her ability to get out and about to do the things that she loved, such as, trips to Home Depot to buy flowers or gardening supplies. She also loved animals and for that reason Scott has requested that in Lieu of flowers that donations be made to SPARC, Santa Paula Animal Rescue Center. Checks can be mailed directly to them at 705 East Santa Barbara St., Santa Paula, Ca., 93060. Also, there is a website where you can make credit card or pay pal donations.
Join us in saying to her, "May you rest in peace".