Obituary
Calvin Deeter (1929-2016)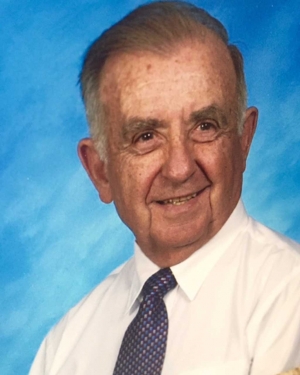 Calvin Deeter (1929-2016)
Calvin Deeter, a longtime resident of Fillmore for almost eighty years, passed away peacefully at his home on June 24, 2016.
Calvin was born in Woodward, Oklahoma on October 9, 1929. In 1933, his parents moved Calvin, his twin brother Alvin, and his older brother Bill to Van Nuys, and eventually settled in Fillmore in 1938, and started raising turkeys. The iconic Deeter Turkeys was widely known throughout Ventura County and enjoyed by generations throughout the holidays.
Following graduation from Fillmore High School in 1947, Calvin worked on the turkey farm before joining the National Guard in 1948. When the Korean War began, the 40th Infantry Division was among the first to be mobilized into combat. Before leaving for South Korea, he married his high school sweetheart, Lavonne Whiteley on February 3, 1951, while home on a weekend pass.
In 1951, Calvin was serving as a crew chief for his unit when a bomb exploded and he was hit several times from shrapnel. Calvin was honored with a Purple Heart.
The young couple settled on the turkey ranch and in 1954, welcomed their first daughter, Debbie. Seven years later, another daughter, Julie blessed the couple and their family was complete.
Calvin eventually took over the turkey ranch raising roughly 20,000 turkeys annually with the help of many family members and local residents. In the mid 70s, Calvin began another career, a contracting business before retiring in 1990.
Throughout the years, Calvin was dedicated to the community where he generously donated his time. He was also devoted to his church, Fillmore Presbyterian (Fillmore Bible Church) where he taught Sunday School for many years. Later Calvin and Lavonne became members of The Presbyterian Church in Santa Paula where Calvin was an active and a devoted member.
Calvin had many hobbies including bridge, hiking, fishing, and camping. However, his biggest passion was boating. Many wonderful years were spent water-skiing and house boating with family and friends at Lake Millerton, Lake Shasta, Lake Havasu and, their favorite, Bullards Bar a special lake where Calvin and his family enjoyed their annual vacation.
Calvin is proceeded in death by his parents, wife Lavonne, daughter Debra (Patterson), twin brother Alvin, older brother Bill, half sister Bernice and great-grandson Matthew Johnson. He is survived by daughter Julie Hackney, son-in-law Brian Patterson, granddaughters Charity (Patterson) Chapman (Jason), Rebecca (Patterson) Johnson (Daniel), grandsons Caleb Hackney and Ethan Hackney, six great-grandchildren and numerous cousins, nieces and nephews.
A memorial Service will be held on Saturday, July 9th at 11:00 am at Faith Community Church in Fillmore.
Donations can be made to the Fillmore High School Alumni Association and The American Cancer Society.