Obituary
Burtis Lamar Davis (1917-2015)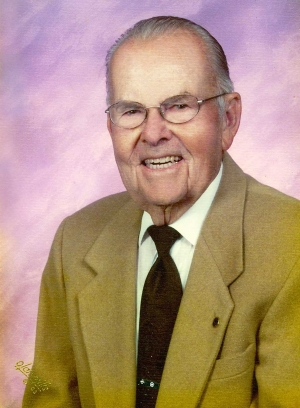 Burtis Lamar Davis (1917-2015)
Burtis Lamar Davis, 98, of Fillmore died Thursday, December 31, 2015, following a long illness. Burt was born December 28, 1917, and grew up in Fillmore where he met wife, Phyllis. After graduation, Burt worked with his brother, Gerald (Sadie) Davis at the Seaside Gas Station. He entered the Army and served in Germany during World War II. He was discharged and returned to Fillmore to again work with his brother at the Texaco Station.
Burt was known throughout Southern California as an athletic official in high school and college. He started officiating in 1935 and in 1949 became a charter member of the Channel Coast Officials Association. He was Secretary and Treasurer for 25 years and conducted many officiating clinics throughout Southern California. At one time in his career he was the Number 1 "white hat referee" 8 out of a 10 year period. He refereed 4A football finals in the Los Angeles Coliseum, 4A basketball games, and spring training games between the Dallas Cowboys and Oakland Raiders. He was inducted into the Fillmore High School and Ventura County Sports Hall of Fame.
Burt had a big heart with a big smile and a loud voice that could be heard all over town!
Burt was proceeded in death by his parents, Thad and Nellie Davis, his wife, Phyllis, sisters, Jewell Fremlin and Laura Smith Harmonson and brothers, Gerald Davis and Perry Davis.
He is survived by his daughters, Lynne and husband, Joe Cook of Waco, Texas; Valerie and husband, Gene Newland of Fresno, California and Laurie DeAlejandro of Ventura, California, as well as many grandchildren and great grandchildren.
The family would like to express their gratitude and appreciation to Lupe Barraza for her loving care of our Dad for over 11 years as well as Teresa Olmos who has been with us over two years.
Special thanks to all the staff of the Assisted Home Hospice Care in Ventura.
A visitation will be held from 3 to 5 pm on Thursday, January 7, at Skillin-Carroll Mortuary, 600 Central Ave., Fillmore. Services will be held in Fillmore, 10:00am on Friday, January 8th at Faith Community Church, 461 Central Ave. Graveside services with Military Honors will take place at 3:00 pm in Bardsdale Cemetery, Fillmore, with Pastor Mark Rathe of Faith Community Church, officiating both ceremonies.
Memorial contributions may be made to the Assisted Hospice Care in Ventura or a charity of your choice.
Arrangements are under the direction of the Ted Mayr Funeral Home, 3150 Loma Vista Road, Ventura. Condolences may be left at www.TedMayrFuneralHome.com
Please sign the guest book at obits.VenturaCountyStar.com.