Obituary
Betty Juanita Carreno (1937-2014)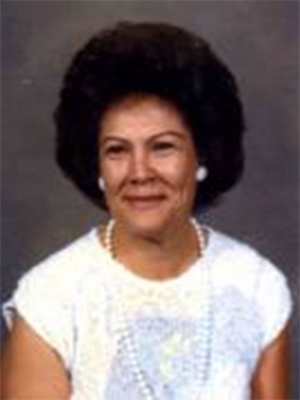 Betty Juanita Carreno (1937-2014)
Betty Juanita Carreno, our beloved wife, mother, grandmother, born May 10, 1937, passed away on February 10, 2014 following a very brief illness. Betty was born in Los Angeles, moved to Santa Paula in her early teens, met and married Fernando "Popeye" Gonzalez. They lived in Europe while he was in the service, settling in Fillmore upon return. Together they worked in the family business "La Mexican Market". She then divorced and in 1977, she met and married Jaime Carreno, and they have been crazy in love with each other for nearly 37 years. Betty worked at the Olga bra factory in Fillmore for many years, Spectrum in Oxnard, then Kalivico in Moorpark, hesitantly; she retired, frequently mentioning her desire to continue working. She made many good friends everywhere she worked, and why not, Betty had an infectious smile and laughter, and no one can really remember her being mad at anyone.
Betty will be remembered as a beautiful classy lady, well organized with everything in its place and spotless. We can only say that her system utilized lots of plastic bags, and an extra room which was known as her "Montgomery Wards room", those that know her will understand this.
Betty loved playing anything competitive with her family from "Washers" to "Loteria" then came her marathon Novelas routine two or three a night. We will miss her attention, her love, her wit, now she will entertain the angels and rejoice in the presence of our God with her friends and family. Betty was is our rock, she taught us how to be strong, stubborn and grounded. She will be deeply missed by many.
Betty is survived by her husband Jaime, sister Laura Hammon, brother Robert Martinez, and son, Fernando Gonzalez and fiancé Veronica Torres, Sons-in-law and daughters: Richard and Debbie Hinojosa, Kirk and Laura McDowell, Rick and Nancy Gonzalez. Her grandchildren who in her last days took tremendous care of her, all having a special job, tending to her every need and wishes: Ricky, Krystal, Brittany Gonzalez, Matthew McDowell, Richard and Kelly Esguerra, Kyle and Jazmine McDowell, Leah Hinojosa and Richard Hinojosa Jr., Anthony and Danny Gonzalez and 9 great grandchildren.
A rosary was held on Monday, February 17, 2014 at 7:45pm at St. Francis of Assisi Catholic Church, 1048 Ventura St. Fillmore, CA 93015. The Mass of Christian burial was celebrated on Tuesday, February 18, 2014 at 9:30am at St. Francis of Assisi Catholic Church. Interment followed at Bardsdale Cemetery.
To sign the family's on line guestbook, share stories, and post pictures please visit our website: www.garciamortuaryoxnard.com and click on Betty's name located below "Obituaries".
Funeral arrangements were under the direction of Garcia Mortuary, 629 South A Street, Oxnard. For further information, please call (805) 486-9148.