Wolves and Wild Lands in the 21st Century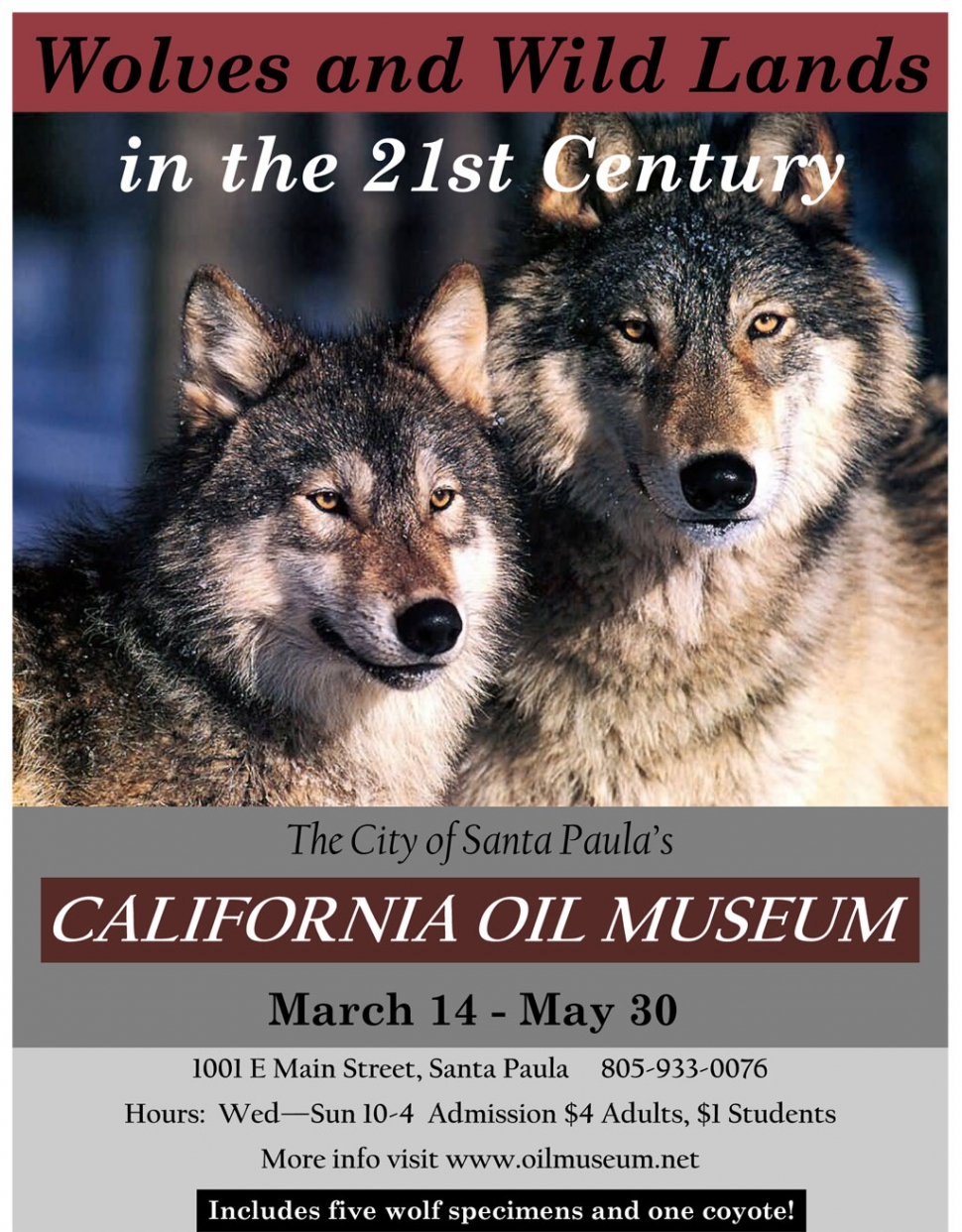 By Gazette Staff Writer — Monday, March 1st, 2010
Opening March 14 in the Iron Room of Santa Paula's California Oil Museum
A 'howling' new exhibit is coming to the City of Santa Paula's California Oil Museum! Wolves and Wild Lands in the 21st Century is opening March 14, 2010 in the Iron Room at the museum with five wolf specimens and one coyote specimen. Photographs and educational material will accompany the exhibit on this haunting and mysterious mammal. Join us at the opening reception on March 14 from 1-3pm at the California Oil Museum, 1001 E. Main Street in Santa Paula. Admission is $4 adults, $3 seniors, $1 students and free for 5 years old and under. This exhibit, as well as all the exhibits at the museum, is suitable for children and adults alike.
The story of wolves in North America takes us to many places, from the Arctic to the southwestern United States. And for every region where wolves thrive or struggle to survive cultural and economic pressures continue to shape their existence.
This exhibition provides a compelling, continental perspective on wolves today. Organized by region, each wolf is presented in its human and natural-history context.
Wolves in the Far North Can they be hunted and their populations sustained?
Wolves in the Rocky Mountains Will land development crowd them out?
Wolves in the Midwest Can people change how they live to make living with wolves easier?
Wolves in the Northeast Will wolves return to their old haunts?
Wolves in the Southeast Do coyotes threaten the survival of the red wolf?
Wolves in the Southwest When they prey upon livestock, who gets hurt, the rancher, the wolf, or both?
Coyotes in North America Will coyotes win out over wolves in the competition for food and space?
Learn all this and more at the exhibit!
For more information about the museum call 805-933-0076 or go to our website at www.oilmuseum.net.