Ventura High School Art Teacher, Kay Zetlmaier To Have Solo Exhibit At Buenaventura Gallery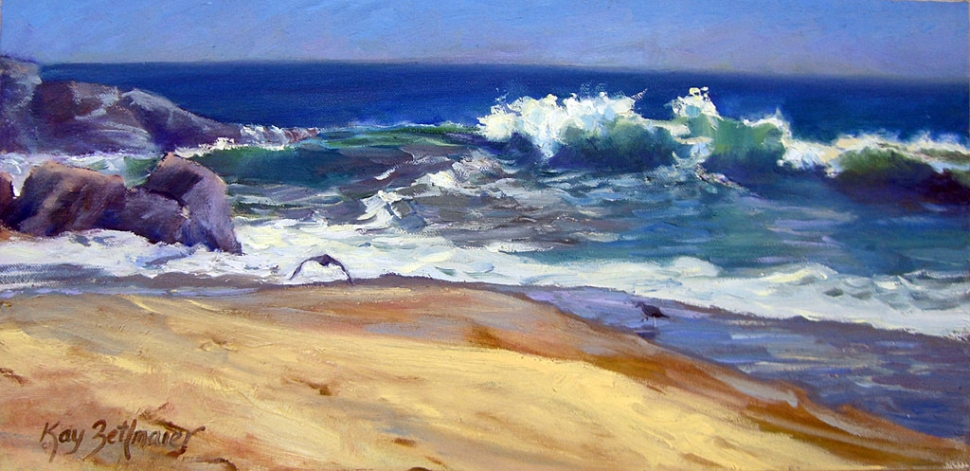 "Shore Break" oil on canvas by Kay Zetlmaier
By Gazette Staff Writer — Wednesday, November 5th, 2008
"Drawn to Water" is Kay Zetlmaier's soulful journey reveals the artists profound relationship with the natural beauty of the sea. Working en plein air, this solo exhibit will be primarily a collection for works painted on a road trip from between Oregon and California with her companion – her standard poodle, Koko. The exhibit runs from November 11 – Dec. 6 with an opening reception on Friday, November 14 from 5 – 8 pm.
Kay has an extensive education in painting. An undergraduate art major at Cal State University, Long Beach, she earned her Bachelor of Arts in 1972. Postgraduate honors came later in life with a Masters degree from Cal State University, Dominguez Hills. Her thesis titled, "Transcending Personal and Social Norms to Paint with Autonomy" was an exhibition of the nude male and female in union with the landscape and was shown at a private venue in Ventura County. It's no wonder Kay's profound personal relationship with nature would evolve into the blending of the two for her project "There is a relationship of sensuality, depth, color and movement between man and his environment, and I wanted to represent this".
Kay fell in love with California's natural splendor during her childhood years as her parents would make a point of taking her on trips to places of interest and beauty. The majestic Yellowstone Geysers, the cliffs and falls of Yosemite, and the striated hues of the Grand Canyon were among the many natural wonders imprinted in Kay's soul.
The past two decades, Kay's work has migrated toward working more and more on location as she seeks to capture sublime moments in landscape. Along with the inherent challenges and rewards of working directly from nature, Kay finds a special pleasure in going out into nature on hikes and seeking out new locations for her work.
Today, Kay splits her time between painting in her beloved Ventura County and traveling to the world's most scenic places to seek out new experiences and inspirations in her work. Still, she finds time to give back to the community that gave her so much. Passionate about art and concerned with the lag in today's art education in America, Kay has worked tirelessly over the past twenty years passing on her knowledge and enthusiasm for art and art history to high school students in Ventura County. "Teaching is my vehicle for advocating the importance of art in the lives of our future. Through the creative process students' problem solve and think conceptually. Art promotes uniqueness, teaches tolerance, makes us aware and keeps our lives in balance. Teaching is an investment in our future as a nation, bringing inspiration and knowledge to wonderful thirsty minds".
Aside from the artistic stimulation Ventura County offers, Kay has found inspiration from world traveling. Trips abroad to Europe, Canada, Mexico, Italy and Greece, greatly add to her cache of information and artistic knowledge. Whether combing ruins of Pompeii, absorbing the Tuscan countryside, observing glaciers, or strolling the Aegean Seashore, Kay's personal adventures, home or abroad are represented in her beautiful work.
The Buenaventura Gallery is located at 700 E Santa Clara St. in downtown Ventura. Hours are Tues – Friday from noon – 5 pm and Saturday from 11 am to 5 pm. For more information, visit their website at www.BuenaventuraGallery.org.