Ventura gallery adds to Heritage Collection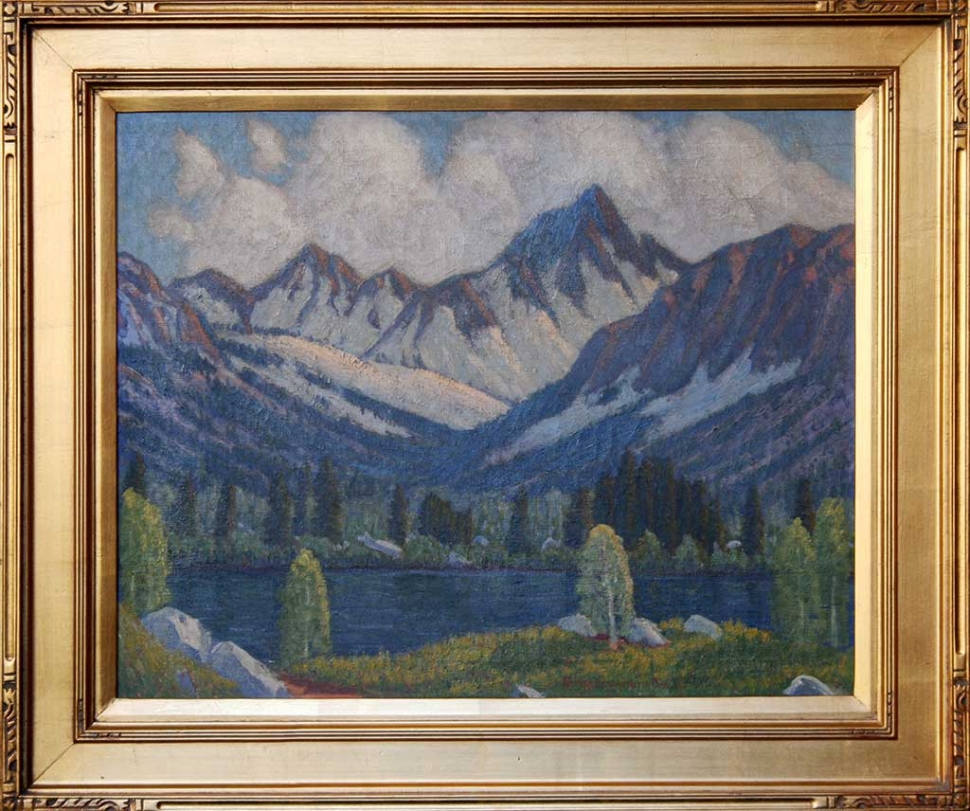 Sierra #1, oil on canvas, Ernest Browning Smith
By Gazette Staff Writer — Monday, January 11th, 2016
Buenaventura Art Association will unveil another dozen historical pieces of regional art with California Climates: Fire and Ice, an exhibition opening Jan. 5 at Buenaventura Gallery in downtown Ventura. Among the desert and snow scenes in this addition to the California Heritage Collection are two works by a noted early landscape painter.
The collection is from the estate of a late Ventura couple who spent decades acquiring beautiful artworks in California and worldwide. The anonymous pair's large and well-documented art legacy encompasses a wide range of styles, including California Impressionism, Plein-Air schools and Modernism.
Frequent visitors to their hometown gallery, the couple left instructions to involve BAA in offering the works for sale. Small groupings of their extensive treasure trove are being featured in a succession of showings at Buenaventura Gallery and a catalog is available for review.
Two pieces in the California Climates show, titled simply Sierra #1 and Sierra #2, are by Ernest Browning Smith, an influential plein-air painter active over three decades in the early 20th century. Born Nov. 30, 1866, in Brimfield, Mass., he was educated there at private Hitchcock Free Academy and, according to his 1932 autobiography for the Los Angeles Museum of Art, "spent two years at law and six years in business before moving to California in 1894 at the age of 27." After a year of ranching, he moved to Los Angeles.
Having also studied harmony, sung and directed church choirs in Massachusetts, Smith taught himself to play the cello at 28 and, two years later, the French horn. By 1897, his proficiency earned him the position of first French horn in the inaugural Los Angeles Symphony Orchestra, with which he performed until 1911.
In 1902, he took up photography "with the idea of expressing his love for nature in that medium, but found it lacking in color and design." He tried watercolor painting the following year, and switched to oils in 1904, again both self-taught. That year, Smith was named to the St. Louis World's Fair Symphony Orchestra and during his visit to that exposition "took advantage of the opportunity to make a careful study of that great collection of contemporary art."
For the next five years, he "devoted every moment not needed in his musical work to the careful study of nature and the development of individual technique." In 1909, his first gallery exhibition drew critical acclaim, with a Los Angeles Times reviewer writing, "Mr. Smith is a man of much power and orginality and (not belittling his fine work on cello and horn) is a man who was born to be a painter."
Two years later, Smith resigned from the symphony to devote all of his time to painting and, on an extended European trip, made comparative studies of all the art schools at museums in France, Germany and England.
Upon returning, he held one-man exhibitions each year from 1912-1916, then rejoined the symphony for five years, during which time he continued to paint but did not exhibit. He was an early and active member of the Laguna Beach Art Association and the California Art Club.
In 1921, Smith left the symphony again to resume his art focus and the next decade was his most productive and successful; he made painting forays all over the state, creating a body of award-winning desert and mountain landscape work that earned critical praise and museum recognition. His plein-air expeditions even took him to Mount Shasta, where he was among the early artists to capture its grandeur.
Smith earned awards at Los Angeles County and California State fairs and was honored in 1932 with a one-man show at the Los Angeles Museum of Art. That museum and the San Francisco Art Museum purchased his paintings for their collections. Sadly, he developed health problems shortly after the museum show that later led to nearly a year of hospitalization in 1937 and a gradual decline. Smith died on April 26, 1951.
BAA welcomes inquiries from collectors and museums about current and future offerings from the California Heritage Collection. Owners of other early California artworks are invited to contact the nonprofit association about possible inclusion in the exhibition series.
Regular gallery hours are 11 a.m.-5 p.m. Tuesdays through Saturdays. Private viewings of the California Heritage Collection are available by appointment. For more about BAA or this special collection, visit www.californiaheritagecollection.com, www.buenaventuragallery.org, or call 805-648-1235 during gallery hours.