Ventura County Fair Foundation offers the Last of the Fair's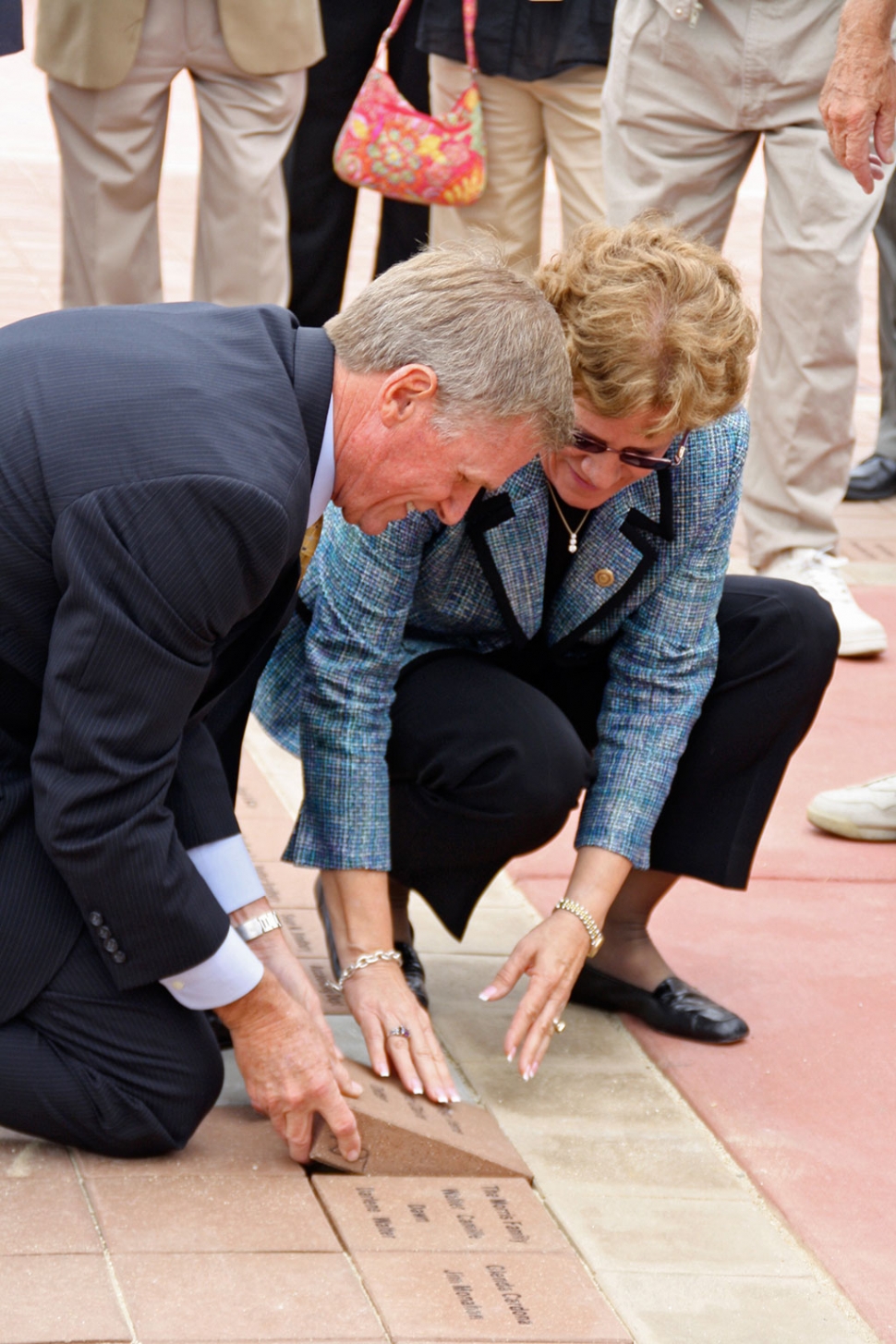 Greg Totten and Sue Chadwick installing a paving brick at the Ventura County Fairgrounds. (July 2011)
By Gazette Staff Writer — Monday, July 13th, 2015
"Main Entry Plaza Project" Personalized Bricks for Sale
The Ventura County Fairgrounds Foundation still has some bricksleft for Fairgrounds supporters to help beautify the Fairgrounds and become a permanent part of the county's most beloved gathering spot.
Before the project began the main entry to the Fairgrounds was weathered and cracked by the years of ocean air. To enhance and repair the main entrance to the fair a beautiful plaza was created. The Main Entry Plaza isconstructed of beautiful paving stones. The stones are personally engraved with the names of special people and organizations.
There are still opportunities to purchase your very own beautifully inscribed brick to support the Ventura County Fairgrounds. Personalized bricks make ideal birthday and anniversary gifts, commendations and remembrances of loved ones. Corporations and organizations can inscribe their name to show public support for the Fairgrounds while promoting their business.
"These beautiful personalized bricks are selling fast," said Armando Lopez, President of the Ventura County Fairgrounds Foundation, "We are happy to offer this opportunity. Order today and be remembered in the Ventura County Fairgrounds Main Entry Plaza forever."
Letters are sand blasted in black for durability and beauty. For generations to come thousands of visitors to the Ventura County Fairgrounds will enjoy the uniqueness and beauty of the Main Entry Plaza. Each engravedbrick will be carefully placed in the Main Entry Plaza as part of the main entrance to the Ventura County Fairgrounds.
Each brick can have up to four lines of script with 15 characters per line. Spaces and punctuation are counted as a character. Each brick measures 8" x 8" and is available for $250 to individuals and families and $1,000 to corporations and businesses. To order an engraved paving stone please call (805) 648-3376 or visit www.venturacountyfair.org.