Ventura College Santa Paula Hosts Art Exhibition Via 126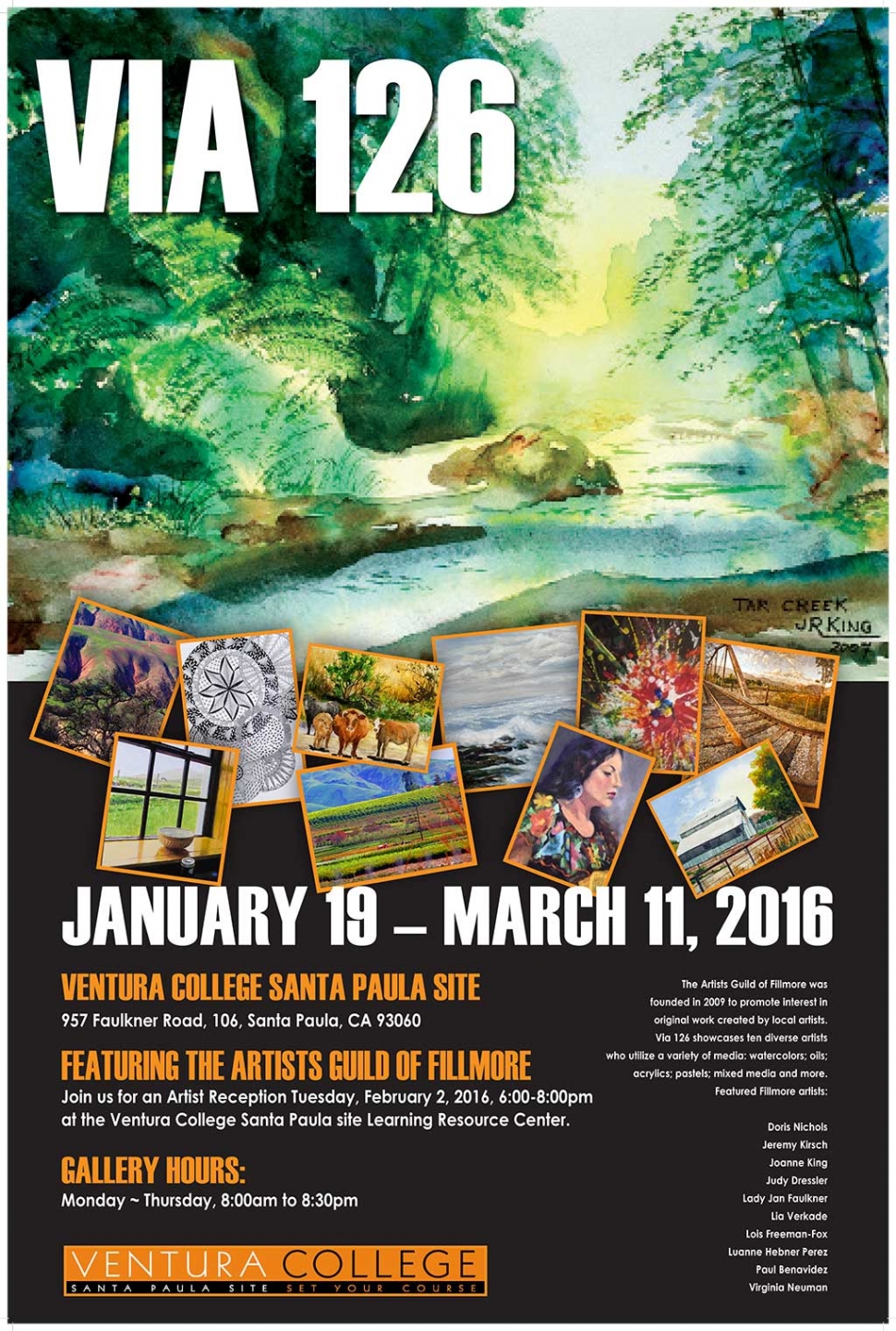 By Gazette Staff Writer — Tuesday, January 26th, 2016
Presented By Artists Guild Of Fillmore
Ventura College Santa Paula is pleased to host Via 126, an art exhibition presented by the Artists Guild of Fillmore. The exhibition will be featured at the Ventura College Santa Paula Learning Resource Center (957 Faulkner Road, Suite 106, in Santa Paula) from January 19 through March 11, 2016. A meet-the-artist reception is scheduled for Tuesday, February 2, 2016, from 6:00 p.m. to 8:00 p.m. The Artists Guild of Fillmore was founded in 2009 to promote interest in original work created by local artists. Via 126 showcases ten diverse artists who utilize a variety of media including watercolors, oils, acrylics, pastels, and more.
"We are very fortunate to be able to highlight the outstanding work of some of our local artists," said Ventura College President, Dr. Greg Gillespie.
Works from Fillmore artists Paul Benavidez; Judy Dressler; Lady Jan Faulkner; Lois Freeman-Fox; Joanne King; Jeremy Kirsch; Virginia Neumann; Doris Nichols; Luann Heber Perez and Lia Verkade will be on display for the community to enjoy. Gallery hours are Monday through Thursday, 8:00 a.m. to 8:30 p.m. The exhibition is free and open to the public. Free Parking is also available.
"The Artists Guild of Fillmore is both honored and pleased to once again exhibit our artwork at the Ventura College Santa Paula campus," said Fillmore artist Virginia Neumann. "We especially appreciate the enthusiasm and hard work the staff has shown in bringing the Via 126 show to life."
For more information, please call (805) 525-7135 or visit www.venturacollege.edu/santapaula and www.artistsguildoffillmore.org.
Ventura College, an accredited two-year institution of higher education, has been a part of the beautiful seaside community of Ventura, California, since 1925. It is conveniently located approximately 60 miles north of Los Angeles and 30 miles south of Santa Barbara. The 112-acre campus, set in the rolling hills of Ventura, has an enrollment of 14,500 students. Ventura College offers Associate of Arts and Associate of Sciences Degrees in 33 majors, and Certificates of Completion and Proficiency Awards in 61 areas of study. Ventura College also has Transfer Guarantee Agreements with CSUCI, CSUN, UC Davis, UC Santa Barbara, and UC Santa Cruz. Class schedules are posted at www.venturacollege.edu. For more information, contact the Ventura College Welcome Center at 805.289.6420.