Ventura College Opera and Musical Theatre Presents "Mozart in Love"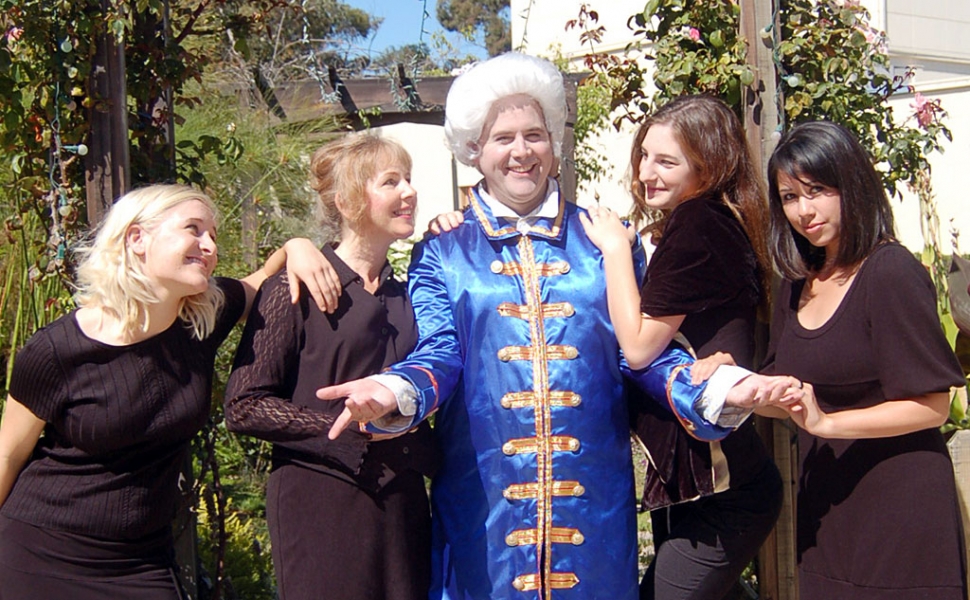 Mozart in Love.
By Gazette Staff Writer — Wednesday, October 22nd, 2008
VENTURA: Love can be exhilarating, fickle, deceitful, all-encompassing, and drive you to do crazy things just as much today as it did 200 years ago. The Ventura College Opera and Musical Theatre (VCO&MT) takes a fresh, fun and exciting approach to the music of Mozart's famous operas including Cosi Fan Tutte, The Marriage of Figaro, The Magic Flute and Don Giovanni.
Mozart in Love consists of scenes from five of Mozart's operas. These are woven in an exploration of love itself by the narration of Mozart, and he even gets into the action by playing Basilio, the trouble making music teacher, in the Marriage of Figaro scene.
The script and the arrangement of the scenes were done by Director Angela Rasmussen who teaches in the music department at California Lutheran University.
Partially funded by a grant from the City of San Buenaventura, VCO&MT brings the rarely performed Mozart in Love to the Ventura College Theatre for just three shows: October 31, dress rehearsal, 8 p.m., free to students. Performances are November 1, 8 p.m., and November 2, 2 p.m. Tickets: General Admission is $10, Cost for Students, Seniors and VC staff is $5.
For additional information, please call Elizabeth Helms, program director at 805-654-6309, by email at kennethhelms@sbcglobal.net or online www.operaworkshop.info.
CAST LIST-- MOZART IN LOVE
All singers are in the three Choruses
Wolfgang Amadeus Mozart: Jeff Wallach (Camarillo)
1. From Cosi Fan Tutti
• Ferrando, a young officer in love with Dorabella: Dan Beale (Oxnard)
• Guglielmo, a young officer in love with Fiordiligi: Kenny Larsen (Ventura)
• Don Alfonso, an elderly bachelor: Ken Johnson (Thousand Oaks)
• Fiordiligi, a lady of Ferrara: Laura Wargo (Santa Paula)
• Dorabella, her sister: Ellen Debord (Ojai)
2. From Don Giovanni:
• Don Giovanni, a licentious young nobleman: Noah Skultety (Thousand Oaks)
• Leoporello, Don G's friend and keeper of his journal of conquests: Chris Meierding, (Ventura)
• Donna Elvira, one of Don G's conquests, now very angry: Kelly Derouin (Oceanside and Thousand Oaks)
• Zerlina, a peasant girl, a future conquest, but for a good cause: Ellie Sanders (Ventura)
3. From Der Stein der Weisen (The Holy Grail)
• Lubanara, who can only sing like a cat: Tara Loughran (Ventura)
• Lubano, her husband: Luis Soto (Oxnard)
4. From Die Zauberflöte (The Magic Flute):
• Pamina, daughter of the Queen of the Night: Sarah Lamola (Ventura)
• Papageno, a birdcatcher: Joseph Cisneros (Ventura)
• Papagena, his soul-mate: Emma Pell (Ventura)
Three Spirits, who are always there in the nick of time:
 Lead Spirit: Shana McBride (Oxnard)
 Second Spirit: Marcela Barroso (Ventura) and Brittni Thomas (Ventura)
 Third Spirit: Amanda Soto (Ventura) and Brenda De Rouen (Ventura)
5. From Le Nozze de Figaro (The Marriage of Figaro):
• Countess, the beautiful Rosina: Kathy Walker (Ventura)
• Count, the philandering husband: Vince D'Andrea (Oxnard)
• Susanna: Mary Teichert (Oak View) the maid to the Countess: Sydney Bowling (Oxnard) who is engaged to
• Figaro, the Court barber: Oscar Magaña (Oxnard)
• Cherubino, the hormonal page boy: Alana Grossman (Thousand Oaks)
• Barbarina, a member of the court: Sara Padilla (Oxnard)
• Marcellina, wants to marry Figaro: Sandy Danielson (Camarillo)
• Bartolo, the judge: Quint Morris (Ventura)
• Don Curzio, the Count's sidekick: Al Vargas (Ventura)
• Basilio, the court's music teacher and troublemaking gossip: played by our W. A. Mozart, Jeff Wallach (Camarillo)
Townspeople:
 Spencer Clanton (Ventura)
 Ariel Rose (Ventura)
 Mary Temple (Ventura)
 Janelle Phaneuf (Oxnard)