Ventura College Master Chorale Concert Honors Haydn, Burns Taft and Llewellyn Werner
By Gazette Staff Writer — Wednesday, April 15th, 2009
May 2nd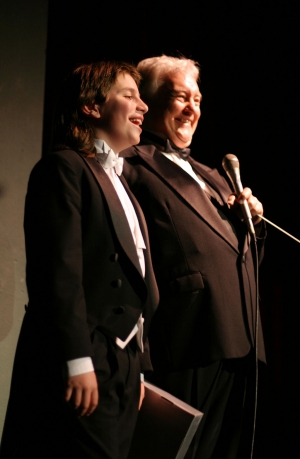 Llewellyn Kingman Sanchez Werner shown with VC Symphony Orchestra Director E. Burns Taft at the October 2007 Ventura College concert.
VENTURA: The Master Chorale of Ventura County celebrates the 200th anniversary of composer Joseph Haydn, recognizes music director Burns Taft's 70th birthday, and welcomes child prodigy Llewellyn Kingman Sanchez Werner as a soloist in a spectacular homecoming to Ventura College on Saturday, May 2, at 8 pm.
Llewellyn earned a degree from Ventura College before he was eight years old and is now enrolled at the Julliard School of Music at Lincoln Center in New York. When he started at Julliard, he was the youngest degree student in the school. Now 12 years old, Llewellyn returns to play the Grieg Piano Concerto with the Master Chorale Orchestra under the baton of Burns Taft.
The Chorale celebrates Haydn by performing his last, great masterpiece, the "Harmony" Mass. Written in 1802 after he surged into international stardom during his spectacular London sojourns, the Mass was the last large piece he wrote. It is extremely expressive and includes many joyous, spectacular moments.
Vocal soloists for the evening are outstanding professionals from Southern California. Collectively, they are college professors, performers with the LA Opera, LA Master Chorale, the LA Baroque Orchestra and distinguished artists and teachers. Diane Plaster and her husband Daniel of Redondo Beach are the soprano and tenor soloists. Louise Lofquist, professor of music at Pepperdine University, is the alto soloist. And the bass is the famous Reid Bruton of Los Angeles. He may be seen performing the Los Angeles Opera.
The concert is at the Ventura College Theatre at 8 p.m. Ticket prices are $15 general and $20 preferred seating. This very special celebration is co-sponsored by the Chorale and the Ventura College Foundation, Norbert Tan, executive director. A public reception follows the concert in the Circus Theatre, which is next door to the main theatre. Call 805-654-0995 for tickets.
For additional information, please contact Dr. E. Burns Taft, Professor of Music, 805-654-6400 ext. 3210, or Alisa Sparkia Moore, Esq., Public Information Officer, 654-6462, asmoore@vcccd.edu.