Ventura College first spring exhibit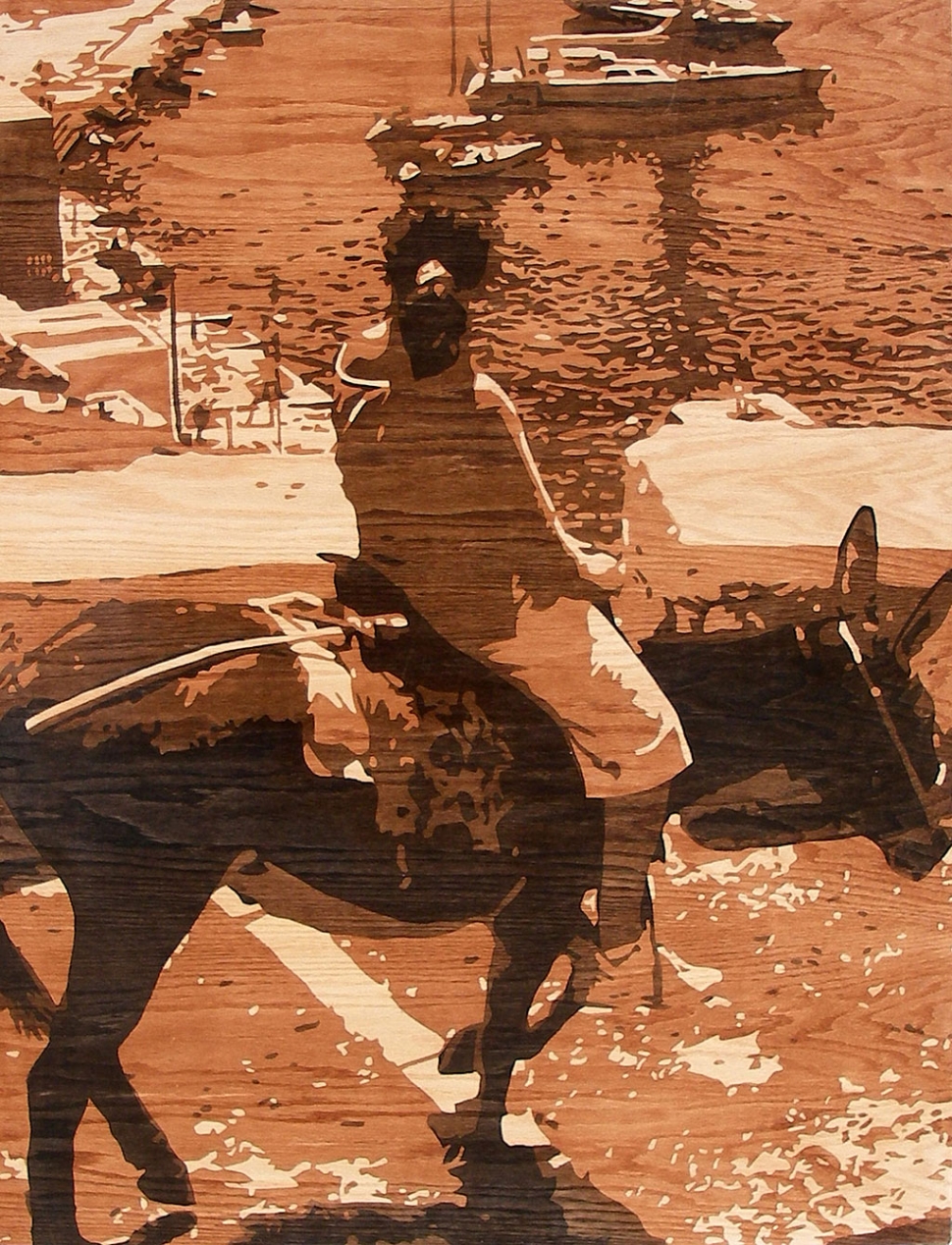 "It Takes Money to Play This Game" by Stan Benson is oil on an oak panel in sepia tones.
By Gazette Staff Writer — Wednesday, January 14th, 2009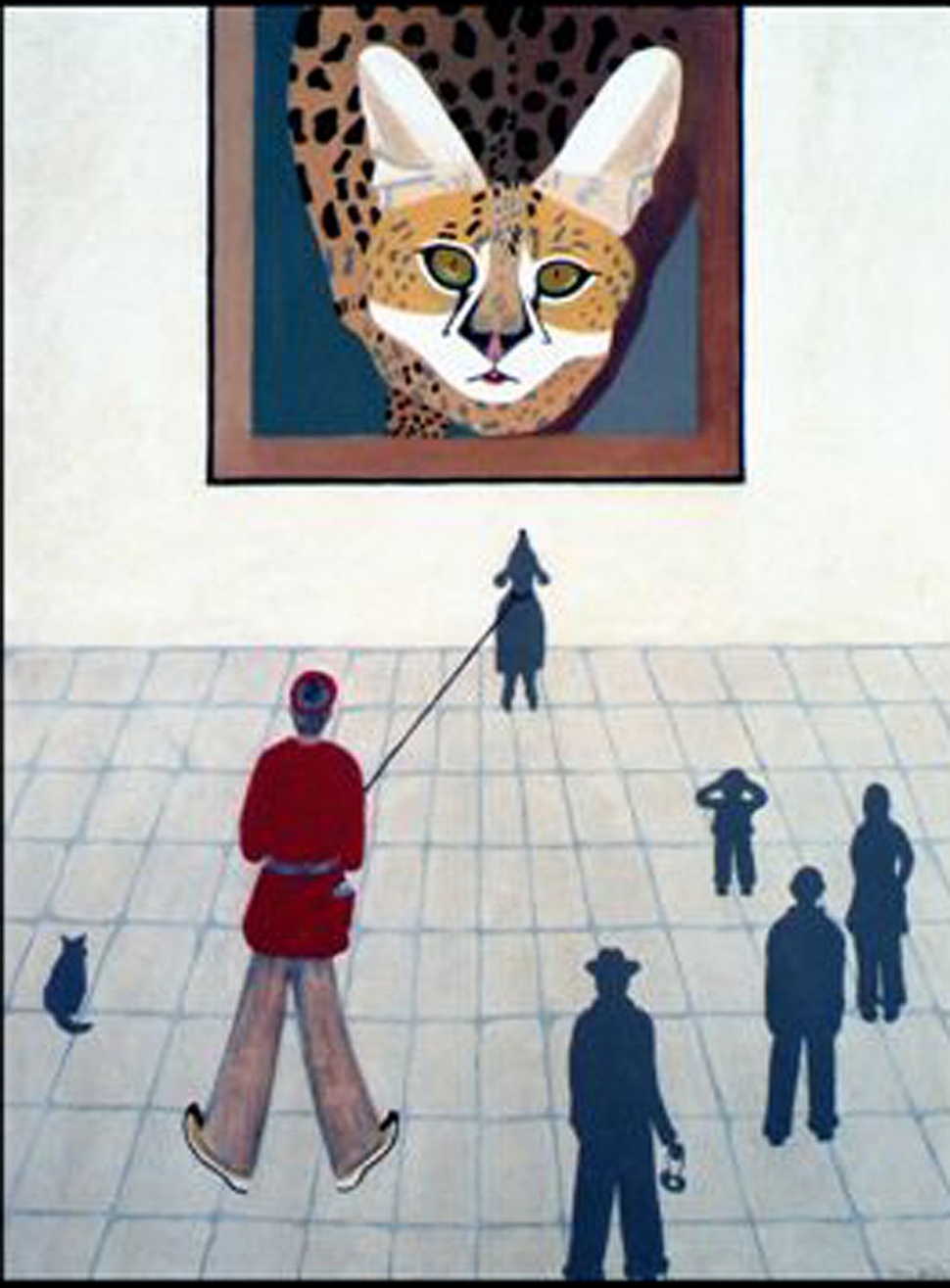 "No Barking" an acrylic by Janet Mackaig is just one of her recent works that will be at the Ventura College Gallery 2.
Ventura College galleries feature unusual perspectives for first spring exhibit
• Jan. 22 – Feb. 14, Gallery 2, Noon – 4pm, call 805-648-8974, "Is This Insanity or Reality?" Works by Janet Mackaig , Free
• Jan. 22—Feb. 14, New Media Gallery, Noon – 4 pm, call 805-648-8974, "The Tourists are the Attraction" Paintings by Stan Benson, Free
VENTURA: The Ventura College Galleries inaugurate their spring 2009 shows with two exhibits featuring the unique perspectives of artists. In Gallery 2, the touching paintings of Janet Mackaig will be featured while in the New Media Gallery, oil on wood panel painter Stan Benson's works will be exhibited. The exhibits run from January 22 through February 14. The reception for the artists is Thursday, January 22, from 7:00 p.m. to 9:00 p.m. on the patio by Gallery 2, and the press and community members are welcome to attend.
Janet Mackaig lives and works in Santa Monica. She earned her bachelor's and master's degrees from CSU Los Angeles, where she has done post graduate work. She has also done post-graduate work at UCLA. About her work, Ms. Mackaig says, "The content in these works of art have separated life into segments or situations. They resemble stream of consciousness writing. There is no consciousness logic. The paintings have strong personal intent, looking beyond the obvious. The artist is a world traveler seeking interesting adventures. A record is kept through photographs and back in the studio they can be used as a reference. Each painting has its own life or story. They are usually memorialized in the form of a poem. I am a painter, printmaker and poet and my paintings and prints are storytelling but not necessarily obvious as such. The poem can be written before the painting or after, it does not matter because the stream of consciousness becomes alive in the painting. Colors and materials belong to the conscious mind and are just a reference and helpful guide into the painting and the adventure into the unconscious."
Mackaig has had 39 solo exhibitions, including shows in Laguna Beach, San Marcos,
Los Angeles, Walnut, Mt. Jacinto, Merced and Ashland, California; Alamosa, Colorado; and Anchorage, Alaska. Her works are held in more than twenty public collections from California to New Jersey, and she has most recently won juried exhibitions and awards in Los Angeles, New Jersey and Indiana, among others. For more information on Ms. Mackaig, visit janetmackaig.com.
When discussing the role of the viewer, Mackaig noted, "Disassociating with comfortable art and becoming disconnected makes you feel uneasy. Maybe, viewing 'disconnected' art gives the viewer a new sense of reality. Perhaps the artist jolts viewers so they question, what is going on in this world? We need to question. I like to think of my work as a visual haiku."
Stan Benson, in "The Tourists are the Attraction," brings to The New Media Gallery works done on natural wood panels as a background. His paintings of situations he has observed while traveling as a tourist will form the gist of this show, but his works include an incredible range of styles including what he calls Old School, Abstract, and Computer Art. Works from his amazing scope can be seen at http://www.home.earthlink.net/~stansart/ where there are six elevator floors of his work for the viewer to enjoy. For the exhibit at Ventura College, it should be noted that as an allusion to the simulated authenticity of tourism, he stains the wood creating a simulated marquetry effect. The sepia tones capture the nostalgia of travel memories while the wood hues are reminiscent of the many hues of mankind. He works with the unique pattern and texture of the wood, often adding paint or collage, to create representational paintings with a touch of abstraction.
The Gallery Hours are Monday through Friday, noon to 4:00pm. For additional information and changes on hours, call Kate Martin, gallery director, at Ventura College, (805) 648-8974 or contact her by email at kate@katemartin.com.