The Ventura College Dance Department presents Planet Dance
By Gazette Staff Writer — Wednesday, November 26th, 2008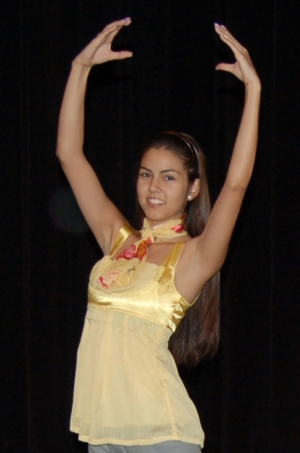 Michelle Inguez
The Fall 2008 Dance Concert, PLANET DANCE, will be presented on December 18 – 21, 2008 in the Ventura College Theater. The concert will include 'eco-conscious' student dance work and feature an original 'rockoperetta' composed and written by local artists Loren Evans and Tamara Sue Varney. The shows are at 8 pm on Friday and Saturday nights and there are 3 pm matinees on Saturday and Sunday. Tickets are $8 for seniors and Ventura College staff and students and $10 for general admission.
The focus of this production is to raise awareness towards 'eco-consciousness' and to support solutions towards sustainable living. We can work together to help our community grow with as small a carbon footprint as possible.
The rockoperetta, Reboot Earth, visits the environmental vs industrial struggle. The main characters are educated young adults active in their respective professions. Max is an environmental attorney and Penny is the voice of a large real estate developing firm who meet in city planning hearings over and over again – opposing one another. They, unbeknownst to each other, play an internet game together in the evenings as an unbeatable team. In the end our characters grow as individuals and the communities that they represent benefit from their enlightenment. Choreographed by Dance Director CathyJean Butter and VC alumni Kristin Littlefield, the performers are students of the Ventura College Dance Performance class, VC Music students, and guest alumni. We are hoping to be able to include our VC IT specialists for a digital project.
For additional information, contact the Theatre Information Line: 805-654-6392 or CathyJean Butter at 805-341-6394.