VCOMT Presents "She Loves Me"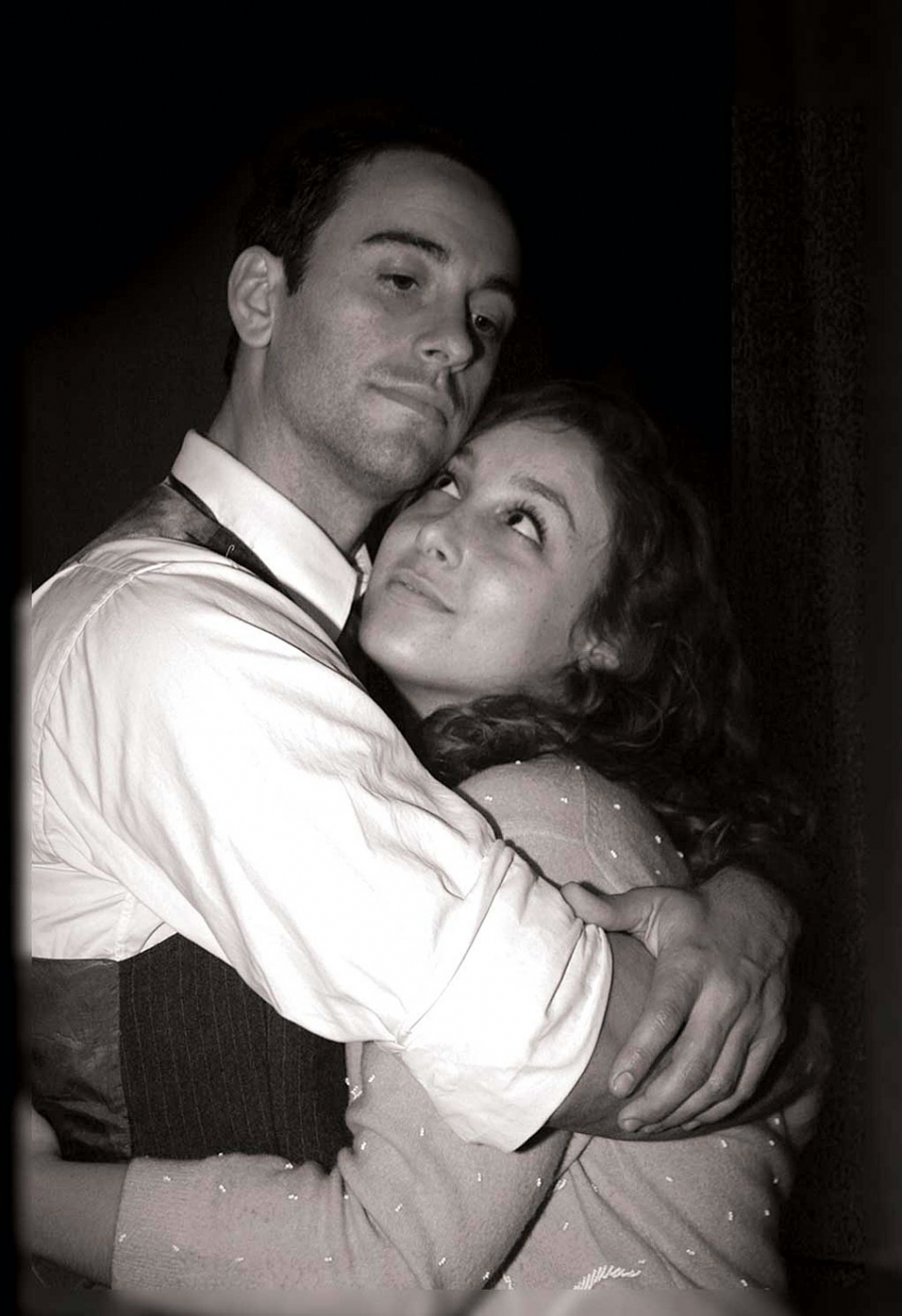 Georg (Geoffrey Helms) and Amalia (Danielle Protugal) are lovers at last in SHE LOVES ME.
By Gazette Staff Writer — Monday, October 26th, 2009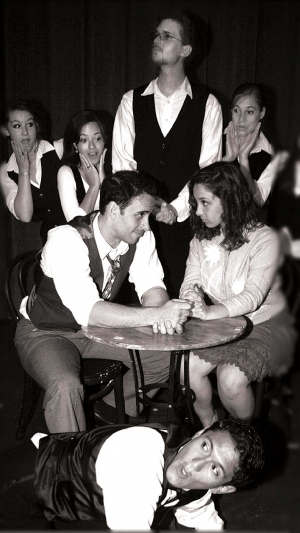 Georg (Geoffrey Helms) and Amalia (Danielle Protugal), seated, share an uncomfortable moment with the busboys and waiter at the Cafe' Imperial in SHE LOVES ME.
Ventura College Opera and Musical Theatre presents She Loves Me, a warm romantic comedy with an endearing innocence and a touch of old world elegance and nostalgia, yet as universal and relevant as ever in this age of internet romances. She Loves Me by Joe Masteroff (script), Jerry Bock (music) and Sheldon Harnick (lyrics) will be directed by Scott Groeneveld, with choreography by Jeff Wallach and musical direction by Elizabeth Helms. The show is the same story used in the movies You've Got Mail and The Shop Around the Corner with Jimmy Stewart. Georg and Amalia are two feuding clerks in a European parfumerie during the 1930s who secretly find solace in their anonymous romantic pen pals, little knowing their respective correspondents are none other than each other.
There will be only two matinee performances, both at 3 pm, on Saturday, October 31, and Sunday, November 1, in the Ventura College Theatre. Tickets are only available at the door, just prior to show time. Tickets are $5 for students, VC staff and seniors, and $10 for general admission. For additional information, please visit www.operaworkshop.info or contact Elizabeth Helms at 805-654-6309 or ehelms@vcccd.edu.
The Mission of VCOMT is to:
• Educate students from Ventura College and the community at large in opera and musical theater,
• Contribute to the cultural enhancement of the City by exposing audiences to these art-forms through performance-oriented programs of opera and musical theater,
• Establish a high standard of artistic excellence, by featuring professional artists and staff in direct collaboration with the students,
• Provide program material which encourages multi-cultural themes and diversity for the students and for the community audience, and to
• Provide school outreach programs of opera and musical theater for youth.
For additional information, please call Elizabeth Helms, program director at 805-654-6309, by email at ehelms@vcccd.edu or go online www.operaworkshop.info.