Upcoming exhibit at Ojai Art Center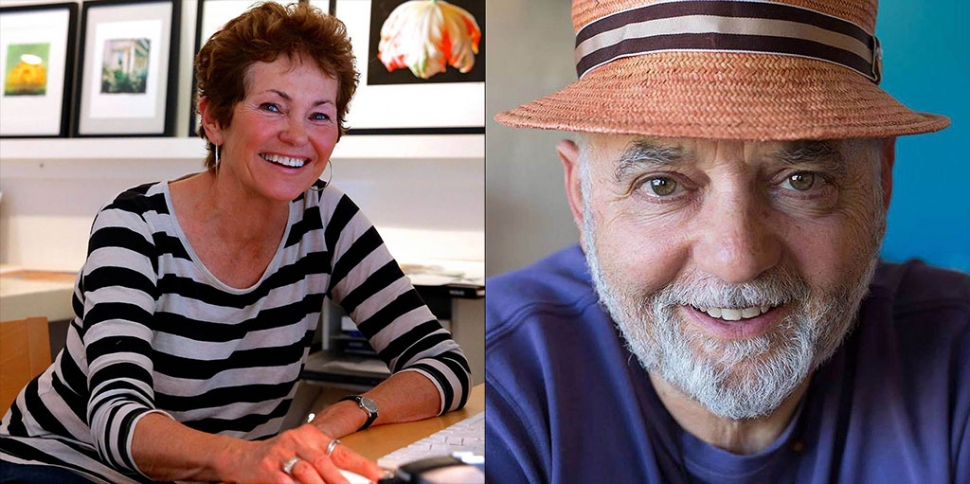 Cindy Pitou Burton and Brian Berman will be this year's distinguished judges. Brian Berman photo by photographer David Baker.
By Photography Bra... — Tuesday, April 21st, 2015
Written by Contributors: Myrna Cambianica and Letitia Grimes
Do we realize how much influence images can have? Since the invention of photography, images have changed opinions, revealed truths and highlighted both the best and worst parts of humanity. The adage, "A picture is worth a thousand words,"refers to the notion that a complex idea can be conveyed by just a single still image.
This year the Photography Branch of the Ojai Art Center is calling for artists to submit photographic images for its upcoming 2015 exhibit, "What Does Peace Look Like?" This is a themed-juried exhibit that will run from June 6 through July 8, 2015 at the Ojai Art Center. Stretching across a broad spectrum, many things relate to peace, for example, mothers embracing their children, reflections on the serenity of nature, and powerful protest marches, just to name a few.
The exhibit will include student photographers this year with the opening of a special division for grades 7 through 12. There are many talented young photographers and this is a great opportunity for them to show their work. Student entries will also be juried and should follow the parameters of the Call for Artists form.
Cindy Pitou Burton and Brian Berman will be this year's distinguished judges. Both are Ojai Studio Artists, Burton with a career based in photography and Berman with a dual emphasis on sculpture and peace building.
Pitou Burton studied photography at the International Center for Photography, the School of Visual Arts in New York City and Otis College of Art and Design in Los Angeles. She began her career in New York as a photojournalist for The New York Times, and then photographed for television at CBS, NBC and PBS, for many national magazines and for corporate clients such as Pfizer and Revlon. She has covered celebrity events in New York City, Connecticut and California.
Upon moving to the West Coast she explored alternative photographic processes, creating limited edition fine art prints. Her innovative techniques include large transfers of Polaroid prints onto watercolor paper, as well as digitalizing and manipulating her black and white images. Photographed on a light box, her prints of flowers create an x-ray effect. Recently she has added photographs of her travels to Mexico, Ecuador, Paris, Turkey, and Vietnam.
Pitou Burton has exhibited her work in galleries in New York City, Los Angeles and Ojai and is represented by Getty Images in Seattle. Her life and photographic career were recently documented and archived by Focus on the Masters. She is a member of the American Society of Media Photographers and the Ojai Studio Artists. To see her work go to: http://pitouburton.com
Berman has focused his entire adult life on peace building. In the '70s, Berman was a yoga and meditation teacher for the Integral Yoga Institute, with his emphasis:"Peace is An Inside Job."In the '80s, he was a citizen diplomat connecting westerners with people in the Soviet Union. He discovered his joy and love of stone sculpting in the '90s and "Art for Peace"became the theme of his work. Following 9/11, Berman started a group using listening skills as tools for conflict resolution. In 2002, he was invited by the director of The Compassionate Listening Project to travel to Germany and work with groups of Jews and Germans on healing the emotional wounds resulting from World War II and the Holocaust.
Berman's life changed profoundly when he and his wife Lisa stepped through the Peace Portal at Ojai's Meditation Mount in 2011. They moved to Ojai where he continued his peace work, leading groups, and creating public artwork for peace as an alternative to war memorials. His present focus is "Holos4Peace,"a symbol he has designed and sculpted to be, in his words, a "Symbol of One Humanity."
Together with other peace activists, Berman worked to have Ojai proclaimed as an International City of Peace in the spring of 2015. He is a peace ambassador to the Ojai Art Center, supporting "Art for Peace."To see his work go to: www.bermansculpture.com, www.bermanhealingarts.com and www.holos4peace.com
For full information and Call for Artists entry forms please visit: http://ojaiacphoto.org