University Symphony to perform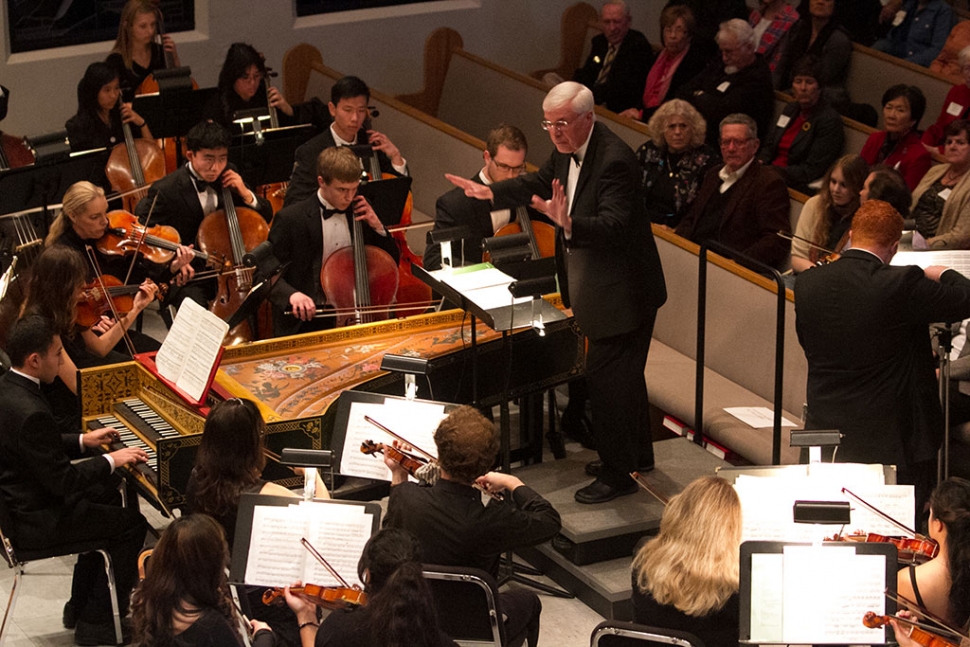 Dan Geeting directing the University Symphony
By Gazette Staff Writer — Monday, April 21st, 2014
May 9th program features Beethoven, Dvorak, Verdi, Vivaldi
THOUSAND OAKS, CA - The California Lutheran University symphony orchestra will present its final concert of the 2013-2014 year at 7:30 p.m. Friday, May 9, in Samuelson Chapel.
The University Symphony will perform Vivaldi's Concerto for Two Cellos in G minor, featuring biochemistry major Derek Andrzejewski of Thousand Oaks and biology major Sam Grandfield of Newbury Park. The orchestra will give a repeat performance of the Verdi "La Forza del Destino" overture that it presented at its fall concert. The program will conclude with Dvorak's rarely heard Nocturno in B major for String Orchestra and Beethoven's Symphony No. 1 in C major, Opus 21.
Veteran faculty member Daniel Geeting will direct.
One of the first ensembles established at the founding of CLU, the University Symphony is an ensemble of about 50 members that performs several times each semester and has a diverse repertory ranging from the latest in contemporary composition to standards of the symphonic repertory. While the symphony is an integral part of the program for music majors and minors, it is open to all CLU students and also includes community members.
Donations will be accepted.
Samuelson Chapel is located at 165 Chapel Lane on the Thousand Oaks campus. For more information, call the Music Department at 805-493-3306 or visit callutheran.edu.