Teng Shu-Ming's "Mist & Cloud" Exhibit At The Buenaventura Gallery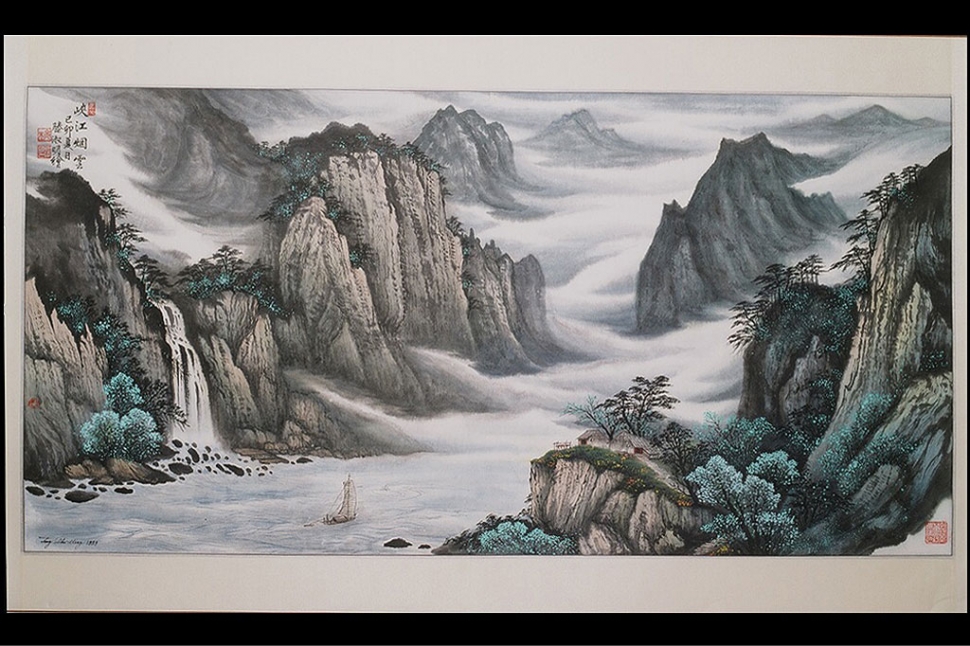 "Lonesome Boat on the Yangtze River", Sumi ink and Chinese watercolor on rice paper.
By admin — Thursday, January 29th, 2009
Teng Shu-Ming's solo exhibition, "Mist & Cloud" will be at the Buenaventura Gallery from Feb. 3 – Feb. 28, 2009 with an artist reception on Saturday, Feb. 7 from 4 – 7 pm. The "Mist & Cloud" is Teng's 12th solo exhibition. Teng's paintings are steeped in Sumi ink and Chinese watercolor tradition that date back thousand of years. However, the infusion of color adds a contemporary twist to her pieces.
Teng Shu-Ming has been a cover/featured artist in Ventura Life & Style Magazine has exhibited her work internationally. Her subject matter is reflected in her travels throughout China, Europe, South America and Africa. She often paints on location and her husband not only assists her in carrying her paints and easel, he guards her from wild animals!
Teng came from an artistic family; her mother and older brother both created art. Notes Teng, "While in grade school, notebook papers became my canvas of choice for capturing the solemn beauty of birds and flowers. I excelled in the subject of art and garnered numerous special achievement awards for my fledgling portfolio."
She began her formal training at 13. Teng says, "Chinese art typically reflects the thoughts and techniques of the artist. All fine arts such as music, drama, calligraphy, painting and sculpture show the beauty of the artists' creations. Therefore, it is referred to as the beauty and essence of art."
Family circumstances and prevailing societal attitudes brought her art studies to a halt after the completion of Teng's secondary education. According to Teng, it wasn't until after my marriage, with the support and encouragement of her husband that she began a process of self-study and training.
Teng moved to Ventura with her husband in 1981 and together they opened the Mandarin House Chinese Restaurant. In 1997, they sold the restaurant and Teng was able to pursue her childhood dream of brush painting. She studied with Master Lao Ji Xiong. Says Teng, "through Master Lao's inspiration and mentoring, my creativity blossomed by leaps and bounds."
Teng was one of 12 artists chosen for the Ventura Music Festival's painted violin competition She's exhibited at the Los Angeles Chinese Cultural Center in El Monte, The Museum of Ventura County, Nagoya City Museum in Japan and others.
The Buenaventura Gallery is located at 700 E Santa Clara St. in downtown Ventura. Hours are Tues – Friday from noon – 5 pm and Saturday from 11 am to 5 pm. For more information, visit their website at www.BuenaventuraGallery.org.