Talkin' 'Bout My Generation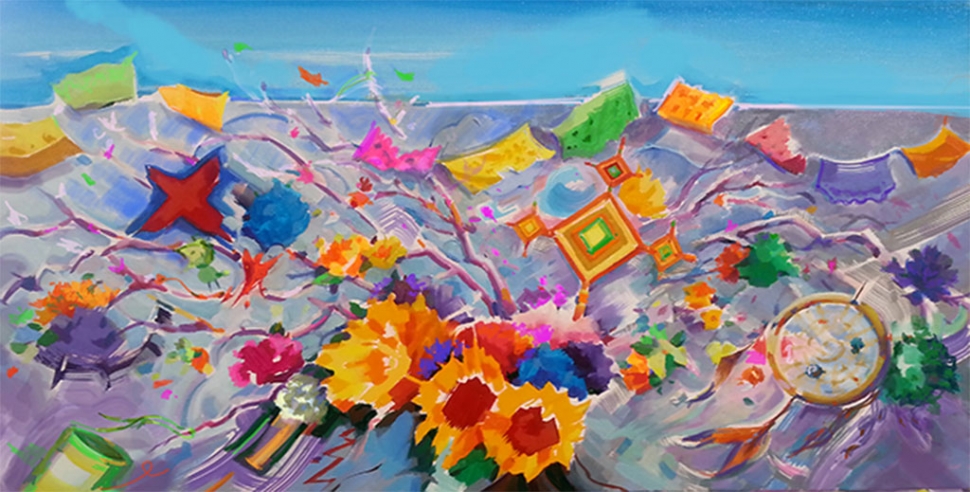 "Ode to Magu" by Andrea Vargas-Mendoza, oil on canvas, 12" x 24", Collection of the artist. © Andrea Vargas-Mendoza. Featured in our current exhibition "The 21st De Colores Art Show: In Search of Magulandia".
By Gazette Staff Writer — Monday, January 5th, 2015
Film Screening and Talk with Jesus Trevino
Thursday, January 8, 2015 at 3:00 p.m.
Join us on Thursday, January 8 for a film screening and gallery talk with award-winning film and television director Jesus Trevino. Trevino will be showing his documentary "Visions of Aztlan" and will speak about what motivated a generation of artists to forgo traditional art styles and instead dedicate their lives to making art about the Chicano community. The documentary features 23 Chicano artists including Gilbert "Magu" Lujan, to whom our current exhibition "The 21st De Colores Art Show" is dedicated.
Jesus Trevino began his career in film and television as a student activist documenting the 1960s Chicano Civil Rights Movement with a super-8 camera. His more recent work includes several national PBS documentary series exploring the Chicano experience.
ADMISSION
$4.00 Adults
$3.00 Seniors
Free for SPAM Members and Students