Tales From The Women's Locker Room at Ojai Valley Grange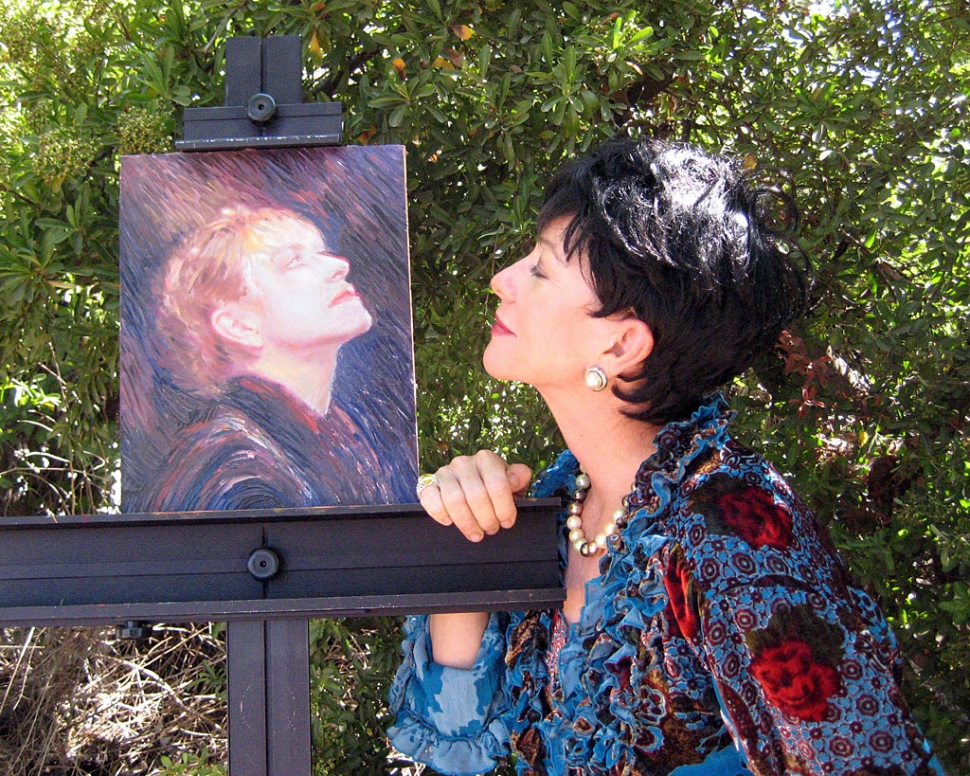 The Swan Queen: Retired prima ballerina, Lenore Hayden-Bigley (Nancy Jane Marie) develops cancer, and dreams of her illustrious past as she contemplates her portrait. Portrait painted by Eugene A. Tkachenko. Photo courtesy Francisca Beach.
By Gazette Staff Writer — Wednesday, August 5th, 2009
"Don't lecture me about the decadence of ballet. At least we had discipline and tradition and beauty. Not like you dabblers in the avant-garde. Trying to shock a public that's bored to tears…"
Tales From The Women's Locker Room - "The 'Locker Room' gals take a break from rehearsal." - From left. Rebecca Ridenour, Kimberly Demmary, Leslie Paxton, Nancy Jane Marie with Sarah Kurland-Hill center in red beret. Photo courtesy Francisca Beach.
Tales From The Women's Locker Room, directed by Francisca Beach, is the second production of the newly formed Senga Classic Stage Company – it comprises four short plays featuring fascinating, diverse female characters.
Playwright Frank Canino provides two of the pieces. In The Swan Queen Lenore Hayden-Bigley (played by Nancy Jane Marie), a retired prima ballerina, faces an unknown world A routine check-up reveals a lump in her breast. Her recent marriage to a wealthy banker includes an adult stepson with AIDS and a bad attitude. Sparks fly!
Canino's second piece, Sara Plays Her Game introduces us to Madame Sara Joel's (Leslie Paxton) French class. Madame not only teaches you correct pronunciation but also relates stories from her childhood in Paris, during the Second World War. How did she survive? By learning to play 'The Game'
In May McCreaddie's searing piece, Choices, the life of Jean Fulton, a young Scottish school teacher (played by Kimberly Demmary) is turned upside down when a German company takes over the local engineering works leading to a series of layoffs that decimate her family. She takes extreme action ... with no regrets.
Margaret McSeveney's Dreams Of Glass, introduces us to the delightful trainee clairvoyant Daisi Dickie (Rebecca Ridenour), daughter of a seventh son of a seventh son. She is studying the paranormal through a correspondence course and having a bad day! Numerology can be difficult enough but dealing with the spirit of her interrupting "Da" proves to be even more of a challenge.
Senga Classic Stage Company at The Ojai Valley Grange is the vision of Artistic Director, Francisca Beach. A native Brit and current local Ojai resident, she continues to bring her extensive repertoire of European and American theatre to Ojai and the surrounding communities.
Tales from the Women's Locker Room - August 14th to August 30th (3 weekends only). Fridays and Saturdays at 8:00 PM and Sundays at 7:00 PM. Tickets are $15 ($12 for seniors and students). Ojai Valley Grange, 381 Cruzero St., Ojai. Free parking. For information and reservations, please call 805-646-4885.