A Tale of Libbey's Two Cities: Ojai and Toledo are grateful beneficiaries of Libbey's Legacy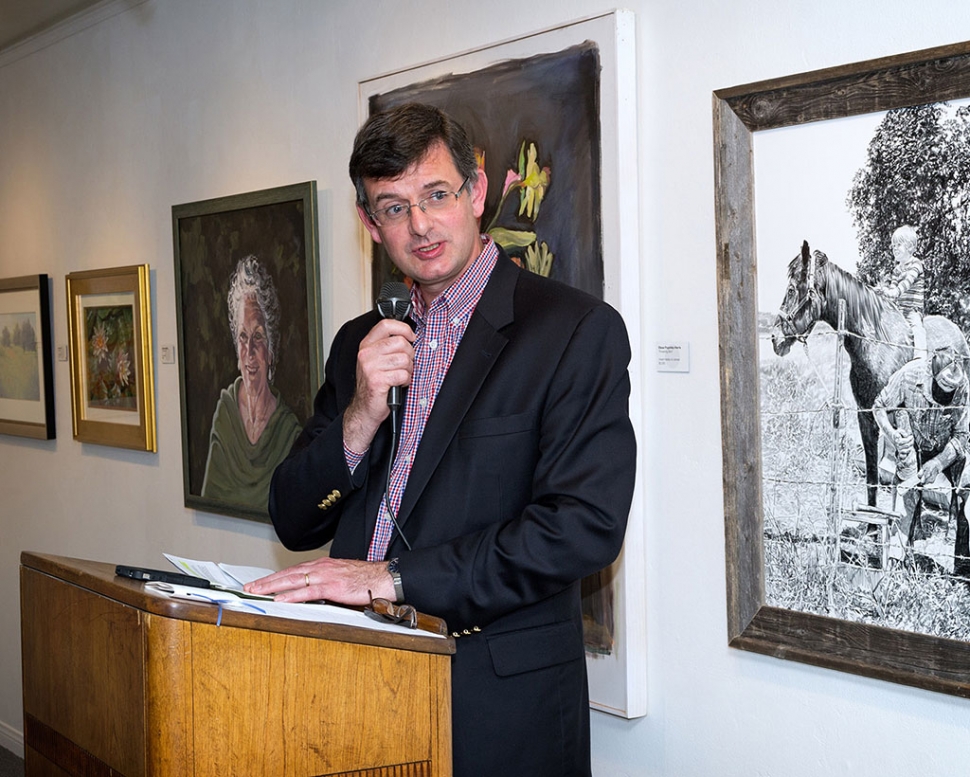 Brian Kennedy Toledo Art Museum. Photo by Les Dublin.
By Ojai Valley Museum — Wednesday, May 28th, 2014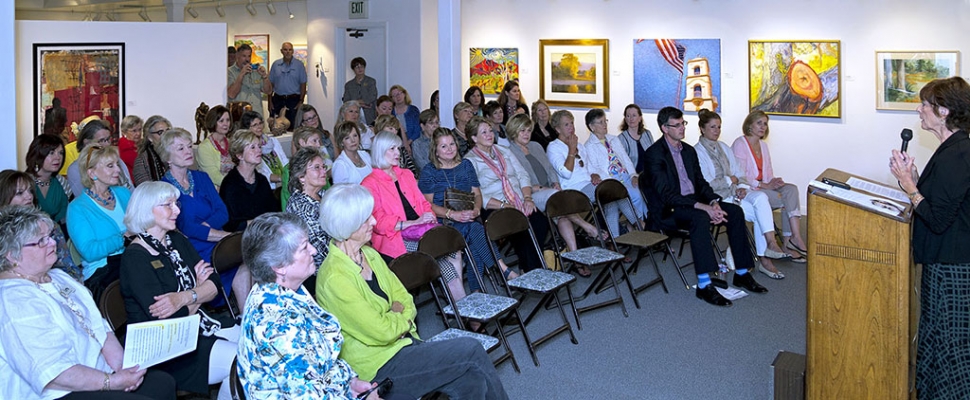 Toledo Art Museum And Ann Scanlin. Photo by Les Dublin.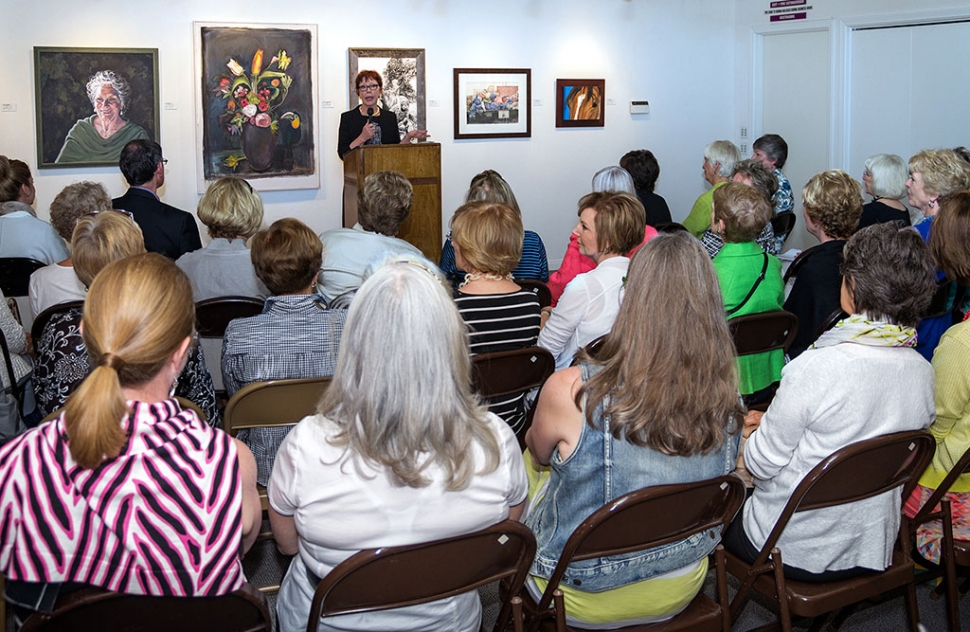 Michele Pracy Addresses Toledo Art Museum Group. Photo by Les Dublin.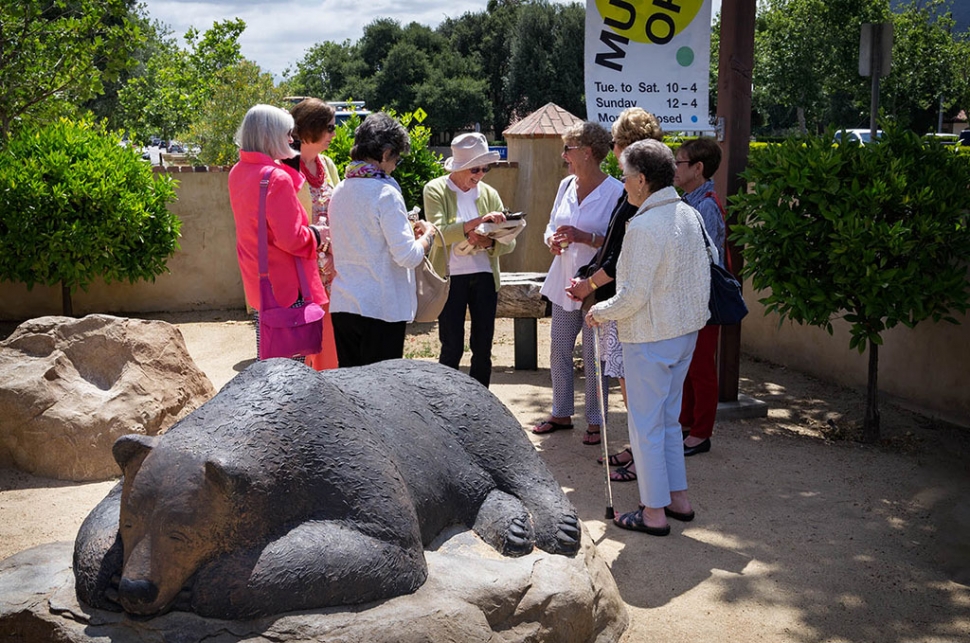 Toledo Art Museum Volunteers Gather for Ojai History Walking Tour. Photo by Les Dublin.
The Ojai Valley Museum welcomed a large group from Ohio's Toledo Museum of Art for its first visit to Ojai on Wednesday, May 21. Mayor Carlon Strobel warmly welcomed this group, who were here to celebrate our common history, philanthropy, and vision of Edward Drummond Libbey, both cities' greatest benefactor.
Known as the glass magnate, Libbey founded Libbey Glass and was a major part of Libbey Owens Ford Glass, both internationally known. Edward Drummond Libbey and his wife, Florence Scott Libbey, founded the world-renown Toledo Museum of Art. Toledo is also known as "The Glass Capital of the World."
Libbeychose Ojai as his western residence in the early 1900s. Ojai would not be the same place today without his contributions: Libbey Park, the Post Office Tower, the Arcade, the Arbolada, and The Ojai Valley Inn. After the 1917 fire destroyed St. Thomas Aquinas Chapel, Libbey generously donated funds to help in its rebuilding. This structure now houses the Ojai Valley Museum, a National Historic Landmark.
Toledo's Museum Director, Brian Kennedy, was joined by a group of 40 museum donor/service members, the Ambassadors, and its president, Susan Kruse, to learn more aboutLibbey's Legacy in Ojai. Director Kennedy's interest was piqued after a presentation about Libbey's connection to Ojai. The Ojai program was compiled by David Mason, Laura Twining Crary (both OVM Board Members) and Laura's sister, Tina, (Libbey House Foundation Board Member).
Ojai's historian, David Mason, led a private historical discussion about Edward Libbey for a smaller group. OVM's Board President, Ann Scanlin, spoke of both communities exchanging information about Libbey. To continue the dialogue, she suggested that an Ojai Museum group might like to plan a visit to The Toledo Museum of Art and The Libbey House, a National Historic Landmark, in Toledo.
Ojai Valley Museum's Director, Michele Pracy, informed the Toledo group about the recent renovation of the permanent gallery and led them on a tour of the museum, including a special case of Libbey memorabilia and glass curated by her especially for this occasion.
The Twining sisters expressed to the group that they were born and raised in Toledo: several maternal relatives were employed by Libbey Owens Ford Glass, they attended Girl Scouts' Camp Libbey, and attended art classes at Toledo's Museum. In 1984, when Laura moved to Ojai, she was surprised to see that the same Libbey from Toledo had done so much for Ojai!
Following their museum visit, the Toledo group took the Historical Downtown Walking Tour, enjoyed a tour of the historic Libbey Ranch, and visited the art studios of Gary Lang and Ruth Pastine.
Ojai and Toledo have now developed a strong connection through the Libbey Legacy that will, hopefully, endure over time.
The Ojai Valley Museum, established in 1967, is generously supported in part by museum members, private donors, business sponsors and underwriters, the Smith-Hobson Foundation, Wood-Claeyssens Foundation, City of Ojai, Ojai Community Bank, Rotary Club of Ojai, Ojai Civic Association and a grant from the Heritage Fund of Ventura County Community Foundation.
The museum is located at 130 W. Ojai Avenue, Ojai, CA. Admission: free for current 2013 members, adults - $5.00, children 6–18 - $1.00 and children 5 and under – free. Gallery hours are Tuesday – Saturday 10 am to 4 pm, Sunday, noon to 4 pm. Tours are available by appointment. Free parking is available off Blanche Street at back of museum.
For more information, call the museum at (805) 640-1390, ext. 203, e-mail ojaimuseum@sbcglobal.net or visit the museum website at: Ojai Valley Museum.org Find us on Facebook Ojai Valley Museum