Sing Me a Story, Dance Me Home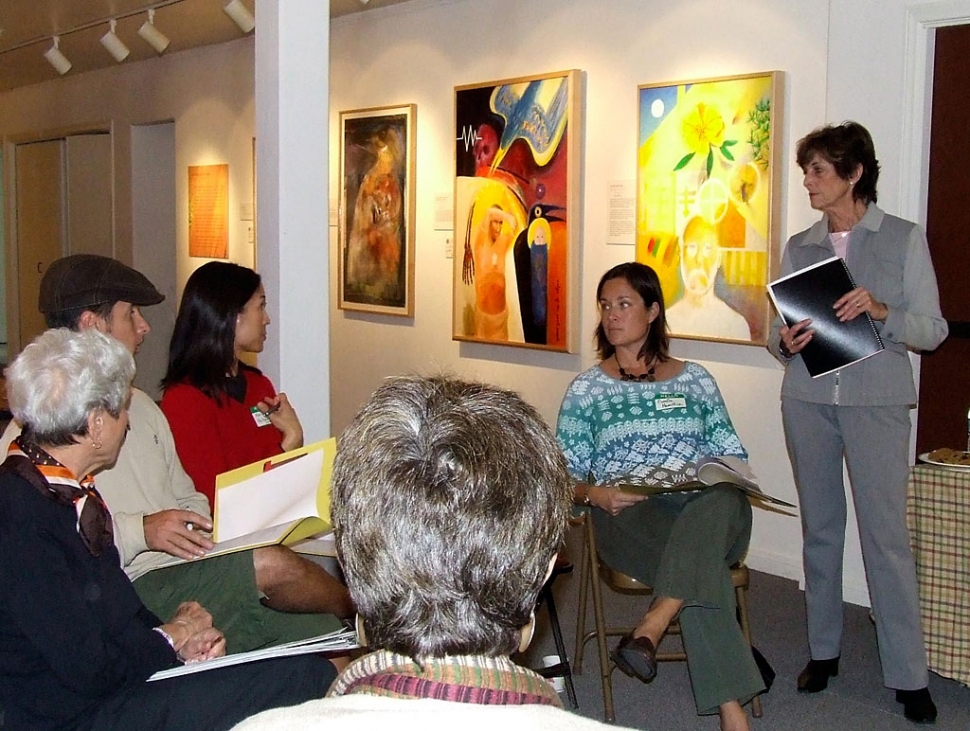 The Ojai Museum is currently running an exhibit on Native Californians called Sing Me A Story, Dance Me Home. In conjunction with this exhibit on Native Tribes the Museum will offer enrichment programs for local schools. Above: Ann Scanlin, President of Ojai Valley Museum Board of Trustees with Teacher group.
By Gazette Staff Writer — Wednesday, December 10th, 2008
Ann Scanlin, President of the Ojai Valley Museum Board of Trustees, met with valley teachers and museum docents to discuss the latest exhibit at the museum. She gave them interpretive materials that they can use to prepare their students for this exhibit and the enrichment programs that the museum will provide to enlighten students about the culture of Native California. The exhibit is a beautiful collection of art, sculpture, basketry, and poetry created by Native Californians. "I believe this will be a wonderful experience for my students and the community," noted Ron Schindel, sixth grade teacher at Oak Grove School.
The teachers attending were from MatillijaJunior High School, Mira Monte Elementary, Oak Grove School, Thacher School, Villanova Preparatory School and both campuses of Ojai Valley School. The teachers had a chance to preview the exhibit and to network with each other. Steve Gard, American History teacher at Matillija Junior High School remarked, "It is wonderful to meet teachers at this phenomenal exhibit. I'll pass it on to our English Department. Wonderful!"
Students will be able to tour the exhibit and receive enrichment activities appropriate to their grade level. Teachers who wish to participate can drop by the museum to preview the exhibit and schedule a tour. Museum hours are Thursday and Friday, 1 to 4, Saturday, 10 to 4, and Sunday, 12 to 4. Please call the museum office, 640-1390, to let staff know when you will be stopping by. The museum is interested in connecting with teachers, students and parents to provide them with events and programs that will meet their needs. An advisory committee is being formed with representatives from each valley school to help the museum with this process
Beginning January 4, the Museum will present Sunday afternoon programs, each weekend through January 25. These presentations will include Julie Tumamait speaking about locations and culture of the Chumash Villages in the Ojai valley; Judy Vander sharing Shoshone music and dancing: Bob Lopez discussing the Chumash culture in Ventura County as well as a program with one of the artists whose work appears in the exhibit.