See the World from a Satellite's Perspective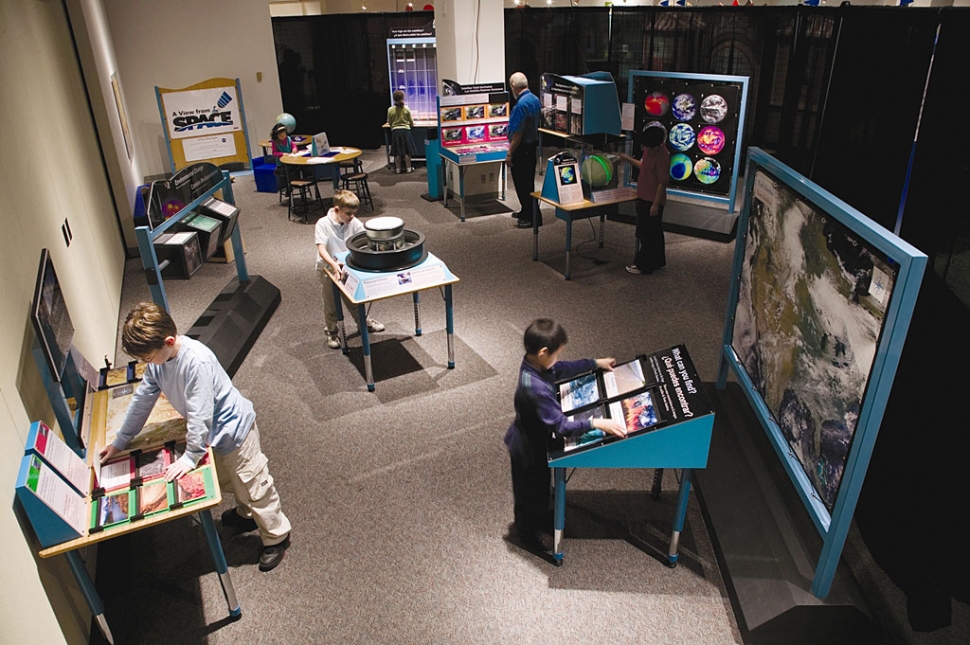 A view from space at the city of Santa Paula's California Oil Museum opening Oct 3, 2008.
By Gazette Staff Writer — Wednesday, September 10th, 2008
in a view from space at the city of Santa Paula's California Oil Museum opening Oct 3, 2008
Santa Paula, California — The California Oil Museum located in Santa Paula, California (1001 E. Main St., Santa Paula, 805-933-0076, $4 Adults, $3 Seniors, $1 Children) is offering a new traveling exhibit entitled, A View From Space. The exhibit will be opening at 6:00 pm on Friday October 3rd, 2008 for a special reception and viewing party hosted by the Ventura County Astronomical Society. Bring your kids for this fun-filled night in which you can be among the first to view this new exhibit as well as gaze at the nighttime stars (Refreshments will be served). A View From Space will be running at the California Oil Museum until December 28th, so don't miss this opportunity.
A View from Space, a new, bilingual (Spanish and English), highly interactive, hands-on science exhibit, will allow visitors to see the world from a satellite's perspective. They can track a hurricane from space, send a satellite spinning into orbit around a model Earth, study incredible images of our planet captured by NASA's Earth Observing System, and more.
"A View from Space is designed to introduce visitors to the latest and greatest of the Earth observing satellites and give them an appreciation for the value of studying Earth from space," said Jeanne Orcutt, Museum Director. "Visitors will be challenged to become the scientist, study satellite images, and try to answer important questions about the workings of our dynamic planet."
A View from Space includes numerous hands-on activity sections such as the Satellite Activity Area. This area encourages families to learn about space and satellites together through creative, open-ended play and exploration. The area features a drawing station with satellite stencils, a free-play activity table with space-themed toys, and a reading area. A posting board lets visitors to display their artwork and allows educators to share the latest news from NASA's Earth observing satellites.
Other hands on areas include "Satellite Orbit", where with the turn of crank visitors send a satellite spinning around a rotating model Earth while an ultraviolet light from the satellite leaves a phosphorescent trail, painting a clear picture of the satellite's path. This offers a dramatic demonstration of how satellites orbit the Earth and capture images of the entire planet.
A View From Space also allows visitors a look in to the importance of satellites and how they help keep track of environmental and seasonal changes. Visitors can spin a praxinoscope and see an entire year of North America satellite data compressed into a few seconds of animation. Complex patterns of change are suddenly revealed as visitors watch cycles of drought, snow accumulation and vegetation growth across the continent.
Visitors can also learn what satellites can tell us about the way human population growth and resource use are changing the Earth's lands, oceans and climate. Three rotating cubes, featuring modern and historic satellite images, illustrate some of the important environmental changes that NASA's satellites are tracking from space. As visitors turn the cubes, they watch the city of Las Vegas expand, the forests of Brazil shrink, and the Antarctic ozone hole grow.
These are just some of the many areas visitors can enjoy in this educational and inspiring exhibit as they lean more about those mysterious "eyes in the skies."
About Us:
From fossils to fill 'er up, the California Oil Museum tells the story of the black bonanza that created wealth, work, and prosperity for generations of Californians. Operated by the City of Santa Paula Community Services Department, the Museum highlights the inner workings of the state's black gold industry through interactive displays, videos, working models, games, photographs, restored gas station memorabilia, and an authentic turn-of-the-century cable-tool drilling rig. Visitors can exercise their wits and luck as California wildcatters, see how the Indians used natural oil seeps, watch a miniature drilling rig bore into the earth, and explore the memorable brands of gas bought by early California car drivers. The Lundgren and Bennett Collections of gas station memorabilia are one of the largest displays of vintage gas pumps in California. In addition to the permanent petroleum exhibits, the Museum presents new exhibits of science, transportation, history, and art throughout the year.
A View From Space was created and is toured by the Oregon Museum of Science and Industry, Portland, Oregon. The exhibit was made possible with funds provided by the National Aeronautics and Space Administration. (NASA).