See acclaimed local painter create work in real time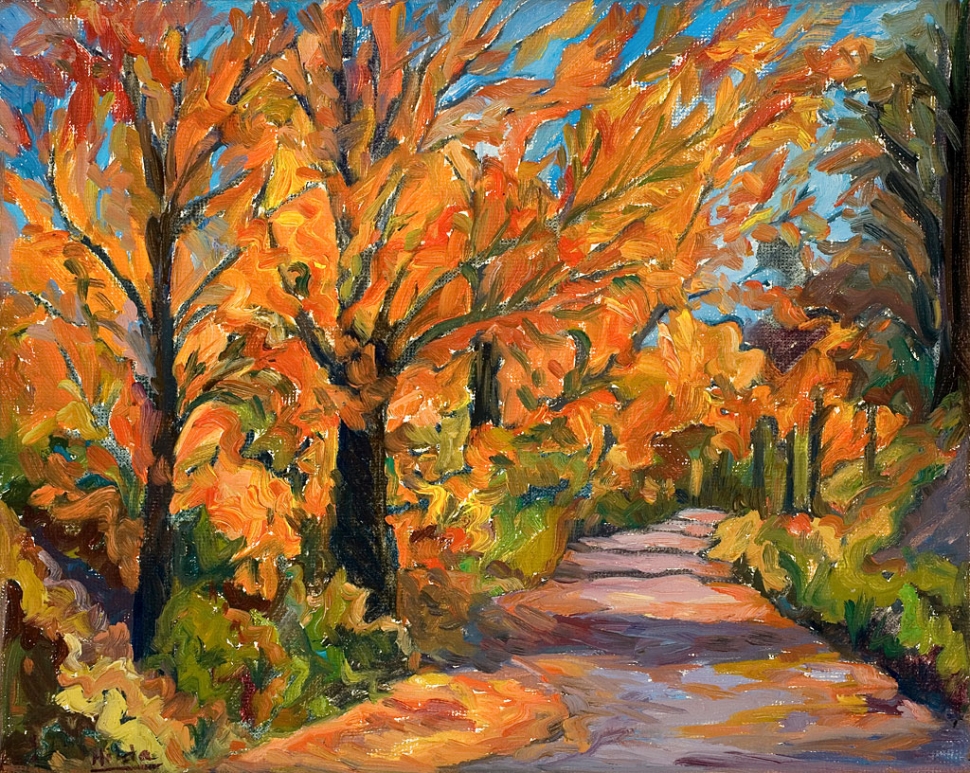 Autumn, oil on canvas by Hilda Kilpatrick.
By Gazette Staff Writer — Monday, July 29th, 2013
Resulting piece to be raffled
Ventura artist Hilda Kilpatrick will demonstrate alla prima oil painting, a wet-on-wet method that yields fresh, expressive canvases, in a free session from 10 a.m. to 1 p.m. August 10 at the Buenaventura Art Association's Harbor Village Gallery.
Kilpatrick's painting will be raffled off at the end of the demonstration. Tickets are $15, and the winner need not be present.
The technique, also known as direct painting, sidesteps the usual underpainting and gradual building up of colors with layers. Instead, the painting is completed while the pigments are wet, usually in one session. Famous painters who employed the style range from Paul Cezanne and John Singer Sargent to Caravaggio and Hieronymus Bosch.
Kilpatrick plans to talk about the alla prima (Italian for "at once") method as she begins the painting and for the first half-hour or so, then will take questions while she continues to paint and as viewers come and go.
She worked in pastels in her native Peru, Kilpatrick said, and began to seriously develop her skills as a painter after moving to the United States. She has been painting since 1998 and has had many solo exhibitions and show awards. Landscapes are a favorite genre, influenced by the early California painters and the Impressionists. "By capturing places on my canvas, they remain timeless," said Kilpatrick.
Regular hours for the gallery at 1591 Spinnaker Drive in Ventura Harbor Village are 11 a.m. to 7 p.m. daily except Tuesdays and it stays open until 8 p.m. Fridays and Saturdays. For more information about Kilpatrick's demonstration and raffle tickets or the nonprofit Buenaventura Art Association, call 648-1235 or visit the website www.buenaventuragallery.org.