Scott Wynn's "Central Coast Visions" At The Buenaventura Gallery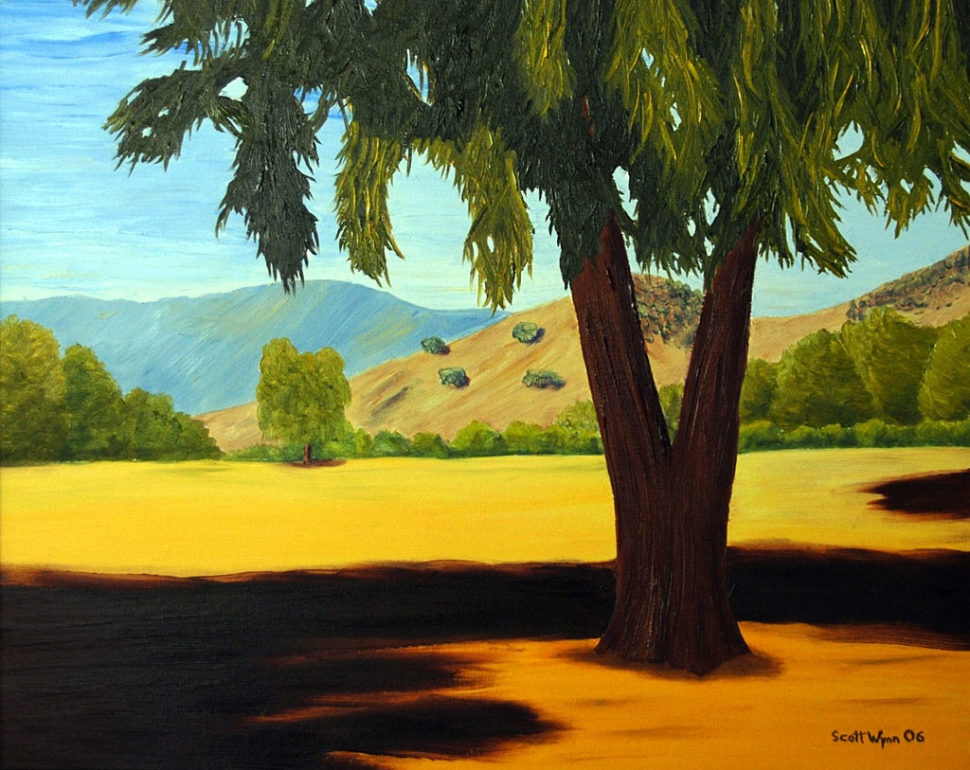 "Mid Morning Under The Eucalyptus" Oil On Canvas.
By Gazette Staff Writer — Thursday, May 22nd, 2008
Scott Wynn's exhibit, "Central Coast Visions" will be at the Buenaventura Gallery from May 27 to June 21, 2008 with an opening reception on Friday, June 6 from 5 – 8 pm during First Friday Ventura Gallery Crawl.
Wynn's images evolve from the life long photographer's eye which he uses to express his view of California landscapes. A native of Southern California, Wynn, has watched the countryside change from rural landscapes into urbanized developments altering the views he remembers of his youth. The oil paintings in "Central Coast Visions" evoke dreamy memories of an innocent and untouched California backdrop and effectively correspond with Wynn's fascination in the unbelievable power of nature.
The multi- step process the artist uses to achieve his images begins with a composition constructed from one or more photographs. After working the layout on paper and on the computer, he begins to paint with layers of transparent pigment and color from an idealized memory of his subject.
This will be Wynn's first Solo Show with the Buenaventura Art Association, but he has exhibited works in many venues including Santa Paula Art and Photography shows, Maritime Museum exhibits, LA and Ventura County Art Festivals and has received awards from the Buenaventura Art Association and the Ventura County Fair Professional Artist Competition.
The Buenaventura Gallery is located at 700 Santa Clara St., Ventura, California, 93001 Phone: (805) 648.1234 .Hours: Tuesday to Friday 12-5 pm .and Saturday 11 – 5. For more information, visit their website at www.buenaventuragallery.org.