Scandinavian Festival slated April 18-19
By Gazette Staff Writer — Monday, March 30th, 2015
Performers, crafts, food will fill Cal Lutheran campus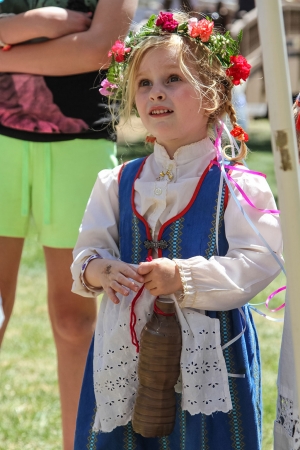 THOUSAND OAKS, CA - One of the largest Nordic festivals in the western United States will return to California Lutheran University April 18 and 19.
The 41st Scandinavian Festival will celebrate the cultures of Denmark, Finland, Iceland, Norway and Sweden and the Saami people from the Arctic regions of Scandinavia. The festival will run from 10 a.m. to 5 p.m. with music, dancing, food, lectures, demonstrations, vendors and activities for people of all ages.
Last year's Scanfest was the most successful ever with a record 8,000 attendees at the two-day event. This year, visitors will watch 150 performers, weave 3,700 flowers and three miles of ribbon through 750 head wreaths, and sand 700 Swedish butter knives with help from 200 volunteers.
Children can travel through Scandinavia by earning passport stamps for each craft they make linked to the culture of the five different countries. The popular Children's Theater will feature a puppet show, acclaimed storytellers Stina Fagertun of Norway and Robert Seutter, aka True Thomas, and musician Ross Sutter.
Other performers will include Swedish classical pianist and humorist Magnus Mårtensson, Norwegian folk singer Ann-Marita and the New York-based ABBA Girlz. Folk-rock band The Evening Guests led by Jokull Jonsson from Iceland and fiddler Tim Rued will also take the stage and folk dancers will perform and teach steps.
Healthy Scandinavian food specialties will include open-face sandwiches, fish tacos and vegetarian Norwegian stew. Traditional favorites including Swedish meatballs, Viking dogs and Danish aebleskivers will also be available.
Festivalgoers can try their hand at Dala horse croquet, play an ancient Viking game called kubb, return to the days of the Vikings at an authentic village staged by the Ravens of Odin and visit a Saami camp.
The Scandinavian American Cultural and Historical Foundation is sponsoring the event. Cal Lutheran is located at the corner of Olsen Road and Mountclef Boulevard in Thousand Oaks.
Admission is free for children, $5 for teenagers and $10 for adults. Tickets purchased online are $4 for teens and $8 for adults. Parking is free. Tickets and a full schedule are available at scandinavianfest.org. For more information, contact Lana Lundin at lanalundin@gmail.com.