Santa Paula Citrus Classic Hot Air Balloon Festival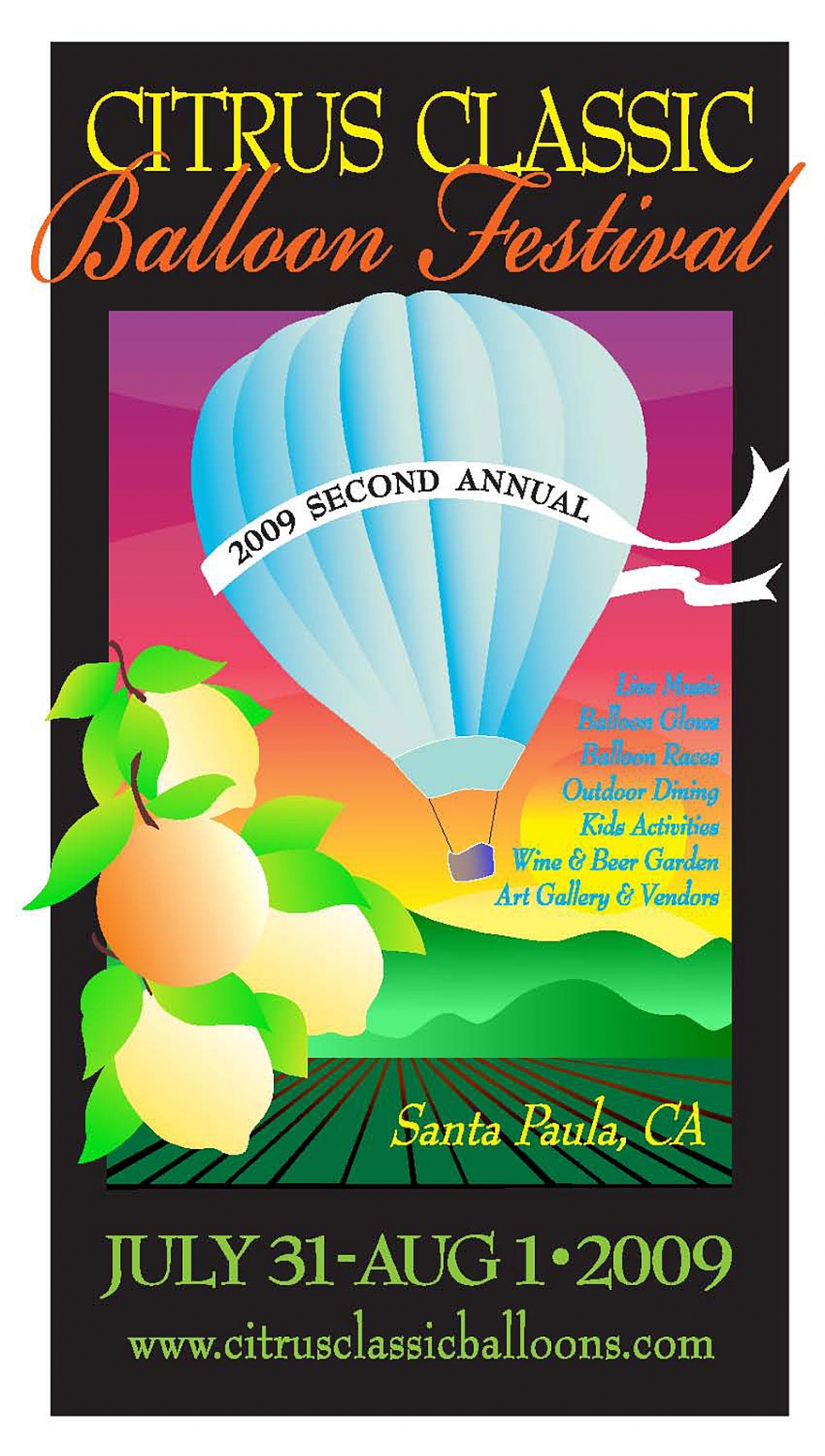 By Gazette Staff Writer — Wednesday, July 8th, 2009
July 31 – August 1, 2009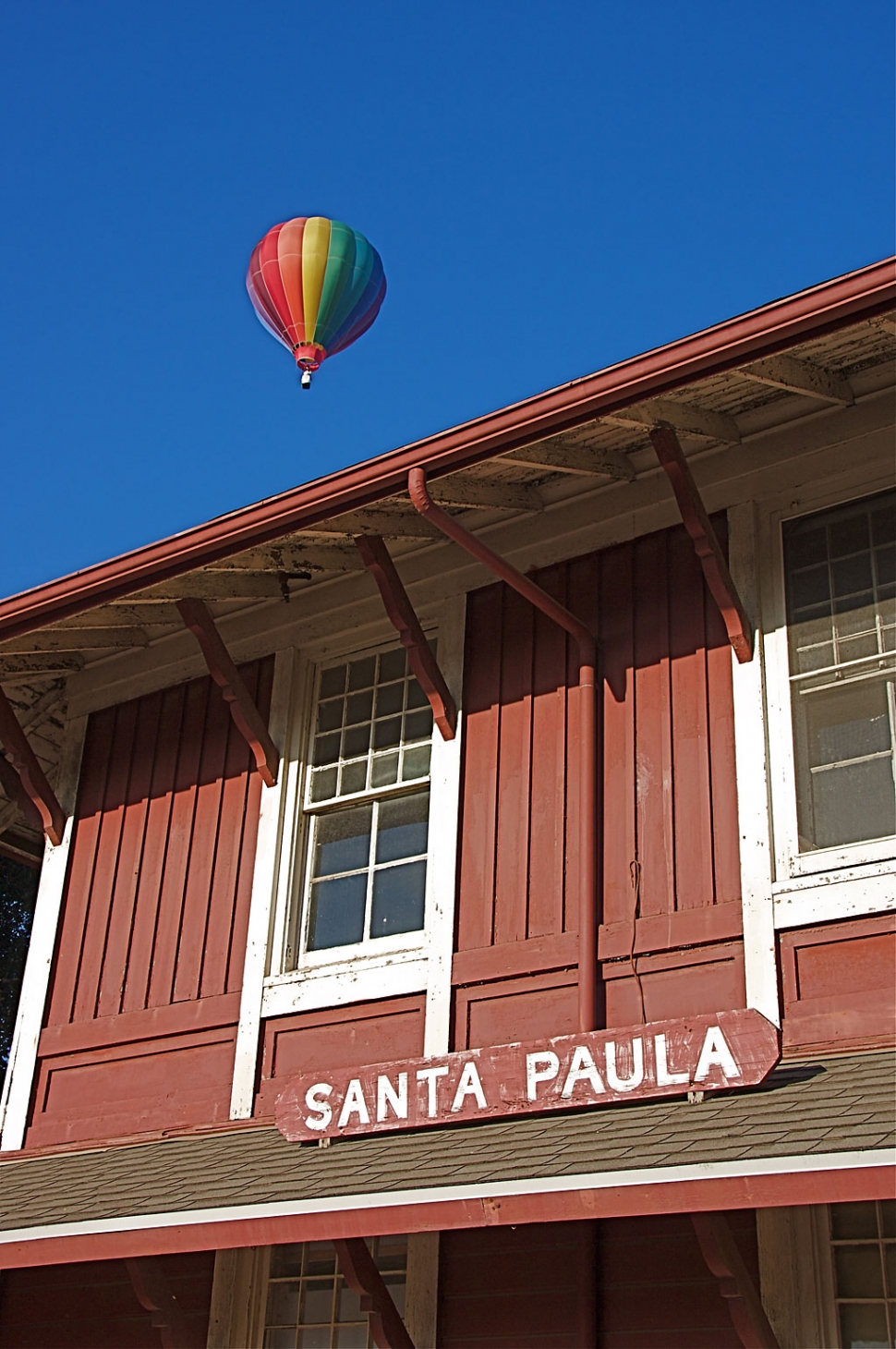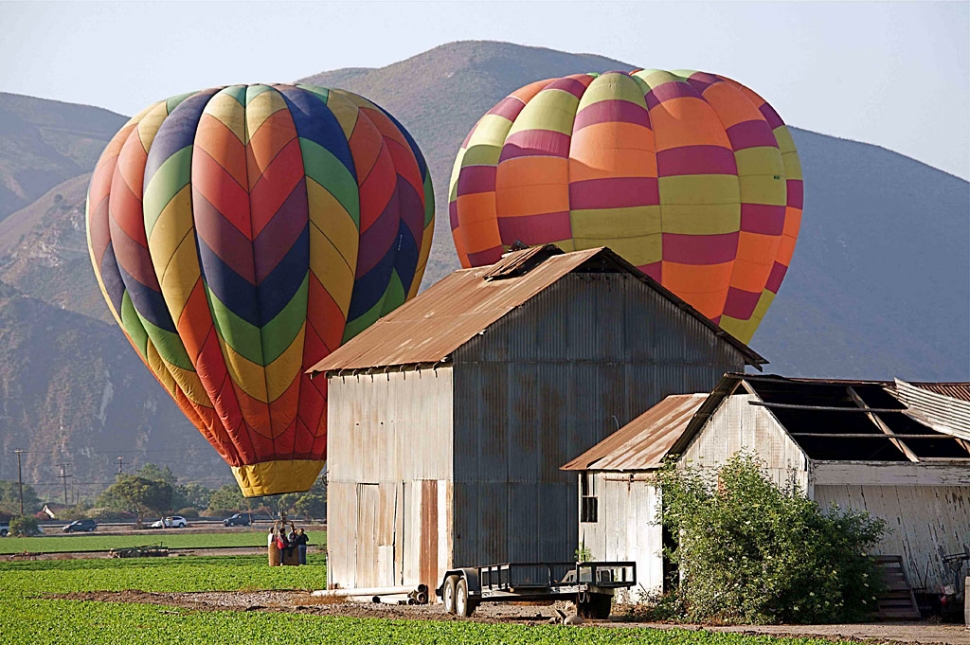 Shuttle Route Map
SANTA PAULA, CALIF.--Spectators can experience approximately 25 hot air balloons illuminate at sunset, ascend in the morning to compete in a race through the agricultural corridor of Heritage Valley toward the Pacific Ocean during the Second Annual Citrus Classic Balloon Festival, July 31 through August 1, in Santa Paula. The festival will also feature live music, wine and beer garden, a youth soccer clinic, car show, kids' activities, tethered balloon rides, art and craft vendors and food and souvenir booths. The festival will be held at Santa Paula's East Area 1 (Teague McKevett Ranch, 18249 East Telegraph Road via Highway 126).
The festival begins on Friday, July 31 at 5:00 p.m. Guests will enjoy dinner items from food vendors. Fantastic wine selections by Southern Wine & Spirits are presented in a rustic wine & beer garden. Guests can browse over 30 booths of arts, crafts and souvenirs to the sounds of live musical entertainment. Children will delight in Time Warner's Kids Activity Korral, with new "Einstein's Got Juice" interactive science and technology displays on solar energy, wind power and citrus-powered batteries. WOW Inflatables' Titanic inflatable slide and other jolly jumps, kiddie trains, face painting, roping demonstrations and frisbees round out the diverse offering for youth.
When winds calm, and the sun starts to set, Ventura County deejay Bruce Barrios kicks off the Evening Balloon Glow. Hot air balloons inflate, then illuminate at dusk.* "It's a magical sight with a once-in-a-lifetime feeling," says Carla Edwards, event organizer. "Visitors are welcome to stroll the balloon arena to view the tethered, 'glowing' balloons up close, and talk with balloon pilots. A special treat for children are the animal and fruit-shaped balloons. "
Gates open at 5:00 a.m. on Saturday, August 1 to allow time to get coffee and breakfast items from vendors, set up photography equipment, or to place lawn chairs for the best views of the 6:00 a.m. to 6:30 a.m. Mass Balloon Ascension* One by one, balloons inflate and ascend into the morning skies, framed against the quintessential Southern California backdrop of citrus orchards, palm trees and rolling hills. The balloons compete in the Hare & Hound Balloon Competition and fly towards the Pacific Ocean. Special shape balloons do not participate in the race. They remain inflated and tethered on site so spectators can be view them up-close and talk with the pilots.
Other activities throughout the day include interactive kid-to-kid roping demonstrations with Rawley Mathis, 10-year old Rodeo Roping Champion and the Time Warner Kids Activity Korral. Balloonists return to the fairgrounds for a family-style Pilots' Breakfast (8:30 a.m.) open to the community. Dukes Car Club of Ventura County will host a Shine 'N Show Car Show (10:00 a.m. -3:00 p.m.). Ventura County's semi-professional Fusion Soccer hosts a Youth Soccer Clinic (10:00 a.m.) available to children on a first-come basis. Live music acts, celebrity MCs, the Vendor Village and the Wine & Beer Garden provide continuous entertainment throughout the afternoon.
At 6:30 p.m., Closing Ceremonies begin with the presentation of the 2009 Citrus Classic Champion Trophy and cash prizes to winners of the Hare & Hound Race. Again, as winds calm, and the sun starts to set, approximately 25 hot air balloons inflate, then illuminate at dusk.* Gates close at 11:000 p.m.
"Santa Paula, our host city, is an ideal locale for spectators and balloon pilots alike with spectacular views of field crops, orchards and working ranches relatively unchanged since the turn of the century," notes Edwards.
"The pilots flying balloons in the Citrus Classic will travel from around the country to fly in the beautiful surroundings of Ventura County," says Steve Wilkinson of Fantasy Balloons. "They include the very best pilots who have won international and national competitions, with some logging over 30 years of balloon flying. Some pilots actually used to fly in the Fillmore and Santa Clarita balloon events in the eighties, and are very happy to return to the area."
Advance Tickets are $7 per adult; $3 for youths (14-5 years of age); free for children under age five. Gate Tickets are $10 per adult; $5 for youths (14-5 years of age); free for children under age five. Advance Tickets may be purchased from the following organizations: California Welcome Center/Oxnard, (805) 988-0717, www.visitoxnard.com, Ventura Visitors & Convention Bureau, (805) 648-2057, www.ventura-usa.com, Santa Paula Chamber of Commerce, (805) 525-5561, www.santapaulachamber.com and Rancho Camulos, (805) 521-1501, www.ranchocamulos.org.
Each entry ticket is valid for the day purchased. Separate entry tickets are required for each date of the Citrus Classic. Return entry will be permitted to ticket holders on Saturday, August 1 only.
Proceeds from the event go to the Santa Paula Community Fund. For further information including hotel packages, visit www.citrusclassicballoons.com or e-mail, citrusclassic@aol.com
Weather-Sensitive Event
All ballooning events are weather and safety dependent. Events may be postponed or rescheduled as a result. While this may cause some inconvenience, the Citrus Classic's primary concern is the safety of balloon personnel, the community and the environment. The Citrus Classic will make every effort to keep festival goers on site updated on weather or safety conditions affecting the event.
Shuttle service available for 42nd annual Santa Paula Citrus Festival
Save that money you'd put in your gas tank and take it instead to spend at the Santa Paula's 42nd Annual Kiwanis Club Citrus Festival by taking the free shuttle that will let you off right at the gates of the July 17-19 celebration at Harding Park. The festival will be held Friday, 5 to 11 p.m., and Saturday and Sunday, noon to 11 p.m.
Admission is only $5 for adults and $1 for kids 10 and under, which includes all entertainment except for carnival rides, which are a separate - but still low-cost. Shuttle hours are Friday, 5 p.m. to midnight, Saturday noon to midnight, and Sunday noon to midnight. Parking is limited in the Harding Park area especially as a portion of East Harvard will be closed festival weekend.
"We would encourage the community to use our free shuttle service," said City of Santa Paula Community Services Director Brian Yanez. "The shuttle is easy, quick and efficient, and has a great turnaround time. You are picked up at your car at one of the locations, and dropped off right at the Citrus Festival's door," noted Yanez, and "When you leave the festival, the shuttle takes you right back to your vehicle."
The shuttle will stop at City Hall (970 E. Ventura St.), the historic Depot (corner of Santa Barbara and 10th streets), Glen City Elementary School (corner of Main Street and Steckel Drive.), and Teague Park (Harvard Blvd. and Steckel Dr.). Public parking is available at all shuttle stop locations.
"Every year we get a huge crowd for the festival, and people really appreciate the shuttle service," said Yanez. "Now, with gasoline as expensive as it is, leave your vehicle at a shuttle pickup spot and we'll take you over there and back. You don't have to worry about finding parking near the festival, and you'll have a fun ride on the shuttle."
For more information, visit the Kiwanis Club Citrus Festival website at www.santapaulafestival.org.