Santa Paula Art Museum presents Dos del Sur (Two from the South)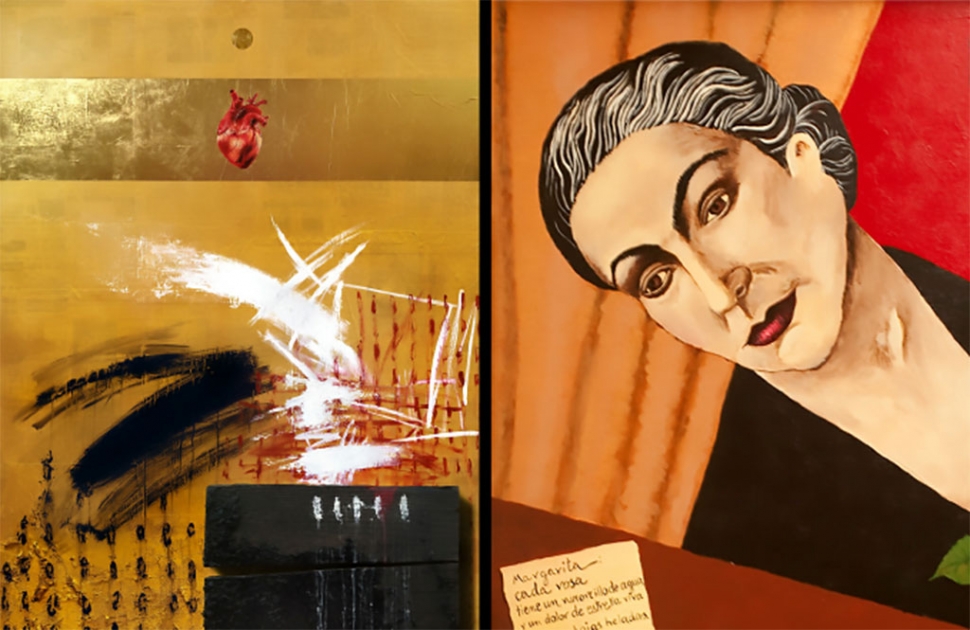 (l-r) "Inner Structure #8" by Carlos Grasso, mixed media on panel, 48" x 36". © Carlos Grasso; "Ainadamar' by Sylvia Raz, mixed media on wood panel, 29.5" x 41.5". © Sylvia Raz.
By Gazette Staff Writer — Monday, January 19th, 2015
The Santa Paula Art Museum is thrilled to present Dos del Sur (Two from the South), a two person exhibition featuring work by Ojai artists Carlos Grasso and Sylvia Raz. These two Ojai artists are brought together through their origins in South America where passion was conceived of through the Tango, political dictatorships were prevalent, and art was everywhere.
Carlos Grasso's work is an exploration of the relationship between the psychological inner worlds of the mind and the outer manifestation of the physical. His work takes many forms from the surreal to the abstract, the figurative to conceptual. Sylvia Raz's work is confrontational and challenges people to a meditation on human responsibility. Her work resists categorization in any one genre or style, and it is fueled by a fascination with process and reinvention.
OPENING RECEPTION
Saturday, January 31, 2015 from 4:00 to 6:00 p.m.
$10.00 SPAM Members
$15.00 General Public