Rock 'n' Roll Made in Mexico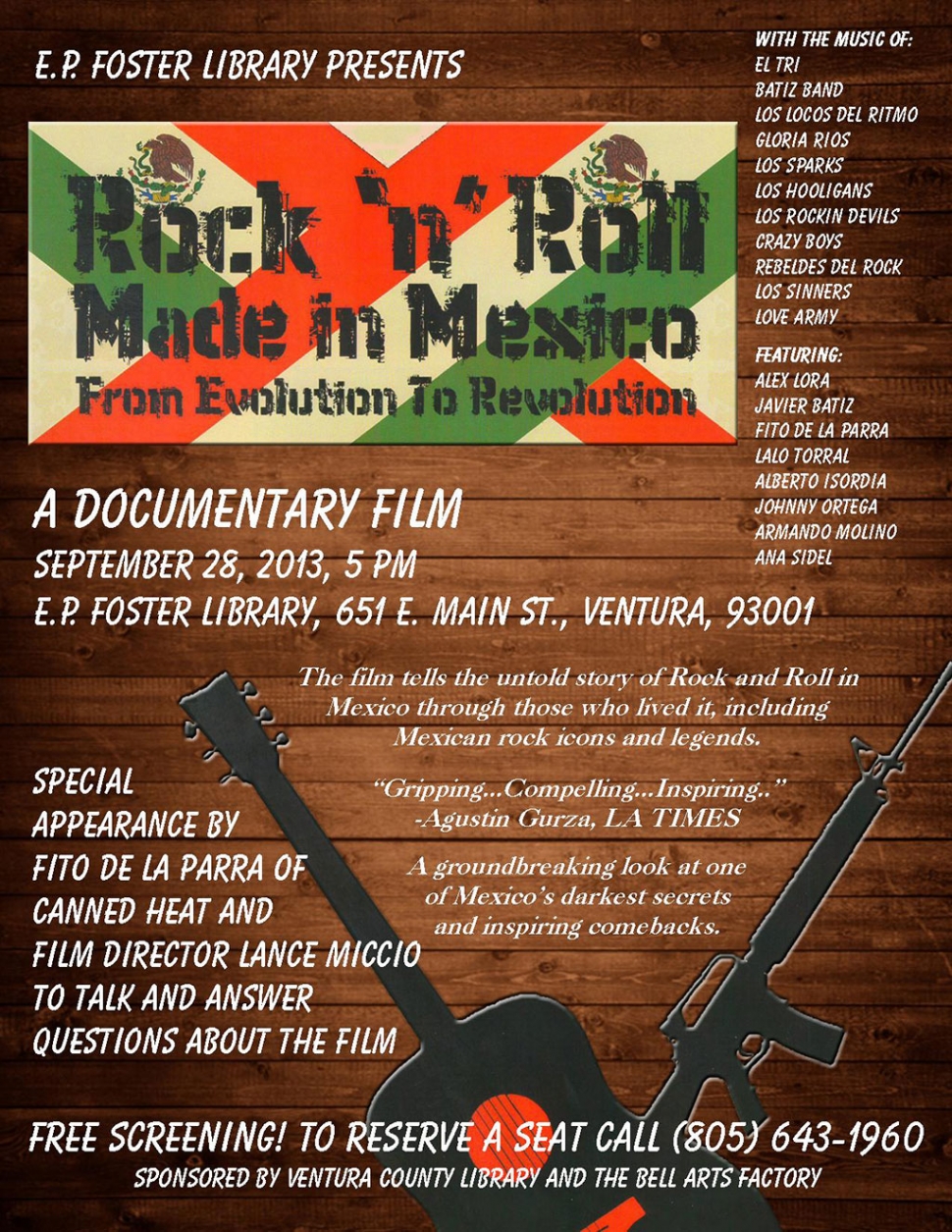 By Gazette Staff Writer — Monday, September 23rd, 2013
Free movie screening
The documentary film Rock 'n' Roll Made in Mexico – From Evolution to Revolution will be shown in the Topping Room of the E.P. Foster Library, 651 E. Main St., Ventura, CA 93001 on Saturday, September 28, 2013 at 5pm.
"Rock 'N' Roll Made in Mexico – From Evolution to Revolution" is directed by filmmaker Lance Miccio and produced by drummer, Fito de la Parra of the blues/rock/boogie band Canned Heat. The film tells the story of rock and roll in Mexico through those who lived it, including Fito de la Parra and musicians such as Javier Batiz (who influenced a young Tijuana guitarist named Carlos Santana); Alex Lora and Lalo Toral from El Tri; Johnny Ortega of Los Hooligans and many others. The story covers Mexico's early days of rock 'n' roll played in cafés and yard parties, through the severe oppression that plagued Mexican rockers and the country, eventually resulting in illegalization of rock and roll after the notorious Avandaro concert, also known as the Mexican Woodstock.
Director and producer, Miccio and de la Para bring this epic struggle of art against authority full circle from the beginning to today, where contemporary Mexican rockers now thrive on the world stage.
The Back Story: Director Lance Miccio originally intended to make a documentary film about the legendary blues/rock/boogie band Canned Heat and his research led him to Fito de la Parra. By this time in history band founders Alan "Blind Owl" Wilson, Bob "Bear" Hite and Henry "Sunflower" Vestine had died and the drummer of the classic lineup of Canned Heat, Fito de la Parra assumed leadership of the band and keeper of the band's legacy. Upon hearing de la Parra's story of being born in Mexico and playing in early rock bands such as Los Sparks, Los Hooligans, Los Sinners, the Javier Batiz Band and eventually Canned Heat, director Miccio changed direction and focus and made this documentary about early Mexican rock and roll. Fito de la Parra is one of a very small handful of Mexican musicians who played at the Woodstock festival in 1969, Carlos Santana and Luis Gasca of Janis Joplin's band also come easily to mind.
Fito de la Parra and Lance Miccio will be present for a Question and Answer session after the showing.
The film, free to the public, is being presented by the E.P. Foster Library in association with the Bell Arts Factory. Because of limited seating reservations are necessary. Call (805) 643-1960 for more information.