Renowned British organist to perform
By Gazette Staff Writer — Tuesday, February 3rd, 2015
Cal Lutheran concert will honor Thousand Oaks couple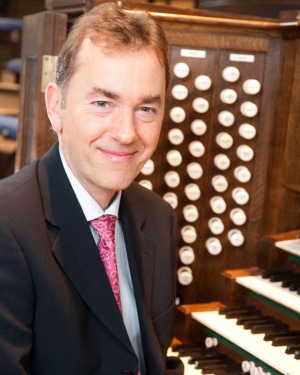 Thomas Trotter. Photo credit: Adrian Burrows.
THOUSAND OAKS, CA - An internationally renowned British organist will present a concert at 7:30 p.m. Tuesday, Feb. 24, at California Lutheran University.
Thomas Trotter of Birmingham plays the sole concert in this year's Orvil and Gloria Franzen Organ Program Series. The program will include works by George Frideric Handel, John Stanley, Johann Sebastian Bach, Felix Mendelssohn and Paul Hindemith, as well as contemporary composers James MacMillan and Errollyn Wallen.
One of Britain's most admired musicians, Trotter became the first organist honored as Best Instrumentalist by the Royal Philharmonic Society in 2002 and received the International Performer of the Year Award from the New York City Chapter of the American Guild of Organists in 2012.
Appointed Birmingham City Organist in 1983, he is also the organist at St. Margaret's Church in Westminster Abbey and a visiting fellow in organ studies at the Royal Northern College of Music. He is a recording artist and tours on four continents, playing at renowned concert venues and festivals.
This year's Franzen series event honors Thousand Oaks residents Eugene Craig and Jennifer Zobelein for their generous support of the university's Music Department. The couple, who earned teaching credentials from Cal Lutheran and taught elementary school for more than a decade, are music enthusiasts. Jennifer, who wrote "A Forest of Pipes: The Story of the Walt Disney Concert Hall Organ," plays the organ and piano. Craig, who has performed with the Conejo Players, plays the organ and piano in addition to the accordion and guitar and also composes music. The Ventura County Arts Council named them the Arts Philanthropists of the Year in 2012.
Donations will be accepted.
Samuelson Chapel is located at 165 Chapel Lane. Additional parking is available at the corner of Olsen Road and Mountclef Boulevard.
For more information, call the Music Department at 805-493-3306 or visit CalLutheran.edu.