Phil Harvey Exhibit at Ojai City Hall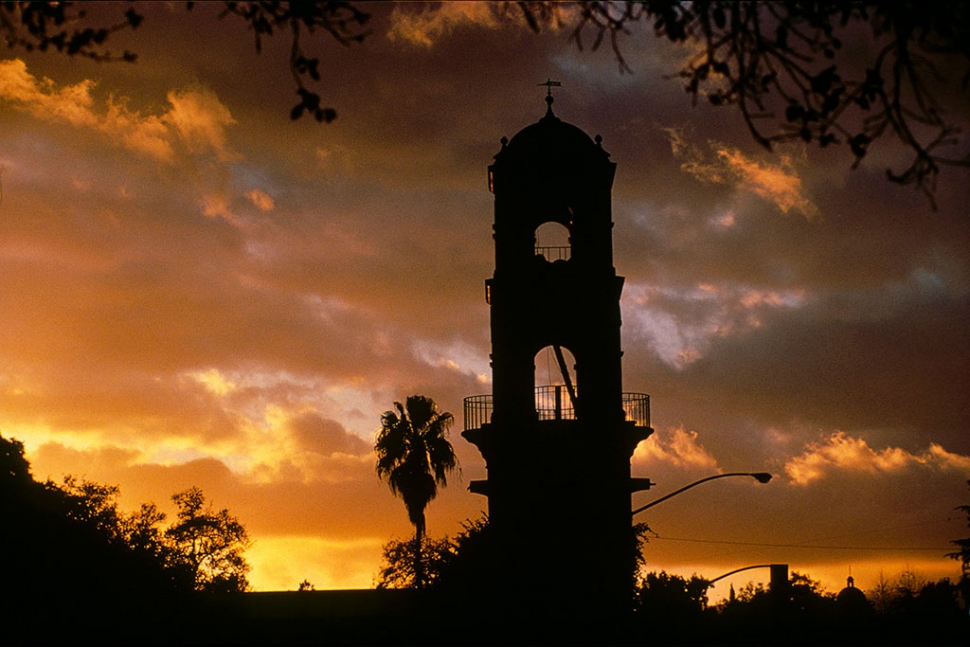 By Christine Golden — Monday, September 23rd, 2013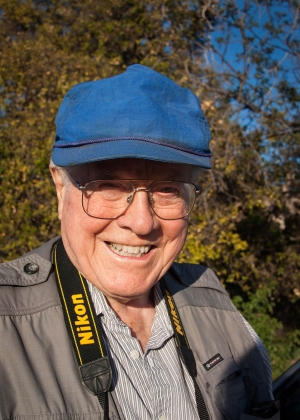 Phil Harvey. Photo by Sally Carless.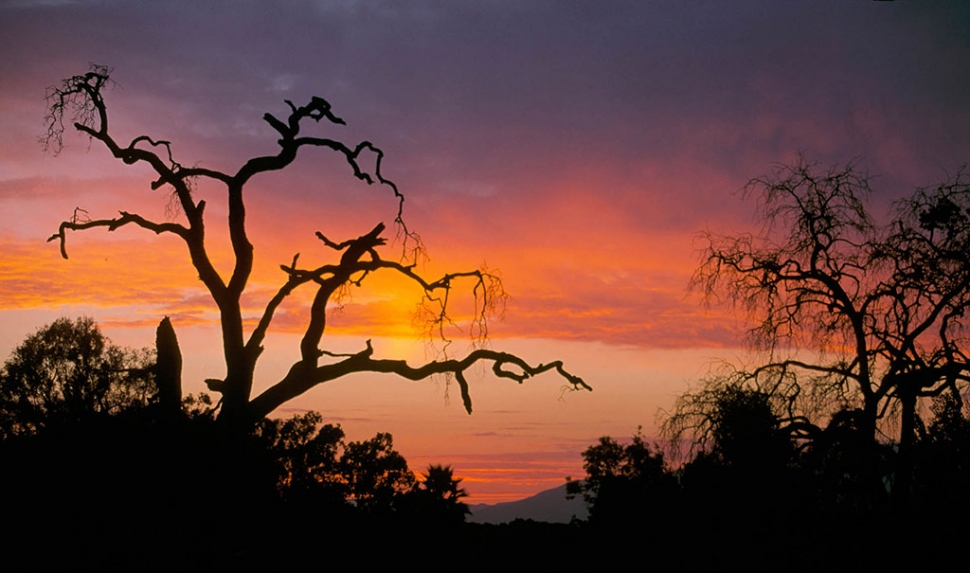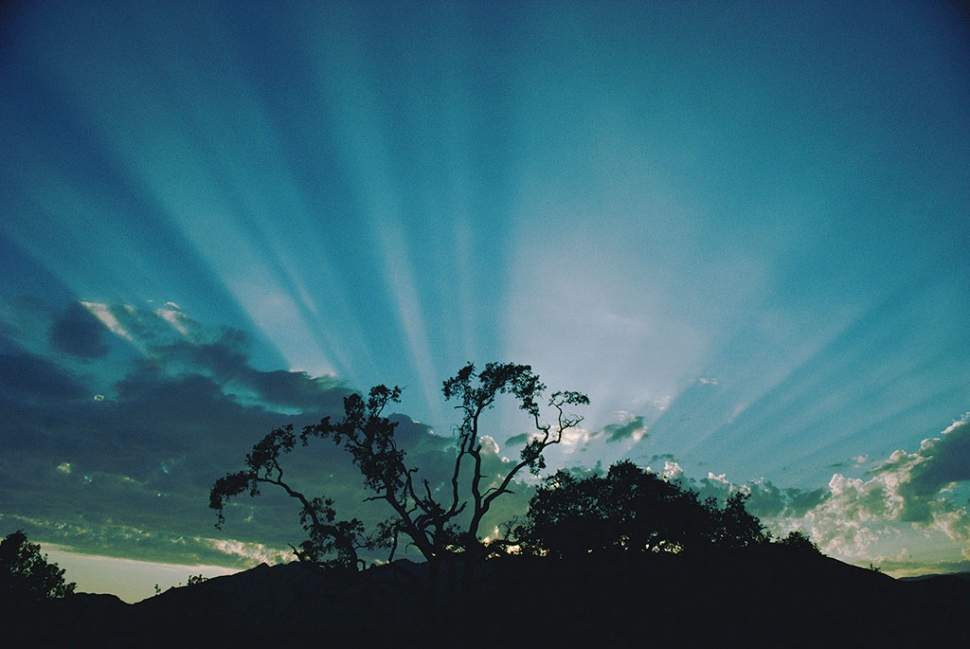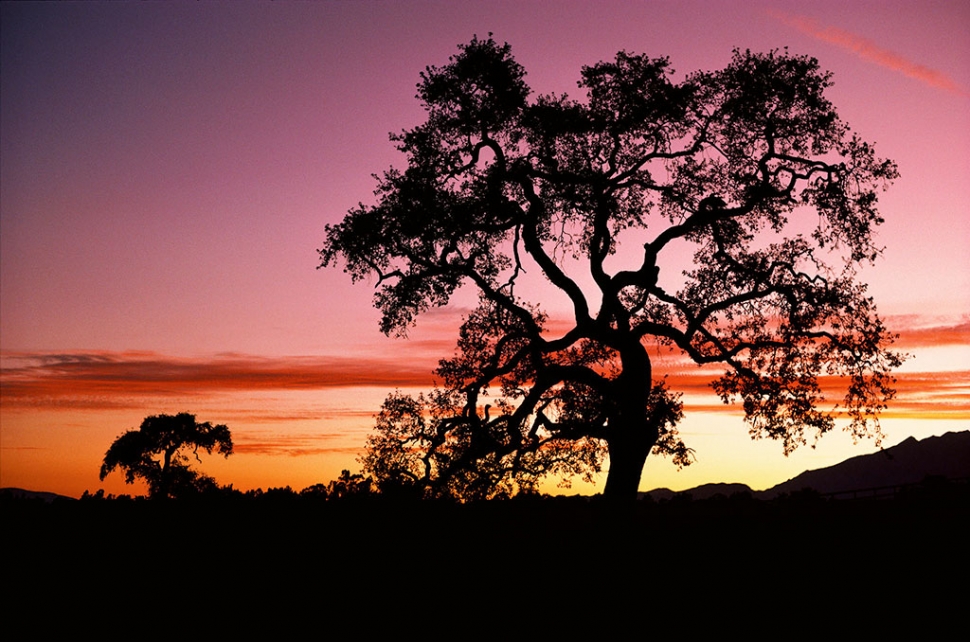 The Ojai City Gallery is proud to present a collection of the works of iconic photographer, Phil Harvey, at City Hall from September 16 through November 15. A community reception will be held on Thursday, October 17 from 5:00 pm to 6:30 pm in the City Hall Chambers. Now in his nineties, this is a perfect chance to meet and shake the hand of one of Ojai's "Living Treasures," a well-deserved award bestowed upon Harvey by the Rotary Club in 2010.
When I visited Harvey last month to talk about his exhibition, he brought out photo after photo that beautifully captured the "Mystique of Ojai" -- the name he's given to a collection of a dozen such memorable images reproduced in postcard format and on sale at several local businesses.
This exhibition of Harvey images is unique. In addition to the well-known shot of the post office tower with its pergola arches silhouetted against a fiery winter sky, there are tranquil scenes from around Ojai and even Harvey's backyard. Others are from the starkly beautiful and hard-to-get-to Palouse agricultural areas of eastern Washington and northern Idaho. Still others are diverse departures including a haunting image from Grandma Prisbrey's Bottle Village in Simi Valley. Five major images have been graciously loaned for the exhibit from Rabo Bank, Ojai Branch.
Harvey has photographed nature for over twenty years. He has pursued the sun, the moon, and the light of early morning and evening - often referred to as "the golden light." Says Harvey, "I usually shoot before ten or after four - that is when the light gives the image the most impact."
Harvey, like many others, was drawn to Ojai to hear Krishnamurti. He fell in love with the valley's quiet serenity and beauty and stayed, becoming involved with community life from the outset. On the advice of John Bauer, Ojai Festival founder, he studied singing and performed as a gifted baritone soloist in local theater productions, television and movies. He founded the Ojai Community Chorus in 1987. All the while, Harvey dabbled in two-dimensional art, using watercolor and pastels. This led to his passion for photography. He bought a camera and taught himself by reading "a lot of books." In 1984 he founded the The Ojai Camera Club. This group continues today as the Ojai Photography Club.
Harvey has garnered just about every award one can imagine. In 1984, he won the Ventura County Fair theme with a photo of an Olympic torchbearer crossing the 101 freeway at the Las Posas exit; he was awarded a Lifetime Achievement in the Arts by the City in 2003; and he served as Grand Marshall of the Ojai 2004 Fourth of July Parade.
The Harvey exhibition is open to the public during regular City Hall business hours, Monday through Friday from 8 a.m. to 5 p.m. beginning Monday, September 16through Friday, November 15. Ojai City Hall is located at
401 So. Ventura Street.
Ojai Valley artists interested in showing at the City Gallery may send their name, e-mail, phone number, short biography and jpg samples of their work to Christine Golden (christinegolden@sbcglobal.net) or Mimi Moore
(mooremimi2@gmail.com). Arts Commission meetings are held at 6:30 pm every third Thursday of the month and are open to the public.