Peacemakers at Ojai Art Center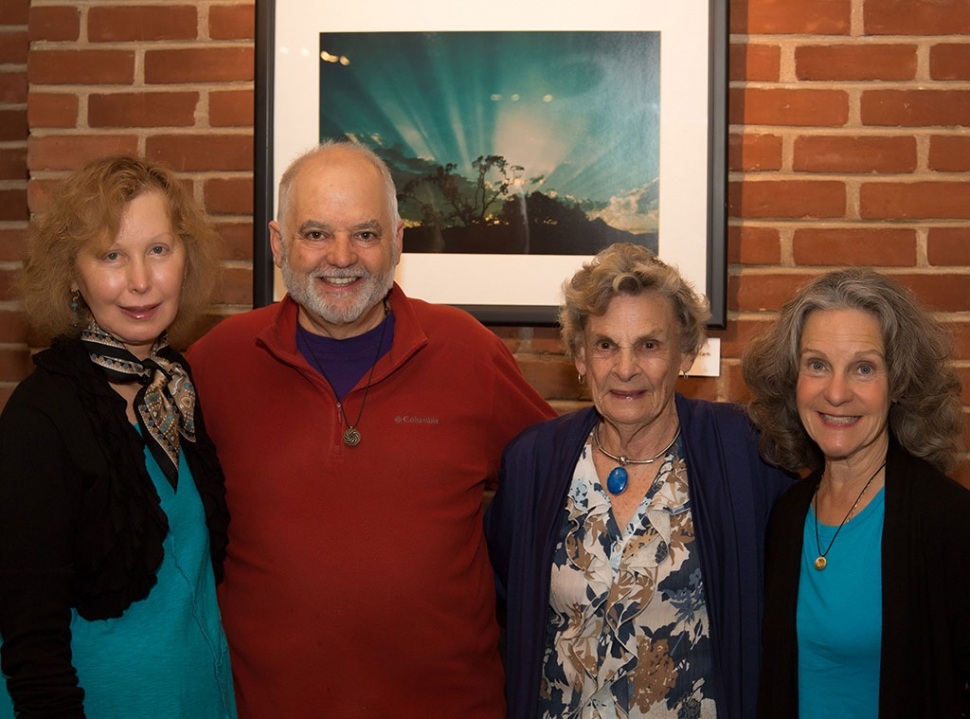 (l-r) Helene Vachet, Brian Berman, Marta Nelson and Julie Heyman. Photo by David Baker.
By Myrna Cambianica — Monday, June 22nd, 2015
Ojai has deep roots in peace. Saturday, June 27, from 10:00 a.m. to noon, a group of Ojai peacemakers will be sharing stories of Ojai's peaceful history and explain how the city became an International City of Peace. The event takes place at the Ojai Art Center and is being held in conjunction with the center's current photographic exhibit, "What Does Peace Look Like?"
Marta Nelson will be among the participating speakers. She has a long and rich association with peace, having been active for many years as an artist for peace and an enthusiastic force behind the fourteen "Peace Pole" installations throughout Ojai.
Julie Heyman and Brian Berman will share their collaborative effort that brought International Cities of Peace to Ojai along with Berman's HOLOS design that is a symbol for our one humanity. The vision of HOLOS was incorporated as a unique expression of Ojai's ICP profile and the image can be viewed as a permanent painted installation on the patio of the Art Center. For information on ICP go to:www.internationalcitiesofpeace.org
Helene Vachet, third generation Theosophist and student of Judu Krishnamurti, will briefly review the story of the peace movement in Ojai starting with Dr. Annie Besant and Krishnamurti. Vignettes of distinguished peacemakers and a list of the major peace groups in the Valley will be shared. Marqui Bury, a long-time peace activist, has creating a visual time line of peace activities in Ojai that will be on display.
Come celebrate the people that help make Ojai a peaceful community. You, your family and friends, are invited to be with these peacemakers whose vision is for a better world and a sustainable future. There will be ample time for questions and conversation with the participants. For additional information contact Julie Heyman at (805) 272-8067 or visit the Facebook link for Ojai City of Peace: https://www.facebook.com/OjaiCityofPeace
The Ojai Art Center is located at 113 S. Montgomery Street, Ojai. Website: http://www.ojaiartcenter.org