Paula Castillo's Stained Glass Exhibit "Illumination" At The Discovery Gallery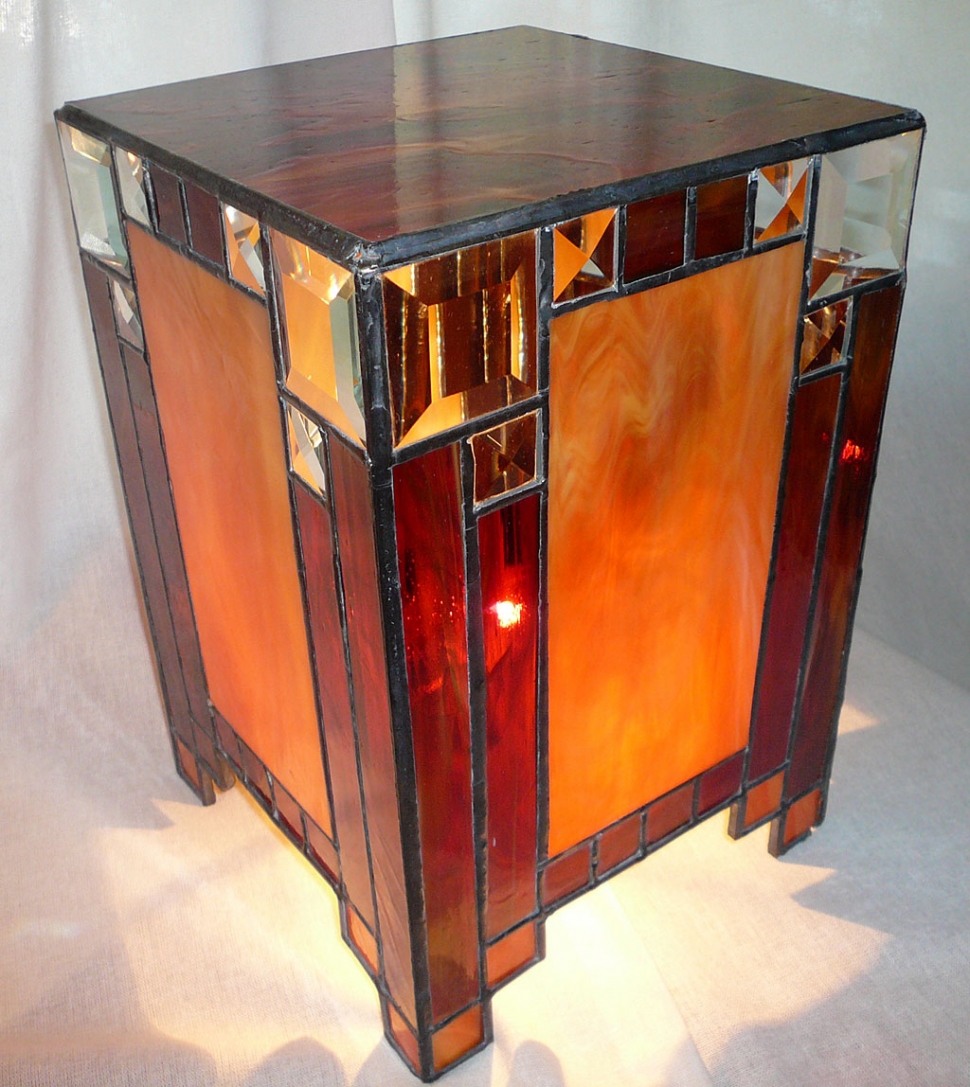 "Moodlamp" stained glass.
By Gazette Staff Writer — Sunday, June 29th, 2008
Paula Castillo's exhibit, Illumination will be at the Discovery Gallery from July 3 – July 31, 2008 with an opening reception on Friday, July 11 from 5 – 7 pm. "Illuminations" is Buenaventura Art Association's first stained glass exhibit. Castillo includes lamps, mirrors and whimsical figures all rendered in varying colors and glass.
Castillo has always been fascinated by how glass distorts light: the color, textures and variations are endless. Her interest in functional art forms combined with her interest in stained glass led her to begin a series of lamps and mirrors. Taking her idea for a lamp from paper through the labor of construction is one of imagination as the end product is not evident until it is complete. After the last solder joint has been done and the polishing rag is put down, it is only when a light bulb is inserted and the switch is turned on that she can see the results. The true colors of the glass are rich with ambient hues and prisms of light dance on the ceiling.
The vibrancy and contrast of the desert skies and colorful mountains in Castillo's native Albuquerque are reflected in her work: the multi-cultural and ever-present art of her native New Mexico continue to inspire new ideas in glass.
Castillo has explored various mediums including watercolor, acrylics and has spent much time doing intricate embroidery works. She took her first stained glass class in Los Angeles while living in Topanga and was immediately immersed. She began with the Tiffany foiled method of construction and has since begun using the leaded method of construction. Larger constructed pieces are generally made in the later method, however Castillo feels comfortable with both.
She has helped numerous clients see a vision of art in glass deigns through her custom installations in many Southern California homes and businesses. Virtually all of her installations are original works of art created for the client. These include windows, doors, skylights, transoms and other decorative arts for the home.
She has a particular affinity for modern design that is sometimes flavored with Native American and/or Art Deco elements. "I feel most inspired while designing abstract forms utilizing both the linear and curvilinear and inter-mixing them to create a journey for the eye", says Castillo. "Because I have so many designs that are just waiting to come out, I rarely replicate a design, however I could easily make the same piece to look vastly different in other choices in glass. Glass can be opaque, translucent, semi-translucent, wispy, wavy, bumpy, bevel or multi-colored".
Castillo has shown her work at street fairs and demonstrations from San Luis Obispo to Los Angeles and has shown locally at various art galleries including: Café on A, Harbor Village Gallery, Camarillo Old Town Studio and Buenaventura Gallery. She is a member of the Buenaventura Art Association and is enthusiastically involved in many Ventura County cultural events.
Castillo earned her Bachelor of Arts degree from the University of New Mexico. She is currently the Office Manager at Buenaventura Art Association. Paula currently resides in Santa Paula, California.
The Discovery Gallery is located at the Ventura Visitor's Bureau, 101 S. California St in downtown Ventura. Hours are Monday through Friday from 8:30 am to 5 pm; Saturday 9:00 am to 5:00 pm and Sunday from 10:00 am to 5:00 pm. For more information, call the Buenaventura Art Association at 805-648-1235 or visit their website at www.BuenaventuraGallery.org.