Paraguayan film kicks off free festival
By Gazette Staff Writer — Monday, September 15th, 2014
Cal Lutheran to show award-winning '7 Boxes'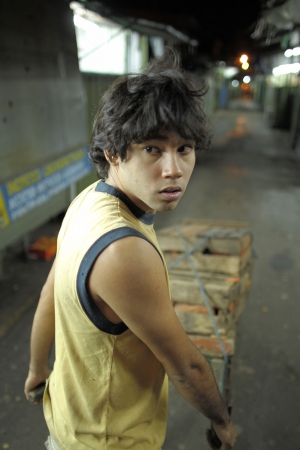 Celso Franco as Victor
THOUSAND OAKS, CA - California Lutheran University will open the second season of its International Film Series with a free screening of the Spanish film "7 Boxes" on Wednesday, Oct. 1.
The 2012 film from Paraguay will be shown in Spanish and Guarani with subtitles at 7 p.m. at Carmike Thousand Oaks 14.
The PG-13 movie starts on a hot Friday in the labyrinthine markets of Asunción, where a 17-year-old pushcart porter named Victor is promised $100 to transport boxes with unknown contents. He begins his journey accompanied by a hyperactive young woman named Liz and both become involved in a crime without knowing the cause, the victim or the perpetrator.
Directors Juan Carlos Maneglia and Tana Schémbori received the Best Director Award at the Cartagena International Film Festival for "7 Boxes." The well-reviewed movie also received the Nueva Vision Award at the Santa Barbara International Film Festival, the Audience Award at the Miami Film Festival and Best Dramatic Film 2012 at the Cockatoo Island Film Festival. Filmmakers since the 1980s, the duo began their successful collaboration in 1990 with a TV miniseries and continued with short films, telefilms and TV series. "7 Boxes" is their first feature film.
This was the first feature film appearance for young Paraguayan actors Celso Franco as Victor and Lali Gonzalez as Liz. Both have since appeared in two more movies.
The doors will open at 6:30 p.m. Carmike Thousand Oaks 14 is located at 166 W. Hillcrest Drive.
The festival sponsored by the Department of Languages and Cultures will continue with the Italian film "Caesar Must Die" on Nov. 12.
For more information, contact Rafaela Fiore Urizar at rfioreur@callutheran.edu.