Oxnard College Student Aaron Dadacy Wins 1st Place In Buenaventura Art Associations Collegite Competition
By Gazette Staff Writer — Wednesday, March 18th, 2009
Exhibit will run through March 23 at the Harbor Village Gallery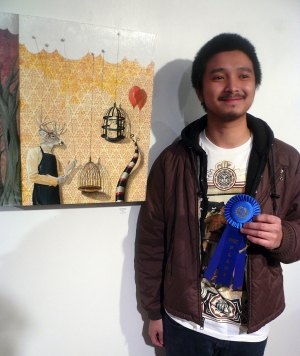 Winner Aaron Dadacy in front of his winning piece "Slaughter House"
Aaron Dadacy (Oxnard College) won 1st Place and a $1,500 scholarship in Buenaventura Art Associations 3rd Annual Emerging Artist Collegiate Competition. 2nd Place and a $900.00 scholarship went to Anna Rivera of Ventura College. Kenji Webb (Oxnard College) won 3rd Place and a $600 scholarship. Honorable Mentions and a $500 scholarship went to Troy Aiken (Moorpark College); Olguin Tapia (Oxnard College); Ryann Carroll (California Lutheran University); Brock Potter (Brooks Institute) and Zachary Doiel (CSUCI). All winners also won a membership to Buenaventura Art Association with free jurying fees and no required volunteer time (worth approximately $500.00). In addition, Agnet "Chippy" Scharling Todd (CSUCI) Margaret Donahue and Katy Coene (Ventura College), Courtney Ellis (CSUCI) and Susan Guzowski (Moorpark College) all won a membership to Buenaventura Art Association.
The winners' pieces as well as all entrants will be on exhibit at Harbor Village Gallery through March 23, 2009.
The funds and the awards for the exhibit are generated from Buenaventura Art Association's "Who Got Framed?!" fundraising event sponsored by the Ventura County Wine Trail, Santa Barbara Bank & Trust, Lauren Lee Henry Realtor, Spinnaker Seafood Broiler, Island Packers, Focus on the Masters and Embassy Suites at Mandalay Bay as well as the 50 artists that donated works for the event. In addition, funds were donated by the Jessica and Stanley Prescott Trust and the Shirley Ransom fund.
The Harbor Village Gallery is located at 1591 Spinnaker Dr , Suite 117C, (before the big lawn) Ventura, California, Phone: (805) 644 – 2750. Hours: noon – 6 pm. Closed Tuesday.