Ojai Resident Initiates a Campaign for Peace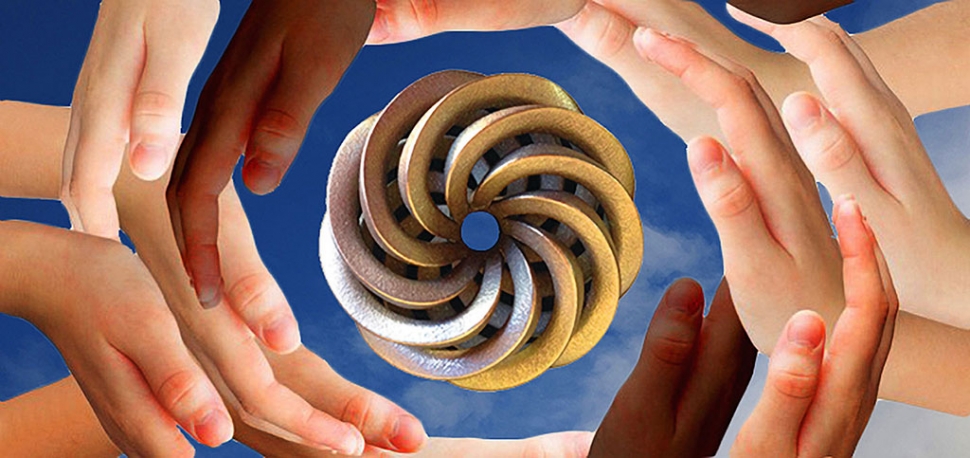 HOLOS design 3D sculpture for peace
By Myrna Cambianica — Monday, October 20th, 2014
Creating the First HOLOS Public Artwork for Peace in Ojai, CA
"The HOLOS design is a 3D sculpture for peace. Each of its 9 spirals appears to be separate, yet connected, to the whole. Its design transcends language, religion, and political divisions -expressive of our one shared humanity," said Brian Berman its artist creator. The spirals radiate around the form and return endlessly to the hub, energetically rejuvenating, and offering hope for humanity and joy to those who view it.
The goal is to install the first HOLOS sculpture, in the city of Ojai, by International Peace Day, September 21, 2015.
Berman shares, "Creating the first HOLOS sculpture as a public artwork for peace will benefit the entire community as well as help inspire people around the world to begin building a culture of peace and non-violence." His vision and plan is to expand peace in Ojai by offering programs in the schools that help students learn conflict resolution skills and foster tolerance around diversity.
To enable creating this first HOLOS sculpture for peace, Berman has a Kickstarter campaign running until November 2nd, where you can learn more about the genesis of the design and the vision for this peace initiative. Ojai residents and visitors will be the first ones to receive the benefits of this public artwork for peace. Imagine the rewards of peace expanding in our and other communities: less crime, less violence, improved education, improved business, and enhanced government performance.
Thank you for clicking on this link: http://kck.st/1s0Rcct