OakHeart Country Music Festival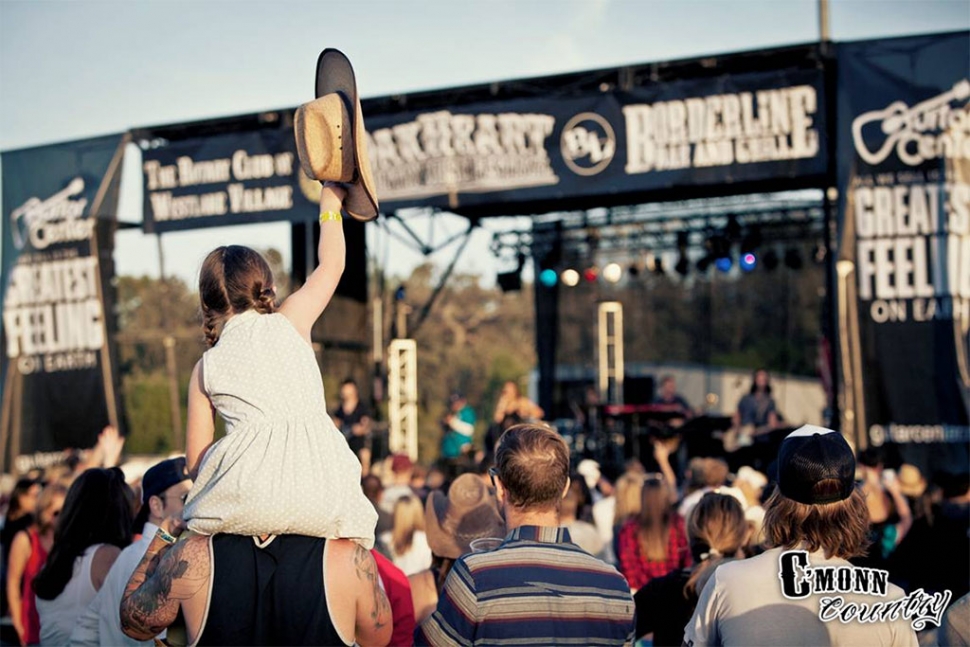 By Gazette Staff Writer — Monday, June 1st, 2015
OakHeart Country Music Festival is no stranger to talent, with an all-star lineup featuring Easton Corbin, Cassadee Pope, Annie Bosko and Blackjack Billy. On June 6th over 5,000 people from across the county will be line dancing and boot stompin' to some of the biggest names in country music today, as well as some very talented local bands. But the buck doesn't stop at the music. Currently in its fourth year, OakHeart CMF is dedicated to more than just throwing a heck of a party. The Rotary Club of Westlake Village puts on this event to raise money through tickets sales for local, national and international charities. The 2015 OakHeart Country Music Festival's National Charity recipient will be the Wounded Warrior Project.
Brian Hynes and Troy Hale had a vision 6 years ago to bring something special to their hometown of Thousand Oaks. Both of whom grew up in the suburb of Los Angeles and attended the town's two favorite annual events, the Chili Cook-off and Conejo Valley Days, along with their friends and families. Inspired by the excitement from the community, they developed a business plan to create an event for local and national musicians to be a part of - and discovered they had lots of support along the way: "The community has gotten so far behind it that I have people that I don't know, I've never seen in my life, show up to a volunteer meeting and ask to contribute because it's so close to their heart. It's amazing you see the outpouring of the community, that part has been a bit overwhelming. I didn't expect that", said Brian Hynes. Now in its fourth year, it's on track to be sold out again, with thousands of dedicated fans, national recording artists, and sponsors such as Redbull, Guitar Center and the YMCA. The festival projections over the next few years are to expand into a two-day event, adding to the cook-off tradition, and bringing even more local and national musicians to the stage.
Thanks to the incredible support of its community, OakHeart is the festival it is today, donating its profits to charity, backed by an entire community, and lead by a family of friends who grew up together right here in town. The heart of the city comes together once a year for OakHeart CMF for the love of country music, the love of our soldiers and the love of our community.
Complete festival information can be found at www.OakheartCMF.com.
About OakHeart Country Music Festival: 4th annual OakHeart Country Music Festival takes place at Conejo Creek South Park in Thousand Oaks, CA at 1pm on June 6. The 2015 artist line-up includes Easton Corbin, Cassadee Pope, Annie Bosko, Blackjack Billy, Eli V, Scotty Mac Band, and the Walking Phoenixes. Presented by The Rotary Club of Westlake Village, the Festival features 2 stages with local and national Country artists. OakHeart's goal is to raise funds during the event to benefit the Wounded Warrior Project, Our Community House of Hope in Thousands Oaks and the End Polio Now Movement, which is funded by Rotary International.
About The Wounded Warrior Project: The Wounded Warrior Project's mission is "to foster the most successful, well-adjusted generation of wounded service members in our nation's history." Their main purposes are to increase the awareness of the needs of injured service members, to assist injured service members help each other and to meet the needs of injured service members through distinct programs and services. To continue these charitable services, WWP will need funds to support them and the OakHeart Country Music Festival plans on giving back. See more about WWP: http://www.woundedwarriorproject.org/
About End Polio Now: The Global Polio Eradication Initiative is a public-private partnership led by national governments and spearheaded by the World Health Organization (WHO), Rotary International, the US Centers for Disease Control and Prevention (CDC), and the United Nations Children's Fund (UNICEF). To date, over 2.5 billion children have been immunized, and Rotary, along with its partners, has reduced polio cases by 99 percent worldwide since their first project to vaccinate children in the Philippines in 1979. End Polio Now's goal is to eradicate polio worldwide. - See more at: http://www.endpolio.org/