Newsman's daughter to speak
By Gazette Staff Writer — Monday, February 23rd, 2015
John Palmer covered top stories for 4 decades at NBC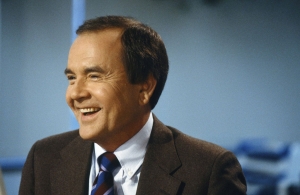 John Palmer
THOUSAND OAKS, CA - The daughter of late NBC correspondent and news anchor John Palmer will discuss her father's memoir and her own career as a "Today" show producer at 6 p.m. Thursday, March 12, at California Lutheran University.
The free public event featuring Molly Palmer will be held in Ullman Commons 100/101 on the Thousand Oaks campus. Jannette Jauregui, an adjunct member of the Communication Department faculty, will moderate the discussion. Newsreel highlights from both journalists' careers will be shown.
Molly Palmer will discuss her father's memoir, "Newscatcher," which was released posthumously in October. The book includes stories about Palmer growing up in Tennessee and the path that led to his four-decade career in TV news. He died at the age of 77 in 2013.
John Palmer worked for NBC from 1962 to 1990 and from 1994 until his retirement in 2002. He served as news anchor on "Today" from 1982 to 1989. He reported on some of history's most memorable moments including the early days of the civil rights movement, crime and politics in the streets of Chicago and New York City, turmoil in the Middle East, the Challenger disaster, the aftermath of 9/11 and the assassinations of John F. Kennedy, Robert Kennedy and Martin Luther King Jr. As an NBC News White House correspondent, he covered presidential politics from the Jimmy Carter administration through George W. Bush's first years in office. He broke the news of the Carter administration's failed attempt to rescue the American hostages in Iran and received the Merriman Smith Memorial Award for excellence in presidential news coverage for his reporting on the story.
Molly Palmer is an Emmy Award-winning producer who has worked for the Los Angeles bureau of "Today" since 2006. She has covered a wide range of stories for "Today" including the 2015 Super Bowl, the wedding of Prince William and Kate Middleton, and the 2007 California wildfires that prompted the largest evacuation in state history. She helped produce Matt Lauer's exclusive interview with Jermaine Jackson at Neverland ranch days after Michael Jackson's death in 2009. She covered the 2011 shooting that severely wounded then-U.S. Rep. Gabrielle Giffords and killed six others, and booked several eyewitnesses who contributed to the breaking news coverage on "Today" just hours after the tragic movie theater shooting in Aurora, Colorado.She has produced a number of celebrity interviews for "Today" including Savannah Guthrie's recent visit with Idina Menzel ahead of her Super Bowl performance, a Maria Shriver interview with Rob Lowe, and Natalie Morales' 2014 interview with Barbra Streisand about heart disease. She also covers the Golden Globes, Oscars and Emmy awards each year.
Ullman Commons is located at 101 Memorial Parkway. For more information, contact Jauregui at jjauregui81@gmail.com.