Museum's 8th Annual Dia de los Muertos Community Celebration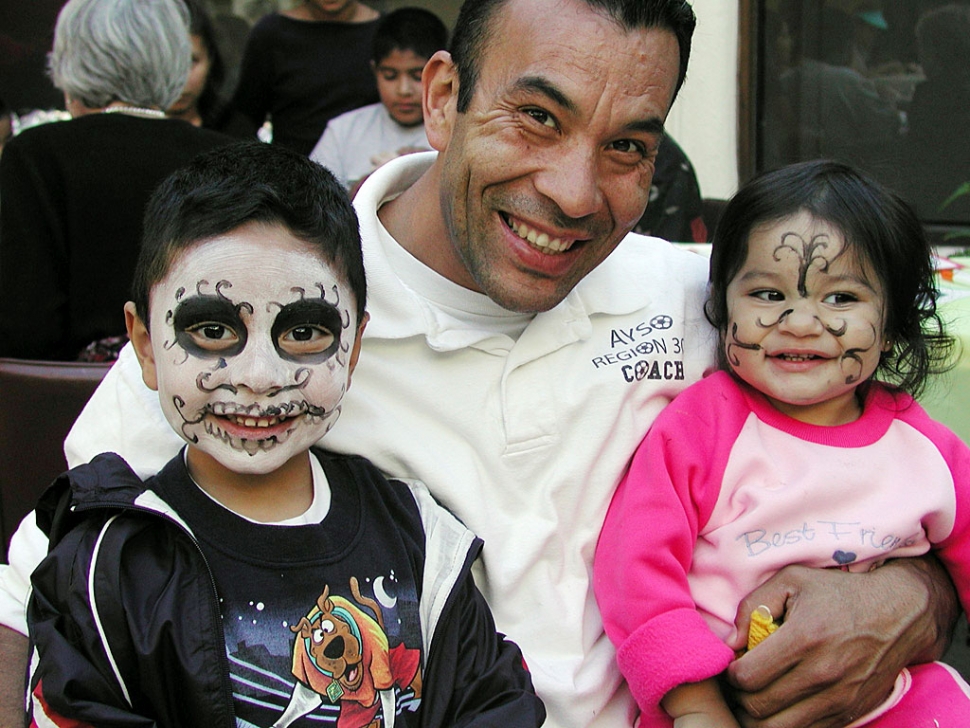 Robert Gutierrez & children.
By Gazette Staff Writer — Wednesday, October 8th, 2008
Nov. 1st - Downtown Ventura Alive with Several Festivities!
Between the Museum of Ventura County's 8th annual Día de los Muertos (Day of the Dead) Community Celebration, and Danza Mexica Cuauhtemoc's 5th annual traditional Día de los Muertos Aztec event, downtown Ventura is the perfect place to bring the family on Saturday, November 1. Both events are free.
This year, the museum's most popular event is being held November 1 from 12:00 –3:00 p.m. at the Albinger Museum, 113 East Main Street, next to Mission San Buenaventura. The celebration includes traditional folk craft projects, face painting, and music by Mariachi Costa de Oro. Families can try their hand at decorating sugar skulls and masks, or make papel picado banners, papier-mâché butterflies, and paper flowers or skeletons. There will also be 12:30 and 2:15 p.m. performances of ceremonial Mexican songs on traditional instruments made by students at the Vita Art Center. Ofrendas (altars to honor the dead), created by local schools, artists, and community groups, are on display October 31 through November 7, at the Museum of Ventura County's 89 S. California Street site, also in downtown Ventura.
Danza Mexica Cuauhtemoc's Día de los Muertos Aztec event is also being held Saturday, November 1, in downtown Ventura's' Mission Park on Main Street, across from the Albinger Museum, from 1:00 – 8:00 p.m. It includes live entertainment, musical and dance groups, a Mexican mercado, authentic traditional Aztec dance performances, and ceremonial processions. Danza Mexica Cuauhtemoc is dedicated to preserving and promoting understanding of Mexica/Azteca culture, history, traditions, ceremonies and dances.
The tradition of Día de los Muertos honors the dead who are said to come back to walk among the living on November 1 and 2. Colorful ofrendas are built to honor departed relatives and friends, and include objects they enjoyed in their lifetimes. Humorous skulls (calaveras), and skeletons blithely going about worldly business are the dominant symbols of the holiday. Día de los Muertos has roots in pre-Columbian as well as Catholic religious beliefs. Celebrated in many parts of Mexico and Latin America, Día de los Muertos is now popular in the United States among Latinos and non-Latinos alike.