Museum Chronicles World Renowned Amphitheater: Ojai's Libbey Bowl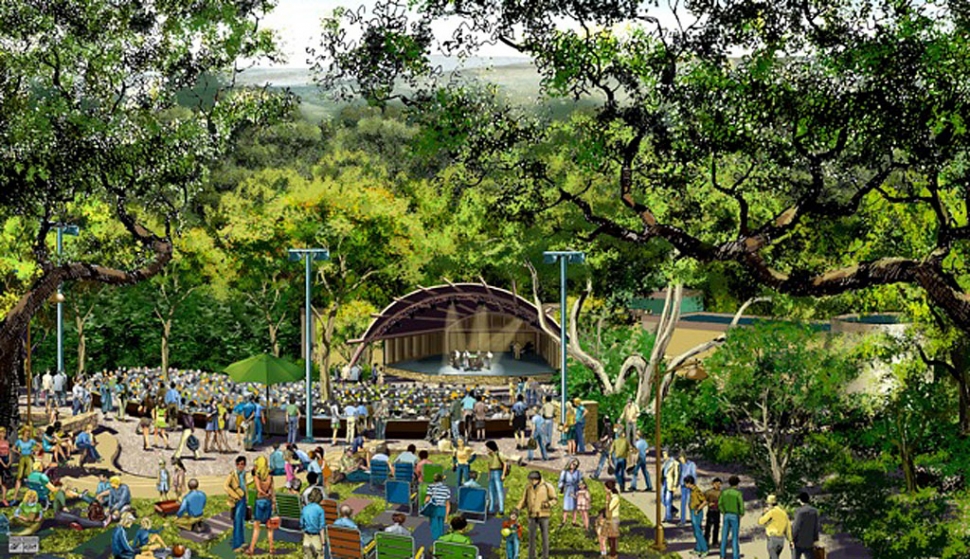 Libbey Bowl Architectural Rendering
By Gazette Staff Writer — Tuesday, May 11th, 2010
Writer/Contributor: Michelle Ellis, Ojai Museum Director
In Ojai, California, an outdoor landmark of world-renown will be razed to the ground on June 21, 2010 and reconstruction will begin immediately thereafter. Beginning in 1957, Ojai's Libbey Bowl amphitheater has gathered international music and theatre groups attracting audiences from southern to northern California, and from east coast to west coast. As a tribute to the past, present and future of Ojai's Libbey Bowl, the Ojai Valley Museum will mount an historical exhibition showcasing the highlights of the Bowl's first 50 years, and the plans for its reconstruction and future use.
The exhibit, entitled "Ojai's Libbey Bowl/Past, Present, Future," will run May 6 through July 11, 2010 in the changing gallery of the Ojai Valley Museum. The 2500 square foot exhibition space will be filled with original ephemera, photographs, and 3-dimensional artifacts describing the activities hosted at the Libbey Bowl between 1957 and July 2010. Completing the "Past" and ''Present" components of the exhibit will be premier examples of Libbey Glass manufactured between the 1890's and now. The glassware will demarcate the decades represented as well as pay homage to Mr. Edward Drummond Libbey's philanthropy in Ojai.
To illustrate the "Future" of the Bowl, architectural drawings and a maquette (small model) for the re-built structure will be on view. Also exhibited will be the maquette of the "1% for art" public work realized by musical sculptor, Trimpin. The Seattle-based sound artist will install his commissioned, kinetic, motion-activated "Sound Arch" at the entry of the new Libbey Bowl, slated to open in July, 2011.
The "Ojai's Libbey Bowl/Past, Present, Future" exhibition is a collaboration between the Ojai Valley Museum, the Save Libbey Bowl Campaign, and the many non-profit lenders to the show. Notable appearances at the Bowl by Igor Stravinsky, Aaron Copeland, Esa-Pekka Salonen and Pierre Boulez will be recognized in the exhibition. Mementos, including programs, t-shirts, posters,candid snapshots, formal portraits, and costumes will represent the myriad events that have been held at the Bowl. The gallery will chronicle the music, storytelling, poetry, film, Shakespeare festivals, theatre productions, Mexican Fiesta, Rock & Roll concerts, Chumash celebrations, Memorial and Veteran's Day salutes held at the Bowl, under the California sun or evening stars, over the years beginning in 1957.
This exhibition is an historical perspective. It is a concrete appreciation for the arts presented at the Libbey Bowl; and it is a purveyor of what the Libbey Bowl will be.
The exhibition is funded in part with grants from the Smith Hobson Family Foundation and the Ventura County Community Foundation Heritage Fund and the membership of the Ojai Valley Museum.
The Ojai Valley Museum will host a Gala Opening Reception on May 8 from 5 to 7 p.m. It will be catered with a no-host wine bar; entertainment will be provided. Tickets are $30.00 and are available by reservation only by calling the OVM at (805) 640-1390 or by e-mail at: ojaimuseum@sbcglobal.net